Alapaha Blue Blood Bulldog
Overview

As American as apple pie, the Alapaha Blue Blood Bulldog is a rare breed that was once nearly extinct. Today the breed is on the rebound and gaining popularity across the country. Brought to the United States by early Southern settlers, this stocky, well-muscled breed is a steadfast guardian of home and family.

Alapaha Blue Blood Bulldogs are a happy, sweet-natured breed that enjoys the companionship of family and it is undoubtedly one of the most affectionate guard dogs you could ever own. They're are independent thinkers who excel in training but tend to do things their own way - they need an experienced leader who is dedicated to showing them the correct way to behave.

Alapahas are active dogs who need frequent exercise and socialization to stay fit, happy and healthy. They sport a tight-fitting coat that comes in several colors and is easy to groom and keep clean. If you're looking for an affectionate, courageous and truly loyal companion, then the Alapaha Blue Blood Bulldogs is the puppy that will shower you and your family with affection for years to come.

Breed Characteristics

Click to see other breeds with similar traits:
---
Need help finding your perfect puppy?
A member of the PuppySpot pack can help!
Contact Us
Similar Breeds
Reviews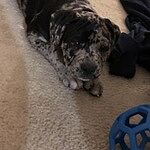 Paul M.
10/03/2018
Alapaha Blue Blood Bulldog
A little over 3 years ago I lost my dog to a rare diesease and it took me some time to get over her passing. After a lot of searching and research online, I came across Puppy Spot and once I saw Adonis (Desoto) the Blue Blood Bulldog i feel in love. I called the team over at Puppy Spot and started the process to bring him home. Their service is amazing and their team members even better. I am recommending Puppy Spot to all my family and friends.
All Reviews