Overview

Bichomo puppies are a popular crossbreed of the powder puff Bichon Frise and the snow-white American Eskimo Dog, and they are every bit as adorable as they sound. Known for their fun, devoted and affectionate nature, Bichomo puppies make wonderful pets and fit into a range of family situations and home environments. This is a smart and intelligent breed that learns quickly and is a pleasure to train and live with. Bichomo puppies absolutely adore people and crave human affection and attention. Like the Bichon and the American Eskimo Dog, Bichomo puppies are extra friendly family pets who love children and get along well with other dogs and even cats. Like all dogs, however, there are some things you should know before you bring a Bichomo home.

Bichomo puppies, like all puppies, need lots of exercise, a nutritious diet and plenty of love and attention from their owners. They crave affection and eagerly seek out human companionship. So, it's up to you to provide them with all the love and affection they need. A Bichomo puppy is unlike other puppies in more ways than just one. As crossbreed dogs, all Bichomo puppies are a combination of a Bichon Frise and an American Eskimo Dog, which means they are intelligent, loyal, easy to train and thrive on human interaction. They are also allergy friendly dogs that do not shed much, and have low drooling and smell levels.

As hybrid dogs, Bichomo puppies not only come in a wide variety of shapes, sizes, they benefit from heterosis, also known as hybrid-vigor, which makes them healthier than most dogs. Though many hybrid dogs are shown in a range of colors, since the Bichon Frise and the American Eskimo Dog are always white, so are Bichomos.

If you're looking for a sweet, extra-friendly family companion who will love you more than you ever thought possible, then a Bichomo puppy is the charming and adorable puppy for you. The best way to find the perfect Bichomo puppy is to speak with a PuppySpot concierge today. From nose to tail, we'll find you the perfect Bichomo puppy.

Breed Characteristics

Click to see other breeds with similar traits:
---
Need help finding your perfect puppy?
A member of the PuppySpot pack can help!
Contact Us
Similar Breeds
American Eskimo Dog

Trainability

Accommodating
Reviews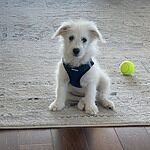 Mallory P.
08/26/2020
Bichomo
My puppy arrived safely and completely healthy with all of his paperwork. When the date was far away and I wanted to push it up, the puppy managers were very helpful. Max is very happy in his new home!
All Reviews