Overview

A relatively new breed, the Biewer Terrier (pronounced "bee-vah"/"beaver") originated in Germany in 1984 when a Yorkshire Terrier with white markings was born. Over the years, the Biewer has been developed as an entirely separate breed. The Biewer is confident, loyal, and clever, and makes a wonderful companion for families and individuals. This dog loves to play and spend time with people and is generally quick to learn. Biewer Terriers will be between 4 and 8 lbs. when fully grown, and are considered allergy-friendly, making them well-suited for allergy sufferers.

Breed Characteristics

Click to see other breeds with similar traits:
---
Need help finding your perfect puppy?
A member of the PuppySpot pack can help!
Contact Us
Similar Breeds
Reviews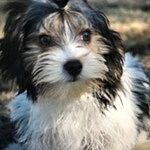 Elizabeth M.
11/28/2019
Biewer Terrier
He is very special and smart and we love him to pieces already. I would recommend letting people know that their fur baby will be heavily sedated and traveling in the cargo hold, not a special compartment as I was told. I was in a panic because he couldn't stand up and didn't bark. It took him two days to stand and walk and 3 days to make his voice heard. If I had known there was an option of escorted air flight, before I paid for him, I would have selected that option. Maybe make it an optio...
All Reviews