Overview

The Bull-Pei is a hybrid developed by crossbreeding the Bulldog and the Chinese Shar-Pei. They have a square-shaped body, a short muzzle, a large head, and lots of wrinkles. This is a strong and muscular breed in a medium-sized body, that would do well with an experienced owner that can handle a powerful dog. The Bull-Pei often inherits the Bulldog's sweet personality, making them suitable in a home with older children and other pets their size. They can be a bit stubborn, but loyal to their family. Early socialization and training is recommended for this breed to become a friendly and well-behaved companion. They do require a moderate amount of daily physical exercise in order to stay mentally stimulated. A well-trained and socialized Bull-Pei will be a confident, affectionate, and playful member of the family.

Breed Characteristics

Click to see other breeds with similar traits:
---
Need help finding your perfect puppy?
A member of the PuppySpot pack can help!
Contact Us
Similar Breeds
Reviews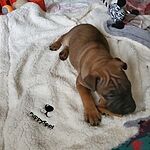 Robert P.
06/11/2021
Bull-Pei
We had lost are Sharp eagle about 4 months ago and Lisa from puppyspot had mentioned they had a brother and sister Bull-Pei puppies and my wife had to have a little girl she's great her and are Labrador Yogi Bear are getting along magnificent we couldn't ask for a better puppy we love her so much. Thank you puppyspot!
All Reviews