Overview

The Bullmatian is a combination of the Bulldog and the Dalmatian. This hybrid often has the beautiful look of the spotted Dalmatian with the body type and adorable appearance of the Bulldog. They have a short, smooth coat that can come in a variety of colors. The Bullmatian is known for being affectionate and lively. Proper training and socialization from an early age is highly suggested to ensure a well-mannered and respectful companion.

Breed Characteristics

Click to see other breeds with similar traits:
---
Need help finding your perfect puppy?
A member of the PuppySpot pack can help!
Contact Us
Similar Breeds
Alapaha Blue Blood Bulldog
Reviews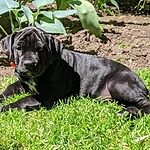 Philip F.
06/28/2020
Bullmatian
Bob formerly known as James is an awesome little guy. Feisty stubborn affectionate responsive not a dog for amateurs but he is perfect. He arrived on time as a well and happy little guy and we are family now.
All Reviews