Overview

Smart, affectionate and a masterpiece of canine breeding, the Cardigan Welsh Corgi is a dog that needs no introduction. These compact little cattle herders are courageous, congenial, adorably charming.

The Cardigan Welsh Corgi is similar to the Cardigan Welsh Corgi in all ways but its tail - Cardigans have one, Cardigans do not. Cardigan Corgis are also slightly larger than their cousins, with more rounded ears. They are also shown in a wider variety of colors.

Cardigan Welsh Corgis are loving, good-natured, and active. There is a lot of energy and stamina packed into these little dogs. Believe it or not, Corgis are tireless athletes who require plenty of exercise, activity and mental stimulation to ward of boredom and destructive behavior.

Corgis are watchful by nature and likely to bark at strangers and animals who encroach on their territory. They are easy to groom, easy to care for and even easier to love. If you're looking for a sweet-faced, fun-loving companions, Cardigan Welsh Corgi is the puppy for you.

Breed Characteristics

Click to see other breeds with similar traits:
Cardigan Welsh Corgi puppies are well-known for being easy to keep and care for. They are generally well-behaved, very personable and highly adaptable to a wide range of living situations.
As herders bred to move cattle, Corgi puppies are fearless, inquisitive and mischievously intelligent. You'll have to keep a close eye on them for their first few months to keep them out of trouble.
Like most Spitz breeds, Corgi puppies need lots of exercise and frequent socialization to ward off destructive behavior. Foruntalty, they love to compete in dog agility trials, obedience classes, showmanship and any role that keeps them busy.
How to Puppy-Proof Your Home?
Like all puppies, Corgi puppies are very curious and explore their new environments with their mouths. They are very likely to sniff out food and anything they think is food and chew on it to see if they can eat it.
Keep all chewable items out of reach, install child locks on cabinets containing harmful household chemicals, remove exposed cords, and keep doors to the outside closed. The teething phase is particularly rough on Corgi puppies. To make it easier on your puppy, stock your home with chew toys.
Harder rubber toys will allow your puppy to take its teething frustration out on the toy, and not the furniture. Freezable toys can help alleviate the pain of swollen gums. Avoid bones and rawhide chewables that splinter and can be swallowed.
How to Handle Your Cardigan Welsh Corgi Puppy?
Owners need to exercise caution when handling their Corgi puppy, especially when they are young. A small Corgi puppy could be accidentally injured by a careless owner or a child who doesn't know any better.
When picking up your Corgi, be sure to support their rear end with one hand and place the other hand under their tummy to support their spine. Never carry your Corgi puppy with one hand or by its paws or head.
Remember to support your puppy's spine when carrying them and lifting them on to/off of furniture. Consider installing a baby gate or small ramps to allow your Corgi puppy access to places where stairs can't be avoided.
New Corgi Puppy Supplies
One of the biggest mistakes a new puppy parent can make is to pick up your new puppy before making a trip to the pet store. Below is a list of supplies you'll need to purchase BEFORE, not after, your scheduled puppy pick-up appointment:
Collar
Leash
Harness
Toothbrush
Nail Clippers
Brush
Shampoo
Crate (large enough for a puppy to comfortably sit, stand and lie down)
Chew Toys (puppy-safe)
Food Dish (Non-Plastic)
Water Dish (Non-Plastic)
Puppy Pads
Bed
AKC registered breeds are categorized into one of seven breed groups based on their characteristics and the role the breed was originally developed to fulfill, such as herding, hunting and guarding.
Cardigan Welsh Corgis belong to the Herding Breed Group for their remarkable ability to control the movement of other animals. Herding dogs are intelligent, make excellent companions and respond very well to training.
Though the vast majority of Herding dogs, like the Cardigan Welsh Corgis, live happy lives as household pets, they retain their pure instinct for herding animals, even their owners and especially children. Other breeds that belong to the Herding Breed Group include:
A breed standard is a set of guidelines used to ensure dogs produced by breeders always conform to the specifics of the standardized breed. The Cardigan Welsh Corgi was officially recognized as an official breed by the AKC in 1934 and is therefore subject to a strict breed standard.
PuppySpot has a zero-tolerance policy for puppy mills or substandard breeding of any kind - so you can be sure that your puppy will be happy and healthy whether they have a breed standard or not.
Low set with moderately heavy bone and deep chest. Overall silhouette long in proportion to height, culminating in a low tail set and fox-like brush. General Impression - A handsome, powerful, small dog, capable of both speed and endurance, intelligent, sturdily built but not coarse.
Head
The head should be refined in accordance with the sex and substance of the dog. It should never appear so large and heavy nor so small and fine as to be out of balance with the rest of the dog.
Expression alert and gentle, watchful, yet friendly. Eyes medium to large, not bulging, with dark rims and distinct corners. Widely set. Clear and dark in harmony with coat color. Blue eyes (including partially blue eyes), or one dark and one blue eye permissible in blue merles, and in any other coat color than blue merle are a disqualification.
Ears large and prominent in proportion to size of dog. Slightly rounded at the tip, and of good strong leather. Moderately wide at the base, carried erect and sloping slightly forward when alert. When erect, tips are slightly wide of a straight line drawn from the tip of the nose through the center of the eye.
Skull is moderately wide and flat between the ears, showing no prominence of occiput, tapering towards the eyes. Slight depression between the eyes. Cheeks flat with some chiseling where the cheek meets the foreface and under the eye. There should be no prominence of cheekbone.
Muzzle from the tip of the nose to the base of the stop should be shorter than the length of the skull from the base of the stop to the high point of the occiput, the proportion being about three parts muzzle to five parts skull; rounded but not blunt; tapered but not pointed. In profile the plane of the muzzle should parallel that of the skull, but on a lower level due to a definite but moderate stop.
Nose black, except in blue merles where black noses are preferred but butterfly noses are tolerated. A nose other than solid black in any other color is a disqualification. Lips fit cleanly and evenly together all around. Jaws strong and clean. Underjaw moderately deep and well formed, reaching to the base of the nose and rounded at the chin.
Body
Neck is moderately long and muscular without throatiness. Well developed, especially in males, and in proportion to the dog's build. Neck well set on; fits into strong, well shaped shoulders. Topline level. Body long and strong. Chest moderately broad with prominent breastbone.
Deep brisket, with well sprung ribs to allow for good lungs. Ribs extending well back. Loin is short, strong, moderately tucked up. Waist well defined. Croup is Slight downward slope to the tail set.
Legs and Feet
The moderately broad chest tapers to a deep brisket, well let down between the forelegs. Shoulders slope downward and outward from the withers sufficiently to accommodate desired rib-spring. Shoulder blade (scapula) long and well laid back, meeting upper arm (humerus) at close to a right angle. Humerus nearly as long as scapula. Elbows should fit close, being neither loose nor tied.
The forearms (ulna and radius) should be curved to fit spring of ribs. The curve in the forearm makes the wrists (carpal joints) somewhat closer together than the elbows. The pasterns are strong and flexible. Dewclaws removed.
The feet are relatively large and rounded, with well filled pads. They point slightly outward from a straight-ahead position to balance the width of the shoulders. This outward point is not to be more than 30 degrees from center line when viewed from above.
The toes should not be splayed. The correct Cardigan front is neither straight nor so crooked as to appear unsound. Overall, the bone should be heavy for a dog of this size, but not so heavy as to appear coarse or reduce agility. Knuckling over, straight front, fiddle front are serious faults.
Tail and Hindquarters
The tail is set fairly low on body line and reaching well below hock. Carried low when standing or moving slowly, streaming out parallel to ground when at a dead run, lifted when excited, but never curled over the back.
Coat and Colors
Medium length but dense as it is double. Outer hairs slightly harsh in texture; never wiry, curly or silky. Lies relatively smooth and is weather resistant. The insulating undercoat is short, soft and thick. A correct coat has short hair on ears, head, the legs; medium hair on body; and slightly longer, thicker hair in ruff, on the backs of the thighs to form "pants," and on the underside of the tail.
All shades of red, sable and brindle. Black with or without tan or brindle points. Blue merle (black and gray; marbled) with or without tan or brindle points. There is no color preference. White flashings are usual on the neck (either in part or as a collar), chest, legs, muzzle, underparts, tip of tail and as a blaze on head. White on the head should not predominate and should never surround the eyes. Any color other than specified and/or body color predominantly white are disqualifications.
Height and Weight
Overall balance is more important than absolute size. Dogs and bitches should be from 101⁄2 to 121⁄2 inches at the withers when standing naturally. The ideal length/height ratio is 1.8:1 when measuring from the point of the breast bone (prosternum) to the rear of the hip (ischial tuberosity) and measuring from the ground to the point of the withers. Ideally, dogs should be from 30 to 38 pounds; bitches from 25 to 34 pounds.
Known for their quick intelligence and forceful will, the Cardigan Welsh Corgi's temperament is bold, but kind. Never shy or vicious. They want to be part of the family and do not do well left in kennels. Most corgis are fine with other pets and children so long as they have been socialized.
Cardigan Welsh corgis are generally considered healthy. Though, like all dogs, they are susceptible to a number of health issues and medical conditions, such as Hip Dysplasia or Luxating Patella.
Life Expectancy
The life expectancy of the Cardigan Welsh Corgi is between 12 and 13 years. The best way to ensure a long, healthy and happy life for your Corgi is to feed it a nutritious diet and provide it with lots of exercise, activity and mental stimulation.
Cardigan Welsh Corgis are energetic, intelligent, highly active dogs that require a specific type of care, physical exercise and mental stimulation. Like all puppies, Cardigan Welsh Corgis puppies do best on schedule.
The more care you put into your puppy's schedule, the longer, healthier and happier its life will be. Urban and family living are no problem for these pups, so long as they get the socialization, training and exercise they need.
Though Corgis are not particularly challenging to care for, they do require a high level of patience and determination. As Terriers, they are characteristically stubborn and feisty, so they may need a fair bit of encouragement to get them to exercise and obey your commands.
Corgis are intelligent, but you should still treat your Corgi like you would a toddler. Puppy proof your home and supervise them whenever they have freedom to roam. Corgi puppies also go through a rough teething phase, so chew toys are a must for new owners.
Nutrition
Your Cardigan Welsh Corgi's health is directly related to its diet - the more nutritious it's diet, the longer, healthier life it is likely to live. What's more, the nutrition they receive in their first year has a significant impact on their overall health and development.
That's why it's extra important to closely monitor your puppy's diet and stay away from dog food brands that use artificial ingredients, preservatives and fillers like grain, wheat and brewers rice.
How Much Should a Cardigan Welsh Corgi Puppy Eat?
We recommend that owners start their Cardigan Welsh Corgi puppy on moistened dry puppy food, 3 to 5 times per day for no longer than 10 minutes per feeding. After 10 minutes remove their food even if they haven't finished, though 10 minutes should provide enough time for your puppy to consume the entire meal.
Be sure to monitor your Cardigan Welsh Corgi puppy's health and wellness -if they appear skinny and eagerly finish every meal, then you may need to increase the amount of food in their diet. If they are leaving food in the bowl, you may be feeding them too much.
What Should I Feed My Cardigan Welsh Corgi Puppy?
Your Cardigan Welsh Corgi puppy will grow up happier and healthier, if you stay away from dog food brands that use artificial ingredients, preservatives, colorings and fillers like grain, wheat and brewers rice.
The best dog foods for Cardigan Welsh Corgi puppies are made from high-quality animal proteins - not animal byproducts like animal digest, hooves, snouts, bone, tendon, cartilage or rendered fat. Cardigan Welsh Corgi puppy owners should also avoid dog foods that contain artificial flavors, colors and preservatives like:
Sodium Tripolyphosphate (STPP)
Propylene Glycol
Vegetable Oil
Cellulose
Sodium Hexametaphosphate
BHA/BHT
White Flour
MSG
Corn Syrup
Xylitol and Other Sugar Alcohols
Nitrites or Nitrates (Sodium Nitrite)
Remember, there are some foods you should never feed any dog, like garlic, onions, chocolate, pitted fruit, and grapes. All of these foods are considered poisonous to dogs and should be kept well out of their reach. Dogs who ingest these foods should be taken to the vet immediately.
Grooming
The Cardigan Welsh Corgi sports a thick, double coat and a soft, light undercoat, both of which require daily brushing. It's also a good idea to regularly inspect your Corgi's ears for dirt and clean them if needed. Nails need to be trimmed often, as overly long nails can easily cause the dog discomfort.
Corgi puppies also need a bath once every month, unless they get dirty from being outside. Do not over bathe your Corgi, as over-bathing can remove the important oils that keep its skin healthy.
Exercise
Like most Spitz breeds, Cardigan Welsh Corgis require regular physical activity, frequent mental stimulation, and tend to fall into destructive behavior when they're bored. If you care for the state of your furniture, it's best to take your Corgi puppy out for regular exercise.
Cardigan Welsh Corgis were bred to herd cattle, which means they have very specific requirements for exercise.That doesn't mean you have to live on a ranch to own a corgi, but you should prepare your household to provide your puppy with the exercise it needs to stay fit and happy.
Take your Corgi sledding, hiking, running, rollerblading - anything that gets you and your corgi and moving. Daily exercise also improves circulation, and provides opportunities for your puppy to socialize and explore its environment, which is critical to proper socialization. Remember to keep your puppy on a leash whenever they are outside.
Training
Cardigan Welsh Corgis are some of the sweetest, goofiest dogs you're likely to ever meet but they are bred to herd large animals, which makes them characteristically stubborn. That's why the best Corgi training techniques are all based on positive reinforcement.
Housebreaking
It's best to introduce your Cardigan Welsh Corgi puppy to its new environment slowly. Take your time. We recommend confining them to a room of the house for the first couple of days with their bed, water, food and toys. Once they have become used to that room you can begin to introduce your Cardigan Welsh Corgi puppy to the rest of the family.
How to Potty Train a Cardigan Welsh Corgi Puppy?
Potty training a Cardigan Welsh Corgi is a fairly straightforward process. Remember, consistency is key to housebreaking a puppy. Use the same words and phrases to indicate when, where and how you want your puppy to do its business.
Watch for signs that your Corgi needs to do its business like pacing, sniffing, and squatting. When you notice these behaviors calmly and quickly hustle your puppy outside and to the spot you've chosen. Then say a phrase similar to "go potty" and praise them when they get it right. With practice your puppy will learn where to "go potty."
How to Crate Train a Cardigan Welsh Corgi Puppy?
Owners should also begin crate training as soon as possible after bringing a Corgi puppy home. Start with a crate that is big enough for an adult Corgi to stand, turn around, and sit or lie down without touching the sides.
Place the crate in your bedroom for the first few weeks so your Corgi can associate the crate with the comfort of your presence. Introduce your Corgi to the crate by placing a few treats inside and around the crate, this helps your puppy associate food with the crate.
Shut and lock the crate once your puppy is comfortably inside. Leave the room. Your puppy will likely bark once you leave the room. Ignore the barking until they have stopped entirely, or they will bark every time they want to leave the crate. Don't forget, puppies need a toy and easy access to fresh clean water when inside their crate at all times.
Socialization
Corgis are an incredibly kind and friendly breed but all dogs need frequent socialization so they can learn how to behave in public. As with housebreaking, the early you begin socializing your Corgi puppy, the easier it will be for it to adapt to new situations and environments.
A great way to socialize your Corgi is to sign up for a puppy training class with other puppies the same age, or set a play date with a well behaved adult dog that you know is friendly, so your pup can learn how to behave from an experienced pooch.
Tug-of-war and supervised trips to the dog park are also great ways for a Corgi puppy to explore their environment, meet other people and play with other dogs while feeling secure in your presence.
Obedience Training
To obedience train a Cardigan Welsh Corgi puppy you need patience, consistency and generous amounts of praise. You also need an understanding of the training techniques that will bring out the best in your Corgi. Just like housebreaking, it's best to begin obedience training as early as possible in your puppy's life and to start with basic reward-based training principles like sit, stay and roll over.
Use the same words and phrases to indicate when, where and how you want your puppy to execute a command. Issue your command. Pause. Then reward them with a snack when they get it right.
It's always better to practice reward-based training principles. Instead of punishing your puppy for unwanted behavior, motivate them to complete the desired behavior by praising them when they get it right.
Are Cardigan Welsh Corgis good family dogs?
Yes. Cardigan Welsh Corgis are fantastic family dogs. When trained and socialized, Corgis are fun, friendly and incredibly loyal to their family. They are also incredibly affectionate, devoted and gentle when properly trained, housebroken and socialized.
Are Cardigan Welsh Corgis good for first time dog owners?
Yes. Cardigan Welsh Corgis are friendly, gentle and affectionate dogs who are a good choice for first time dog owners. Though, we recommend that all prospective dog owners do their research before accepting the responsibility of dog ownership.
Are Cardigan Welsh Corgis aggressive?
No. Cardigan Welsh Corgis are not typically aggressive. However, any dog that has not been socialized and trained from an early age is more likely to be aggressive toward other dogs, animals and strangers.
Can Cardigan Welsh Corgi live in hot weather?
Yes. Cardigan Welsh Corgis are incredibly adaptable - they do just fine in warmer climates so long as they are provided adequate shade, shelter, and water.
Are Cardigan Welsh Corgis good with kids?
Yes. Cardigan Welsh Corgis adore children. However, as with all dogs, we recommend that you socialize your puppy from an early age and that children never be left unsupervised around the dog.
Do Cardigan Welsh Corgi dogs shed a lot?
Yes. Like all Spitz breeds, Cardigan Welsh Corgis frequently shed. Daily brushing can keep shedding under control.
Do Cardigan Welsh Corgis like to cuddle?
You bet they do. Cardigan Welsh Corgis are incredibly affectionate and people-oriented. They will certainly enjoy cuddling with you.
Are Cardigan Welsh Corgis easy to train?
Yes. Training a Corgi Puppy isn't complicated, but it does take commitment and no small degree of patience. The key to training a Cardigan Welsh Corgi to obey your commands is to be gentle, consistent and patient. Like all dogs, Cardigan Welsh Corgis respond best to positive reinforcement techniques.
Can a Cardigan Welsh Corgi be left alone?
Yes. However, Corgi Puppies are prone to separation anxiety and may bark excessively if left alone for an extended period of time. They are very social and should not be away from their family for too long. If you must leave your Corgi Home alone it should not be more than a couple of hours.
Are Cardigan Welsh Corgis hyper?
We wouldn't describe Cardigan Welsh Corgis as hyper, so much as we would describe them as energetic and enthusiastic. As a herding breed, Cardigan Welsh Corgis are bred with high energy so they can run and work all day long. Though your Cardigan Welsh Corgi puppy will likely "mellow" out as it grows older, they will always be energetic and possess a fun-loving enthusiasm for life.
Are Cardigan Welsh Corgis clingy?
Cardigan Welsh Corgis are very people-oriented, so they may follow you around the house for attention. If your Cardigan Welsh Corgi seems to be "clingy", then they're probably bored and need to go out for some exercise and playtime.
The Cardigan Welsh Corgi is named for the medieval kingdom of Cardiganshire, Wales, and is the older of the AKC's two corgi breeds. In fact, they're among the oldest of all British breeds.
The word "corgi," originally "kergie," is ancient Celtic for "dog," and historians surmise that ancient corgis were brought from Central Europe to Wales by the Celts during their mass migrations to Britain around 1200 BC.
The adaptable Cardigan did double duty on long cattle drives, moving the herd by day and serving as a flock guardian at night. During the breed's long history, Cardigans have at various times worked as an all-around farm dog, hunting partner, family protector, and athlete.
Cardigans and Pembrokes were at one time freely interbred, and until as late as 1934 they were considered a single breed in the United Kingdom. The first pair of breeding Cardigans arrived in the United States in June 1931. The AKC granted full recognition to the breed four years later.
Need help finding your perfect puppy?
A member of the PuppySpot pack can help!
Contact Us
Contact Us
Need help? Visit our Help Center where we answer all questions related to finding and preparing for your puppy's arrival.
You can also reach our team by email or phone for additional support: [email protected] | (888) 671-0518
Please direct all press inquiries to [email protected]
Similar Breeds
Corgi Cattle Dog

American Corgi

Pembroke Welsh Corgi

Fast Facts

Trainability

Accommodating
Reviews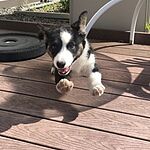 Elisabeth M.
06/07/2020
Cardigan Welsh Corgi
We had been wanting a corgi puppy for a long time but when we were ready to have a dog, no local breeders had litters available. Enter puppyspot. We love our little guy who arrived in perfect health. There were some bumps in the road getting him here due to the pandemic but puppyspot was committed to constant process improvement. If you are looking for a specific breed of dog and have a specific timeline for getting a puppy, I recommend this service.
All Reviews