Overview

A crossbreed of a Miniature Schnauzer and Poodle, the Schnoodle combines the best of two worlds. Charming, funny and smart, Schnoodles may be small, but these super alert pups make excellent watchdogs.

Combining the intelligence of both the Miniature Schnauzer and the Poodle, Schnoodles are as bold as they are friendly. They are highly trainable, learn quickly and are capable of astounding feats of obedience.

Unlike many crossbreeds, Schnoodles are bred purely for their company and their super fluffy, hypoallergenic coat. Fluffy like the Poodle, but sporting the distinctive muzzle of the Schnauzer, these uniquely gorgeous pups need regular grooming to keep them looking their best.

As crossbreeds, Schnoodles vary in size, color and temperament, but all share a love of people, a kind and gentle personality and a high energy level. They need regular exercise and socialization to ward of boredom induced destructive behavior.

Schnoodles love to go on long walks and play outside. They're great at playing fetch and will chase a ball endlessly. So, if you're looking for a high-spirited, well-mannered companion then the Schnoodles is the best puppy for you.

Breed Characteristics

Click to see other breeds with similar traits:
---
Need help finding your perfect puppy?
A member of the PuppySpot pack can help!
Contact Us
Similar Breeds
Poodle

Trainability

Accommodating
Reviews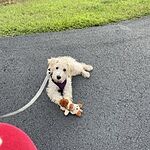 Jovan W.
09/08/2021
Schnoodle
The decision to adopt a fur baby again was huge for our family of chronic respiratory illness sufferers. PuppySpot made the process almost painless. The communication throughout and follow-up at each stage were very helpful. Our Schnoodle was delivered after a fee hiccups with the delivery service looking frightened and unkempt, but a few washes and snuggles later and he was right as rain. A few days later, the vet found GI worms and the troubles have continued. Overall, our experience was go...
All Reviews