Overview

Solid, independent and packed with personality, the Scottish Terrier is the confident companion you never knew you needed. Scotties are as scrappy as they come, and world famous for their high-spirited, dignified demeanor and almost-human character.

Known for their incredible persistence, these tenacious terriers were bred to hunt rats, foxes, and ferocious badgers. Today, you are more likely to find Scottish Terriers cuddled up with their family or patrolling the yard for intrusions.

Scottish Terriers need regular grooming and plenty of exercise. A long walk is a great place to start, but what a Scottie really wants is to play. They crave affection, attention and mental stimulation. Obedience training and agility courses are great ways to exercise your Scotties body and mind.

Scotties are like little bearded drill sergeants. They're cantankerous, efficient, even dour. They can be snippy with other dogs and are likely to treat any animal smaller than itself as prey. Scotties are incredibly devoted to their families but may be too surly for homes with small children.

Breed Characteristics

Click to see other breeds with similar traits:
---
Need help finding your perfect puppy?
A member of the PuppySpot pack can help!
Contact Us
Similar Breeds
West Highland White Terrier
Reviews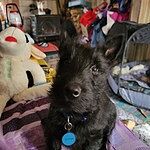 Sharon J.
04/28/2022
Scottish Terrier
Thank you so much for delivering my beautiful scottie boy! Jasper has brought so much enjoyment to me and everyone he meets. He is such a happy puppy!
All Reviews