PuppySpot and Make-A-Wish® have partnered up on many life-changing puppy wishes. Recently, we had the honor of working with Make-A-Wish® Tri- Counties to help deliver a special wish for a Goldendoodle. We were so excited to start working with the Tri-Counties chapter to get started on Jolie's wish!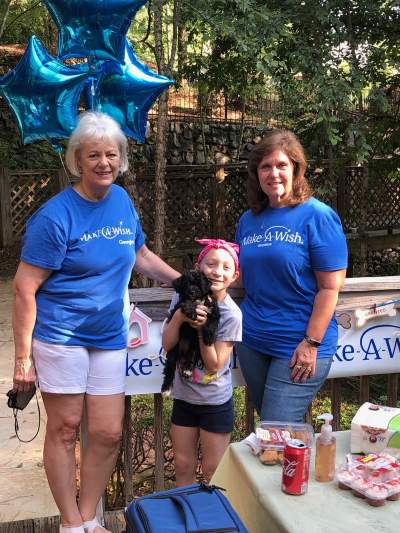 Jolie is an 8-year-old girl fighting a rigorous battle against cancer. Her wish was to have a black and white mini Goldendoodle to be her new best friend. She imagines them spending lots of time together playing, cuddling, and making lots of memories.
The puppy selection process was a no-brainer for the family. Once they set their eyes on Nessie the black and white miniature Goldendoodle they knew she was the one! Of course, Nessie had to pass a thorough nose-to-tail vet check conducted by a licensed veterinarian before being able to make her way home to Jolie.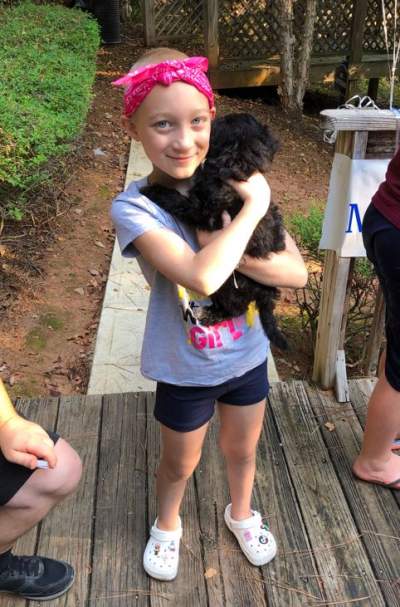 Once Nessie received two thumbs up from her veterinarian, it was time for her to safely travel home to her new home! Nessie flew on a privately chartered PuppySpot plane, accompanied by dog loving PuppySpot chaperones. She was very excited to meet her new best friend!
Upon landing, Nessie was escorted by a trusted PuppySpot transporter from the airfield straight to the wish family's home. Waiting for Nessie were two wonderful Make-A-Wish volunteer wish granters and, of course, Jolie and her family!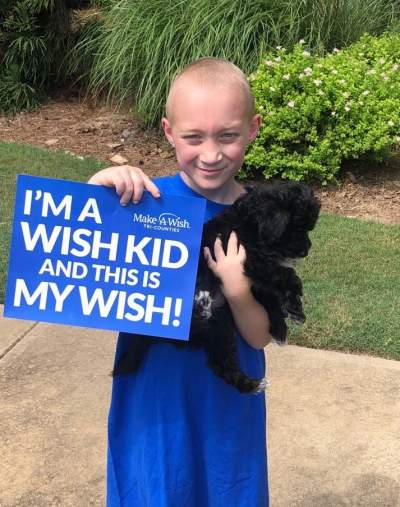 Jolie was over the moon to finally have her new furry family member home. She and Nessie (now named Jersey) have become inseparable best friends. The wish family couldn't be happier with their new addition! Such an amazing wet nose moment!
Thank you, Make-A-Wish Tri-Counties for trusting PuppySpot to deliver happiness to your wish children!