As we continue to celebrate dogs always, we are also celebrating our partnership with Make-A-Wish New Jersey. Our most recent wish marks our 13th wish with this chapter! That is 13 puppy wishes granted and 13 lives changed!
When we heard about 9-year-old Jazell's wish we jumped right in to help make it happen! Jazell is quite the warrior. She had her first open heart surgery at just nine days old, followed by two more surgeries within a couple of years. Jazell had known for the longest time that she wanted a puppy to call her own. Every birthday and holiday that went by, she asked mom for a puppy. Naturally, when Make-A-Wish New Jersey asked about her wish, Jazell wanted a fluffy, cuddly puppy to be her new family member.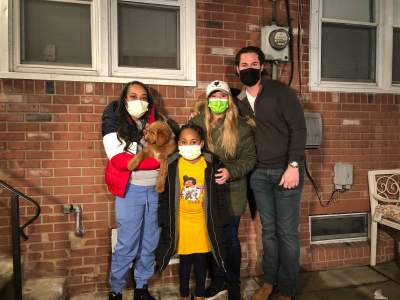 Jazell spends a lot of time on YouTube and one of the channels she watches features a family with a Goldendoodle puppy. That is exactly what we helped her pick out! It was a tough decision, but she ultimately chose an adorable Standard F1 Goldendoodle named Greg.
Once Jazell's puppy was selected, it was time for the PuppySpot Travel team to work on his travel arrangements. While the team worked on a safe travel plan for Greg, his breeder worked on scheduling his nose-to-tail vet exam with a licensed veterinarian. After Greg received the all clear he was ready to make his way to his new family!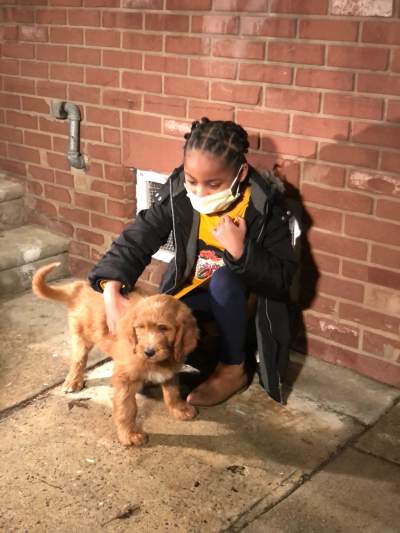 Greg flew on a privately chartered PuppySpot plane to New Jersey. Upon arrival, he was welcomed by PuppySpot representative Alisha Randy. Alisha helped give Greg all the love and attention he needed while his new family got ready to meet him!
Alisha and Greg made their way to Jazell's home where they were welcomed by Make-A-Wish representatives Michael and Nicole and several media outlets! Jazell knew she was getting a puppy but had no idea he would be arriving that day! She was so surprised to finally meet her new puppy sibling Greg (now Nico). You can see Jazell's smile beaming through her mask. She was so excited to have her wish come true!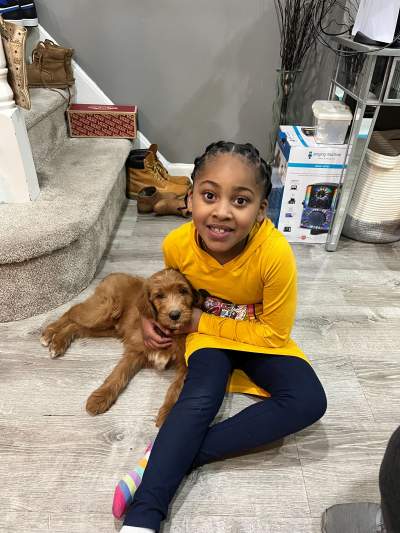 Thank you Make-A-Wish New Jersey for trusting PuppySpot to delivery happiness to another wish family!