Here at PuppySpot we love a heartwarming, wet nose moment. Especially, when it involves a Make-A-Wish chapter near and dear to our hearts. Recently, we had the pleasure of collaborating with Make-A-Wish New Jersey to help make an 11-year-old's wish come true!
John is one tough kid! He is battling a brain disorder and has wished for a new best friend to stay by his side during his fight. He is a dog lover who loves being around dogs and has always wants one of his very own. So, of course we jumped in to help make John's wish a reality.
Originally, like many other wish kiddos, John's wish involved traveling with his family. Unfortunately, the pandemic steered things in a different direction. So, when it came time to pick a different wish, he knew he wanted a Jack Russell or Beagle puppy of his very own. Eventually, John and his family fell in love with an adorable Beagle puppy named Lucy.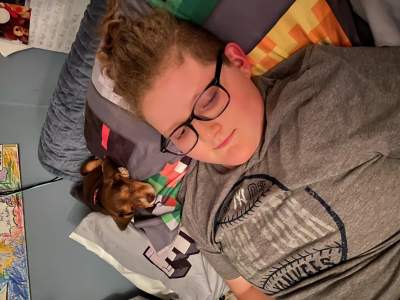 Before Lucy could make her way home, she had to get cleared by a licensed veterinarian. After receiving two thumbs up from her vet, she was ready to travel VIP style on PuppySpot's charter plane!
Lucy's travel day was very exciting as she was one stop closer to meeting her new family! Upon arrival to New Jersey, Lucy was welcomed by PuppySpot representative Vincent. Vincent helped make sure Lucy was happy, healthy, and ready to meet John!
Wish day was an unforgettable moment for John, his family, his wish granters, and for us here at PuppySpot. There was an instant connection when he met Lucy (now named Cannoli) for the first time. Now the two have become the best of friends and can be found spending most of their time together.
Thank you, Make-A-Wish New Jersey for inviting PuppySpot to be a part of John's special wish day.