Joy is in the air whenever the PuppySpot team partners up with Make-A-Wish Oregon to help grant a child's puppy wish. When Make-A-Wish Oregon contacted us, they were working on a wish for a 12-year-old Nacari.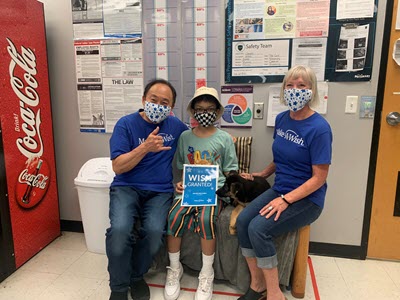 Nacari is a brave young man who is excited about having a companion to keep him company, especially in anticipation of his end stage renal disease surgery this Summer. Nacari has shown profound bravery in his battle, and all he wants is a new best friend to stick by his side through all of the ups and downs.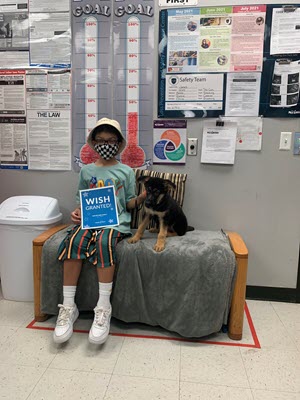 According to his parents, Nacari had a yellow lab when he was younger, and knows exactly what to do to be a model puppy parent. Though Nacari loves dogs, he had know idea that his new puppy, Flossie, was arriving. On the day Nacari was to meet his new puppy friend, Flossie was already in Oregon with wish manager Casey Patterson.
Nacari's mom took Nacari to PetSmart for pet supplies, where his new best friend and the wish team were waiting to surprise him! Make-A-Wish rep Casey Patterson delivered Flossie (now Sadie) the German Shepherd puppy to her new family, and her overjoyed new owner.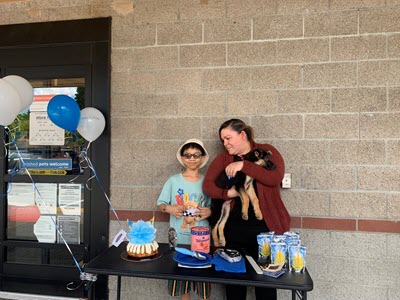 The day only got better from there, as Nacari's family was extra excited to meet puppy Sadie. There were many puppy kisses and a few happy tears, but everybody, including Nacari, were ecstatic to meet their new family member.
After Nacari was settled in, we reached out to Nacari's family to check in on how things were going with their new pup. They informed us that Sadie is fun-loving, rambunctious, and bonding well with everyone. They believe the new pup is the perfect addition to the family and him and Nacari are the best of friends.
Thank you, Make-A-Wish Oregon, for inviting us to be a part of such a special wish experience!