Our PuppySpot Gives Back program incorporates puppy placements through non-profit organizations for individuals and families who can positively be impacted by a new addition. We have worked with organizations such as Wounded Warrior Project and Make-A-Wish to deliver happiness to veterans and children with critical illnesses.
Recently, we were contacted by a non-profit organization called Sydney's Soldiers Always in Missouri.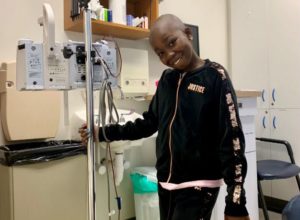 Similar to Make-A-Wish, their mission is to "enhance the lives of children and families who have been affected by childhood cancer, focusing on bucket list items for critical/ terminal children." When Board Director, Kelly Wittenbaur reached out, she was working on a bucket list wish for a 13-year-old girl named Iliana. Iliana has been in a constant battle with neuroblastoma, a cancer often found in the small glands on top of the kidneys, since she was 5-years-old.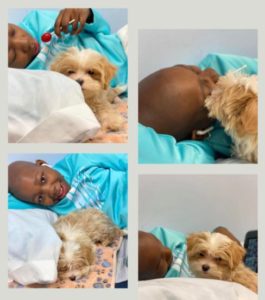 Throughout the past 8 years of her life, Iliana has relapsed 23 times! The family raised funds to send Iliana to a neuroblastoma specialist at Memorial Sloan Kettering in New York; unfortunately, she never made it out of their current trial before she relapsed again. Not only did she relapse, but they found more spots on her scans. She was beginning to lose hope. All Iliana wanted was something or someone she could snuggle with and who will love her back unconditionally when she is feeling down, sad, or in pain. We had to help make this little warrior's wish come true!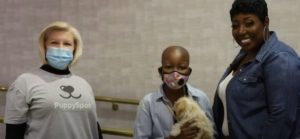 After going over some puppy choices with Iliana and her mom, Iive, it was decided a Maltipoo puppy Nixon (now Milo) would be the perfect little cuddle buddy for Iliana. We worked quickly get Milo ready to travel home safely to Iliana. After receiving his nose to tail vet check, we made some extra special travel arrangements with our PuppySpot Chaperone Barb York. Milo was ready to come home!
Milo's delivery day was an unforgettable moment. As soon as she saw her new best friend, Iliana's face lit up and filled with tears. It was an emotional day to say the least. They do say puppies are a form of medicine, and with Milo around, Iliana has already been motivated to get up and move around. He also brought her a new sense of hope, "Iliana immediately told her mom she would continue with treatments and asked to look at more specialized trials."
We wish Iliana, Ivie, and Milo the best and are grateful to be able to help fulfill her dreams with Sydney's Soldiers Always.