It is always a pleasure working with Make-A-Wish Oregon. Their wish managers and volunteers work hard to ensure the wishes of thousands of children in the Pacific Northwest are granted each year. Thanks to a bit of coordination between Make-A-Wish Oregon and the PuppySpot team, another child 's wish has come true!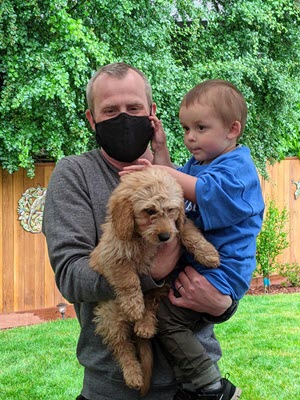 When Make-A-Wish Oregon contacted us, they were working on a wish for a 3-year-old child by the name of Boaz. Boaz is a brave little boy who recently endured a bone marrow transplant. Bo has shown profound courage in his battle, and all he wants is a new best friend to stick by his side through all of the ups and downs.
According to his parents, Bo's is obsessed with dogs and pretends to be one all the time. He was overjoyed by the therapy dogs he met in the hospital. His family is hoping a Goldendoodle puppy will provide some much needed comfort to Bo, and a companion to grow up with.
Little did Bo know, his wish was about come true! A Goldendoodle puppy named Toby was given a nose-to-tail veterinary exam, and escorted by Puppy Chaperone Tricia Vrooman to meet his new family.
Tricia has a close relation to Make-A-Wish Oregon as she herself was one of their first recipients. She loves granting puppy wishes, and was extra happy to escort Toby the Goldendoodle to his new home.
It was an exciting day to say the least! Bo and Toby were instant best friends! Shortly after Toby was settled in, we reached out to Bo's family to check in on how things were going. They informed us that Toby is extra-sweet, affectionate, and bonding well with the whole family, especially Bo.
The two are now spending their time getting acquainted and playing as much as possible! Another beautiful wish for the history books! Thank you, Make-A-Wish Oregon, for inviting us to be a part of such a special wish experience!