This year has brought on numerous challenges to many families. It will be a year many of us won't soon forget. Now, it is time to put this year to rest. With 2021 comes a sense of hope, and that is what two Make-A-Wish families received just in time to bring in the new year.

Our philanthropic work with Make-A-Wish has increased exponentially over this past year. Unfortunately, many wish children have had to postpone their travel wishes due to the pandemic. This caused an uptick in another type of wish, a wish for a new best friend in the form a four-legged companion.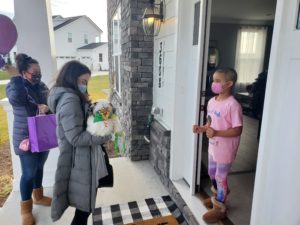 Yesterday, we were able to help deliver hope and happiness to two wish families. The two families were identified through Make-A-Wish New Jersey and Make-A-Wish Mid-Atlantic. When we were approached by the Make-A-Wish Mid-Atlantic chapter, they were working on a wish for a 7-year-old girl by the name of Zoe. Zoe has been diagnosed with leukemia and is hoping to have a new dog to cuddle and grow up with. On the other hand, Make-A-Wish New Jersey was working on a wish for 19-year-old Daniel. Daniel has been in a battle with acute lymphoblastic leukemia. He always grew up with dogs and wished to have one of his own.
Zoe's Portuguese Water Dog Wish
Zoe's wish was a challenging coordination, as Portuguese Water Dogs are not a very common breed. However, by a stroke of luck, we were able to find one available just before the new year! Once Zoe and her family laid eyes on Skipper the Portuguese Water Dog, they knew he would be the right fit for them. As soon as he was of age to leave home, we worked quickly to have Skipper's nose to tail vet check completed. From there, travel arrangements were made for Skipper to fly VIP style on our PuppySpot Air charter plane.
When Skipper arrived to Maryland, he was greeted by the Chairman of our Scientific Advisory Board, Dr. John Goldberg, and three of his colleagues, Ellen Middleton, Ava Purcell, and Kelly O'Connor. He was a happy, playful puppy and was ready to meet his new best friend, Zoe.
Upon arrival to the family's home, Skipper (now Otter) was welcomed with open arms and big smiling faces (covered by masks, of course). Zoe was the happiest she had been in a while. She recently said to her mom, "haven't you noticed we are happier now?" Otter has already been a life changer after just one day of being home with his new family!
Daniel's Great Dane Wish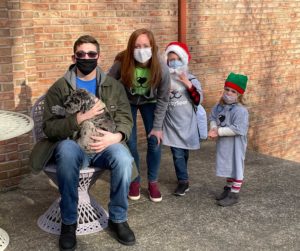 Daniel's wish was an exciting process! With all the adorable Great Danes available, it was a tough choice. It all narrowed down to one handsome blue merle Great Dane by the name of Hugo. As soon as the decision was made, our health and travel processes were set into motion. Once Hugo was checked out by his licensed veterinarian, he was ready to travel home to his new best friend! Hugo also flew VIP style on a PuppySpot Air charter plane. Upon his arrival to New Jersey, he was welcome by PuppySpot's Chief Operating Officer, Claire Komorowski.
Claire, Santa, and Santa's helper all got Hugo ready to meet his new best friend. Daniel had no idea his puppy was coming home already. His mom told him Make-A-Wish was coming to conduct one last interview before granting his wish. Little did he know, Hugo was right around the corner! Daniel was so surprised when Claire approached him with Hugo in tow. It was definitely a memorable experience for all involved.
Zoe, Daniel, and their families are grateful to Make-A-Wish and PuppySpot for delivering hope just in time to bring in 2021. As always, a big thank you to Make-A-Wish for coming to PuppySpot to deliver happiness to these children.