Once again, PuppySpot had the honor of collaborating with Make-A-Wish Southern Florida to grant a puppy wish! Whenever the Southern Florida chapter comes to us with a puppy wish request, we are always eager to assist! This time, we helped deliver an adorable Maltipoo puppy to a 13-year-old wish teen.
Micayla, who just turned 13 last month, is a wish teen who has always wants a puppy of her very own. She struggles with a blood disorder and just wants a puppy to help her feel better on her tough days. Of course, PuppySpot jumped into action to help find the perfect Maltipoo puppy!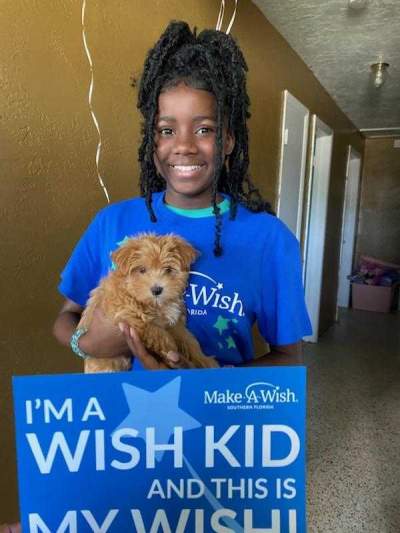 It was a difficult decision with so many fluffy Maltipoos available to choose from! Ultimately, Micayla decided on an apricot and white Maltipoo by the name of Olive. Once the decision was made, our Travel team worked diligently to arrange Olive's safe transport home. After the flight date was determined, Olive's breeder was able to schedule her final nose-to-tail vet check before making her way to South Florida.
On flight day, Olive was accompanied home with a PuppySpot chaperone on our privately chartered plane. Once she arrived in South Florida, she was transported to one of our PuppySpot Puppy Concierges, Ruth, where she spent some time getting lots of love and spoils.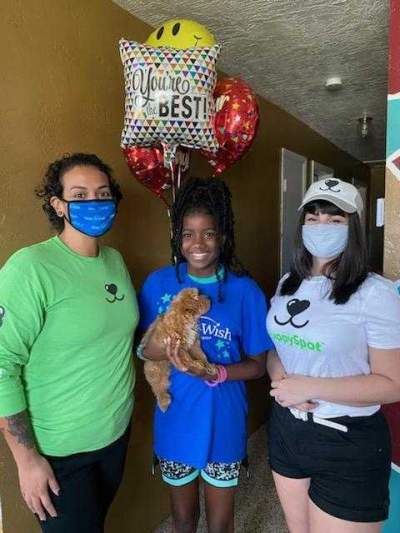 At last, wish day was finally here! On wish day, Olive (now Coco) made her way to Micayla and her wish family, accompanied by PuppySpot representatives Ruth Farley and Gabriella Rosales. Upon arrival at the family's home, they were welcomed by the smiling face of Martha from Make-A-Wish Southern Florida.
Micayla's face lit up with joy when she saw her new best friend outside of her home! Coco looked right at home in Micayla's arms. After the two best friends got acquainted, Coco spent some more time exploring her new home, which includes a one-and-a-half-year-old Yorkie brother! It was a beautiful wish day for Micayla and her whole family!