It's always a good day when the PuppySpot team partners up with Make-A-Wish Southern Florida to help grant a child's puppy wish. Whenever Make-A-Wish receives a tail-wagging wish request, they know just who to call!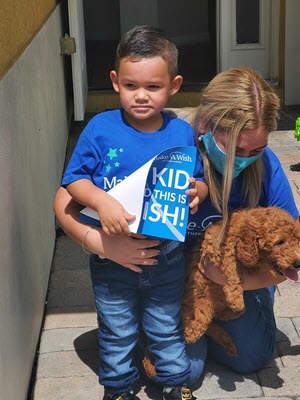 This time, Make-A-Wish Southern Florida was working on a wish for an 2-year-old boy by the name of John. John is a very strong little boy who has had an incredible battle with a Acute Lymphoblastic Leukemia.
John fell in love with the puppies he met when he was in the hospital for treatments. The staff there would bring puppies around to the patients, and John knew right away that he wanted one of his own.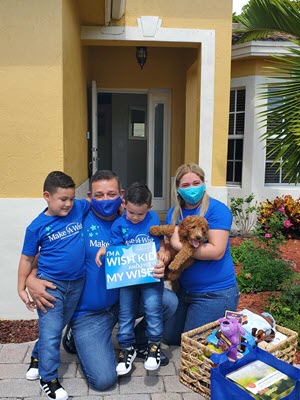 We were so excited to work on John's wish and get his new best friend home as soon as possible! This wish was full circle for Puppy Concierge Paul Trela, who helped connect John with an adorable Goldendoodle named Toby.
Once Toby received the all clear from his vet, he flew in on our private PuppySpot plane where he was greeted by some loving PuppySpot employees. He spent some time with Paul getting ready to meet his new best friend. John has been so excited about this wish. He even had a countdown calendar counting down the days until Toby's arrival.
On wish day, John was ecstatic to meet his new best friend Toby! John and his family were excited about their new addition. It seems like Toby fit right in the moment he was in their arms.
After Toby got settled in, we reached out to John's family to check in on how things were going with their new puppy. They informed us that Toby is a fun-loving, sweetie-pie, who bonds well with everyone. They believe the new pup is the perfect addition to the family and him and John will be inseparable.
Thank you, Make-A-Wish Southern Florida, for inviting us to be a part of such a special wish experience!