PuppySpot recently had the honor of working with Make-A-Wish Suffolk County to help grant yet another puppy wish! These wishes have such an amazing impact on the lives of these children. We are always honored to work with Make-A-Wish to make these wishes come true! This time around, we helped a 12-year-old girl unite with her new Pomeranian companion.
Isela is a warrior who is fighting a tough battle against leukemia. Her wish is to have a Pomeranian puppy to play with and cuddle. When it came time to pick out the perfect companion, Isela had no hesitation in selecting Charlie, a male orange sable Pomeranian.
Prior to going home to his new family, Charlie had to undergo a nose-to-tail health exam from a licensed veterinarian. After receiving the all-clear from his vet, Charlie was ready to go home! Our fabulous Travel team arranged his safe travel home via our privately chartered PuppySpot plane. Charlie was so excited to fly along with our PuppySpot chaperone from Indiana to New York!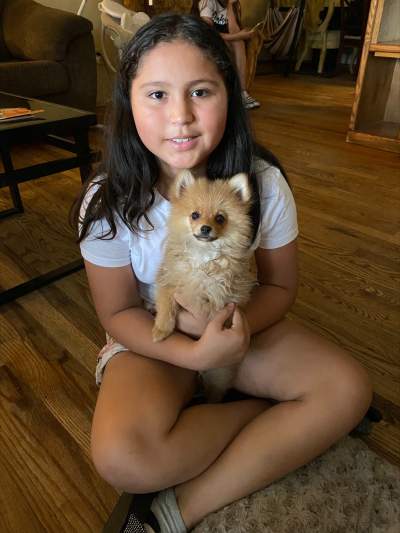 Upon arrival to New York, Charlie was welcomed by a team of dog- loving PuppySpot representatives. The team helped get him ready for his big day. After being checked on and given fresh food and water, Charlie was driven by our trusted third-party transporters at My Pet Cab to Isela's front door!
Isela and her family were so excited to finally meet Charlie! He was right at home in Isela's arms. Today, the two can be found spending most of their time together. Charlie has helped Isela by comforting her and giving her heartwarming puppy kisses on days she needs it the most.
Thank you, Make-A-Wish Suffolk County for trusting PuppySpot to deliver happiness to Isela!