It is always a pleasure working with Make-A-Wish Mid-Atlantic. Their wish managers and volunteers work hard to ensure the wishes of thousands of children in the Mid-Atlantic area are granted each year.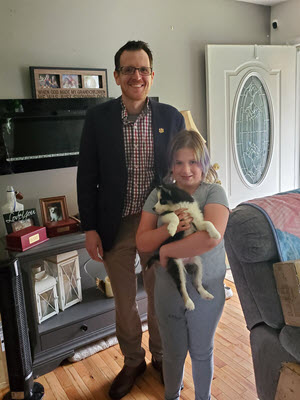 Thanks to a bit of coordination between Make-A-Wish Mid-Atlantic and PuppySpot, another child 's wish came true! When Make-A-Wish Mid-Atlantic contacted us, they were working on a wish for a 5-year-old child by the name of Kaylee. Kaylee is a brave little girl who underwent a bone marrow transplant.
She has wanted a Pomsky puppy with blue eyes for quite some time. Little did she know, her wish was finally coming true! A Pomsky puppy named Angel was given a nose-to-tail veterinary exam.
Once Angel received the all clear from her vet, she was ready to make her way to Maryland to meet her new family! Angel arrived in Maryland on a VIP PuppySpot charter plane, where she was welcomed by the chairman of our Scientific Advisory Board, of Dr. Goldberg.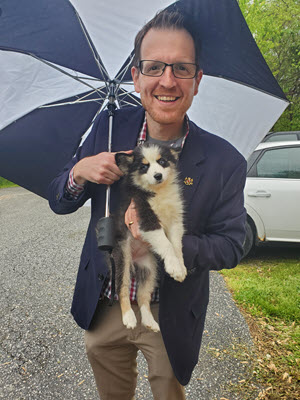 As any dog lover should, he spent some time giving Angel lots of love and attention before heading off to deliver her to her new family. The day's events were best described in a post in our company announcements channel,
"Dr. Goldberg and the Carrol County District Senator (Senator Ready) helped deliver Pomsky Cocoa puppy home to wish kiddo Kaylee. After going through a bone marrow transplant, she wished for the companionship of a furry best friend. Her grandmother days she is a dog lover through and through! She also had no idea her puppy was coming home and was completely surprised when she met her new bestie!"
It was an exciting day to say the least! Kaylee and Angel (now Cocoa) were instant best friends! The two are now spending their time getting acquainted and playing as much as possible! Another beautiful wish for the history books!
Thank you, Make-A-Wish Mid-Atlantic, for inviting us to be a part of such a special wish experience! Check out a clip of Kaylee's wish day here!