2020 marks the year of Make-A-Wish Central New York's 35th anniversary! To kick off the celebration, PuppySpot assisted with granting their 1900th wish- and what better way to celebrate than by granting a puppy wish?
At PuppySpot, we are known to bring joy to families through the placement of healthy puppies into happy homes. We were especially honored to bring happiness to Natalie Stone and her family. Natalie is a 5-year-old girl who has had an incredible journey battling clear cell sarcoma, a rare form of cancer that affects the soft tissues and skin. When asked about her dream wish, Natalie's heart was set on a small puppy she could dress up.
To help find the perfect puppy for the Stone family, PuppySpot coordinated with wish granters at the Make-A-Wish Central NY chapter. Once we saw photos and videos of Suzy the Yorkshire Terrier, we all knew she would be the perfect pup for Natalie. To get her ready to meet her new best friend in Central NY, Suzy was vet checked from nose to tail and travel arrangements were made.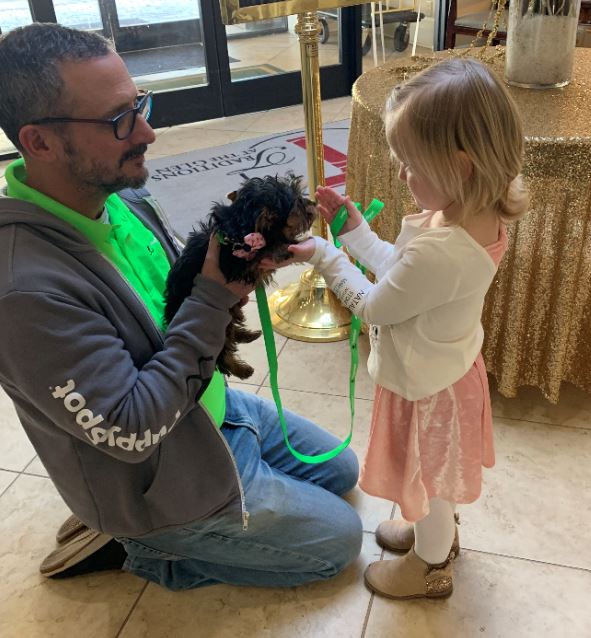 Finally, it was time for the Stone family to meet Suzy! The wish day was an event to be remembered by the Stone family for years to come. Suzy was hand delivered to Natalie by our very own Chief Executive Officer, Jonathan Cherins, and our Chief Marketing Officer, Naama Bloom. The Stone family was truly grateful to Make-A-Wish Central NY and PuppySpot for helping make Natalie's wish a reality.
"The power of a puppy to bring joy into people's lives is undeniable. We were so excited to fulfill Natalie's wish and are thrilled that her recovery has been swift and complete." said Jonathan Cherins, CEO of PuppySpot.
Thank you, Make-A-Wish Central NY, for inviting us to be a part of such a special wish experience! Check out a clip of Natalie's wish day here!