PuppySpot understands that puppy love is something truly special. Puppies may be small in stature, but the love and support that they offer can make a big difference in the lives of their families. PuppySpot has had the honor to work with various chapters of Make-A-Wish Foundation on several wishes now, and has placed adorable puppies into the arms of children in need of furry companionship. We are thrilled to help with their incredible mission to strengthen and empower children with a simple, powerful belief that wishes make life better for kids battling serious illnesses.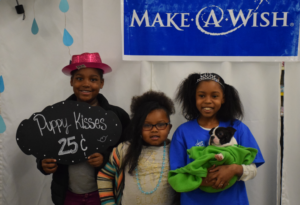 Mia Fulmer from Portland, Oregon suffers from sickle cell anemia. Sickle cell anemia requires frequent hospital visits and means that Mia is frequently in intense pain. But at only 9 years old, brave Mia has never once complained about her condition. Her focus has been her dream to have a puppy as her furry new best friend.
"She's been talking about this puppy for the last two years, she's always wanted one" Mia's mother, Rolunda Fulmer told us. When PuppySpot heard this, we knew we wanted to help Mia find her prefect companion.
Our Chief Administrative Officer, Josh Kreinberg, has a personal history with Make-A-Wish Oregon. Josh's family was one of their first wish recipients over 30 years ago, and he shared that the wish "really helped [his] family recharge, refocus and carry-on." Since then, "[He has] been looking for an opportunity to give back, to do something for Make-A-Wish." His sister, Patricia Vrooman, also helped make Mia's wish come true - she is in fact Mia's nurse and helped make the introductions.
Josh flew out to Oregon to personally deliver the adorable Boston Terrier puppy that Mia picked from PuppySpot.com. "It was amazing," said Rolunda, "to see her dream come true today."
After careful consideration, Mia chose a Boston Terrier for her new puppy. They are high spirited, smart, gentle, and very friendly. They also enjoy warm snuggles and cozy blankets because of their short coats. Since Rolunda told us that "one of the side effects of [Mia's] disease is she's always cold", we knew they would be fast friends.
Mia named her new puppy Rocky, and it seems a fitting name for a puppy that will help Mia do battle with her illness. We are certain that they are going to keep each other warm, happy, loved, and strong.
Help Make A Wish come true by donating to http://oregon.wish.org/