In a recent collaboration with Wounded Warrior Project in South Florida, PuppySpot has worked on placing puppies into the homes of veterans who can use the added benefits of a companion animal. Wounded Warrior Project connected Matthew with us in order to assist with his search for a loving best friend.
Matthew DeBord spent 12 years in the United States Marine Corps before his final discharge in 2014. Shortly after coming back home, he was diagnosed with PTSD and TBI (traumatic brain injury). Upon his return, Wounded Warrior Project assisted Matthew with getting back to civilian life and interacting with people.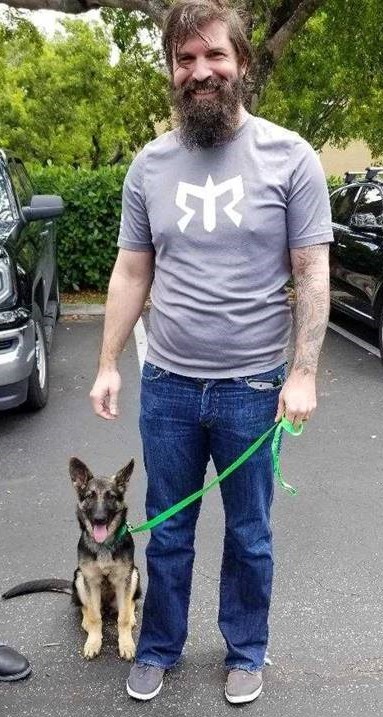 In speaking with Matthew about his time in the service, he opened up to us about a story from one of his deployments. "During one of many deployments I had a major incident happen to myself. While driving in Iraq, my vehicle hit an IED. I was ejected from the vehicle due to centrifugal force. I was medevaced. I was told had a class 2 concussion and a cracked vertebra in my back. But I went back to duty a couple weeks later."
After hearing Matthew's story and what he has been through we knew he would benefit from the warmth, loyalty, and protection of a German Shepherd puppy. We quickly worked with a PuppySpot breeder to donate a 4 month old female German Shepherd puppy named Sally to Matthew.
Recently, one of our contacts at Wounded Warrior Project in South Florida, Helbert Asparilla, let us know he saw Matthew and Sally at a WWP event. The two are doing very well together. He says Sally has helped Matthew get out more and overcome his anxiety.