At PuppySpot we love celebrating dogs! It's even more exciting when the celebration involves a puppy wish granting! We recently had the honor of partnering with Make-A-Wish Wisconsin to help make a dream come true for a wish teen!
Samantha is a strong 19-year-old living with a nervous system disease. Her wish was for a puppy to call her own, who can sit outside with her on her porch swing. Originally, she wanted a Shih Tzu puppy to call her own, but when she saw Ivory the Maltese puppy she felt an instant connection!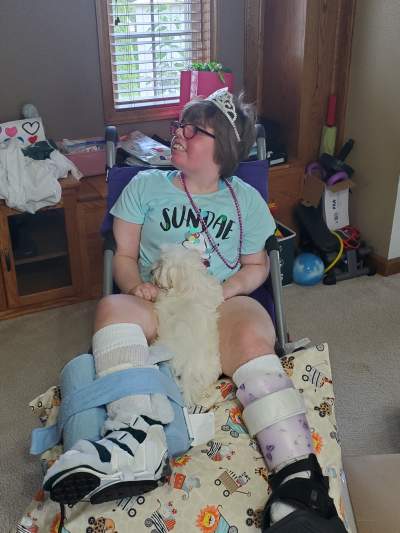 Once the puppy selection was made, it was time to schedule Ivory's travel arrangements and nose-to-tail veterinary health check. After receiving the all clear from her vet, Ivory was ready to make her way to Samantha!
Ivory travelled with a trusted transporter from Indiana up to Wisconsin. As she travelled, Samantha and her family eagerly waited for their new family member's arrival. Finally, Ivory arrived safely to her new home. The whole family was beyond excited to have their new companion home with them.
After spending some time getting acquainted, Ivory and Samantha have become the best of friends. Now Samantha can sit outside on her porch swing with her best friend by her side! Thank you, Make-A-Wish Wisconsin for trusting PuppySpot to deliver happiness!