PuppySpot has had the amazing opportunity to work with numerous chapters of Make-A-Wish. For the first time ever, we had the pleasure of working with Make-A-Wish Mid-Atlantic! Although they cover a large area of the mid-Atlantic region, this wish was granted in Maryland. The exciting part about working with a new chapter of Make-A-Wish is the possibility of granting future puppy wishes!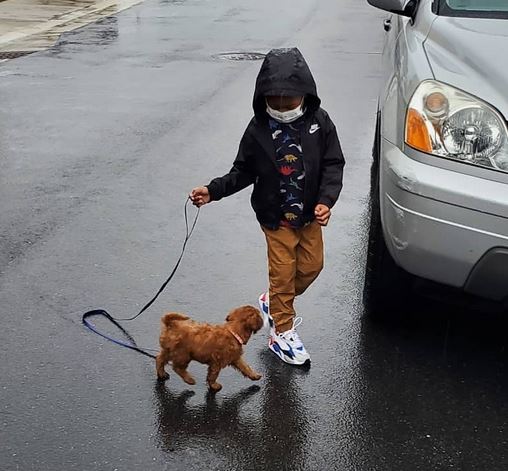 When we were approached by the Mid-Atlantic chapter, they were working on a puppy wish for a young boy named Jesse. Jesse has been diagnosed with a blood disorder and his only wish was for a Goldendoodle puppy. His obsession with the breed began after his neighbor got one a few years ago. He loves how friendly, sweet, and fluffy the dog is and hopes to have one just as sweet and fluffy! Of course, we got right to work on Jesse's one true wish.
It was a tough decision, but ultimately Jesse decided on an adorably fluffy Goldendoodle by the name of Grizz. Once the decision was made final, Grizz's breeder scheduled his nose to tail veterinarian exams while our PuppySpot Travel team arranged for his VIP travel experience.
After Grizz was cleared to travel by his licensed veterinarian, he made his way to the Dulles International Airport where he was welcomed by a very important person, Dr. John Goldberg, and his colleague Ellen Middleton. Dr. Goldberg is the chairman of the PuppySpot Scientific Advisory Board, the group that helps continuously improve our industry leading standards. Once Grizz was welcomed by Dr. Goldberg and Ellen, he was given tons of love before making his way to his new best friend.
Upon Grizz's arrival outside of Jesse's home, he had his second welcoming committee; this time, by the Make-A-Wish team and Jesse! It was an exciting moment for all involved, but especially for Jesse! He was ecstatic to finally have his sweet, fluffy best friend in his arms! Grizz (now named Keeper) can now be found spending lots of time by Jesse's side.
Thank you, Make-A-Wish Mid-Atlantic for trusting PuppySpot to deliver happiness to yet another wish child!