Overview

Charming, graceful and sassy, the Chihuahua is the smallest breed in the world and sport a personality much larger than themselves. Chihuahuas are energetic, lively and small enough to get their exercise simply by running around your home.

They enjoy short walks and exploring the yard, but what a Chihuahua really loves is to be in its owner's arms. Chihuahuas are fiercely loyal to their families, often growing extremely attached to a single person. They are typically suspicious of strangers and have been known to be snippy with children.

Chihuahuas are adaptable and can live just about anywhere so long as its inside. Due to their size, Chihuahua are more susceptible to physical injury than larger breeds. Therefore, Chihuahua puppies require extra special care, patience and a lot of love. If you're willing to invest your time and energy into caring for a Chihuahua, then you will have a loving and loyal companion for years to come.

Breed Characteristics

Click to see other breeds with similar traits:
Chihuahua puppies are tiny, curious and brimming with energy. They will eagerly explore their surroundings and lick everything in sight, so it's important for new puppy owners to puppy proof their home to keep a curious Chihuahua puppy from going where they shouldn't.
Your new puppy will need nutritious food, regular exercise and frequent socialization to keep them feeling happy and healthy. Due to their size, it's best not to leave your Chihuahua puppy unsupervised with large dogs and young children. Like all toy breeds, extra care is needed when picking up your Chihuahua and when introducing them to new environments.
How to Handle Your Chihuahua Puppy?
Chihuahua puppies are fragile and need to be handled with care. Support your Chihuahua's rear end with one hand and place the other hand under their tummy to support their spine. Never carry your Chihuahua with one hand or by its paws or head.
Remember to support your puppy's spine when carrying them and lifting them on to/off of furniture. Consider installing a baby gate or small ramps to allow your Chihuahua access to places where stairs can't be avoided.
Chihuahuas may not be well suited for a home with small children. We recommend utilizing caution when introducing a Chihuahua to small children. To avoid accidents, ensure that children are instructed on how to safely approach, pet and interact with a canine.
Many Chihuahuas have been accidentally injured by small children picking them up, falling on them, or tripping over them. Children under 5 years old should never be left alone with a small dog.
New Chihuahua Puppy Supplies
One of the biggest mistakes new puppy parents make is picking up their new puppy before making a trip to the pet store. Below is a list of supplies you'll need to purchase before your scheduled puppy pick-up appointment:
Collar
Leash
Harness
Toothbrush
Nail Clippers
Brush
Shampoo
Crate (large enough for your puppy to comfortably sit, stand and lie down)
Chew Toys (puppy-safe)
Food Dish (Non-Plastic)
Water Dish (Non-Plastic)
Puppy Pads
Bed
Blanket
Puppy Food
Puppy Treats
Remember, Chihuahuas are easily stressed out. So, it's important to isolate them in a safe, comfortable and quiet area for its first few days in your home. Make sure they have access to food, water and a bathroom area at all times.
Owners with other pets should be sure to pick up their Chihuahua and carry them past your other pets until you can slowly introduce them to your animals. Once everyone has met and is comfortable, you can move your puppy's crate, food and bathroom area into the rest of your home.
AKC registered breeds are categorized into one of seven breed groups based on their characteristics and the role the breed was originally developed to play, such as herding, hunting and guarding. Chihuahuas belong to the Toy Dog breed group, which means they are affectionate, sociable and adaptable to a wide range of lifestyles. Toy Dogs, like the Chihuahua are popular with city dwellers and families with smaller living spaces.
They make great lap-warmers and terrific companions but don't be fooled by their diminutive size - most toy dogs seem to have no idea that they're small. In fact, Toy breeds like the Chihuahua and the Yorkshire Terrier are as least as bold and tenacious as dogs many times their size. Some other breeds that belong to the Toy Dog breed group are the:
A breed standard is a set of guidelines used to ensure dogs produced by breeders always conform to the specifics of the standardized breed. The Chihuahua was officially recognized as an official breed by the AKC in 1908 and is therefore subject to a strict breed standard.
PuppySpot has a zero-tolerance policy for puppy mills or substandard breeding of any kind - so you can be sure that your puppy will be happy and healthy whether they have a breed standard or not.
The Chihuahua is a swift, graceful and alert little dog with many terrier-like characteristics, like a larger than life personality, a saucy expression, a quirky temperament and a seemingly endless store of energy.
Head
The Chihuahua's head is well rounded with an "apple dome" skull and with or without molera. Its expression is saucy and alert. Eyes are full set well apart and round, but not protruding. Light eyes in blond or white-colored dogs permissible. Ears are large, erect and held upright when alert. Ears should also flare to the sides at a 45-degree angle when in repose. Muzzle is moderately short, slightly pointed with lean cheeks and jaws.
Body
The Chihuahua's neck is slightly arched and slopes gracefully into the shoulders. Topline is level. Ribs are rounded and well sprung but not too "barrel-shaped". Shoulders are lean and sloping into a slightly broadening support above straight forelegs. Chest is well-developed.
Legs and Feet
The Chihuahua's feet are small and dainty with toes well split up but not spread. Pads are cushioned. Pasterns are strong. Rear feet are the same as the front.
Tail and Hindquarters
The Chihuahua's tail is moderately long and carried in a sickle shape either up or out, or in a loop over the back with the tip only just touching the back and never tucked between the legs. Tails should never be docked.
Coat and Colors
Chihuahuas are shown in one of two coats, smooth or long. Smooth Coat Chihuahuas possess a soft texture, close and glossy coat with ruff on the neck preferred. Long Coat Chihuahuas possess a soft textured coat that is either flat or slightly wavy with an undercoat preferred. Chihuahuas may be shown in any color - solid, marked or splashed.
Height and Weight
A well balanced and healthy Chihuahua is 6 to inches tall and does not to exceed 6 pounds. Its body is slightly longer when measured from the point of shoulder to the point of the buttocks, than height at the withers, though somewhat shorter bodies are preferred in males.
The Chihuahua temperament is best described as saucy. They are renowned for being the world's smallest dog, but they may, in fact possess they he world's largest personality. This little breed is alert, busy and fun-loving. They're affectionate housemates, though they tend to form an incredibly close bond with a single person.
Chihuahuas are intelligent, willful and feisty. They tend to forget that they are small and will bravely stand up to a large aggressive dog. That's why owners need to be vigilant when introducing their Chihuahua to new dogs, new situations and new environments.
Chihuahuas are generally happy, healthy and long-lived. Like all dogs, however, Chihuahuas are susceptible to a number of health issues that new owners need to know about. For this reason, it is essential that prospective Chihuahua owners buy from a responsible breeder - one who can promise they will do their best to ensure your new family member is healthy from the moment he or she arrives home!A Chihuahua puppy purchased from a reputable breeder will have been vaccinated, dewormed and undergone a 30-point checklist to confirm and reconfirm that your new puppy meets the best health standards in the industry.
In Chihuahuas, you should expect to see a veterinary health report (VHR) which requires an examination of a puppy's ears, eyes, mouth, teeth, gums, respiratory system, cardiovascular system, musculoskeletal system, skin and coat, gastrointestinal system, and external genitalia.
New Chihuahua owners should also bring their new puppy to their veterinarian within two days after arrival to re-verify the puppy's health and to learn more about the medical conditions that may affect Chihuahuas, such as patent ductus arteriosus, mitral valve disease, eye disease, and patellar luxation.
Life Expectancy
Chihuahuas are known to be particularly long-lived with many living to be 12 to 20 years old. The best way to ensure your Chihuahua lives a long, happy and healthy life is to provide them with a nutritious diet, lots of exercise and plenty of love and attention.
Caring for a Chihuahua puppy is one of the most joyful experiences you can give to your family. Though not challenging, caring for a tiny Chihuahua does require greater precaution and patience than caring for a larger, docile breed, like the Golden Retriever.
Proper Chihuahua care includes a nutritious diet, regular grooming and plenty of exercise. It also requires housebreaking, obedience training, and socialization. If cared for properly, you will have years and years of love, joy and loyal companionship.
Nutrition
Regardless of size, breed or pedigree, your puppy's health, happiness and quality of life are dependent on its diet. The more nutritious diet, the better your Chihuahua's life will be. So, the diet you choose for your Chihuahua should include the right balance of nutrients, vitamins and minerals.
What Should I Feed My Puppy Chihuahua Puppy?
Stay away from dog food brands that use artificial ingredients, preservatives and fillers like grain, wheat and brewers rice. When given the choice, your Chihuahua will most certainly choose wet food over dry food.
However, due to the high occurrence of dental disease in the breed, we recommend feeding your Chihuahua a blend of wet and dry kibble, which is better for the teeth.
How Much Should a Chihuahua Puppy Eat?
Start your Chihuahua puppy on moistened dry puppy food, 3 to 5 times per day for no longer than 10 minutes per feeding. After 10 minutes remove their food even if they haven't finished, though 10 minutes should provide enough time for your puppy to consume the entire meal.
Monitor your new puppy's health and wellness; if they appear skinny and eagerly finish every meal, then you may need to increase the amount of food in their diet. There are some foods you should never feed any dog, like:
Chocolate
Alcohol
Onions
Garlic
Caffeine
Grapes
Dairy
Nuts
Pitted Fruit
All the above are considered poisonous to dogs and should be kept well out of their reach. Dogs who ingest these foods should be taken to the vet immediately.
Grooming
It doesn't matter if your dog never sheds, rarely gets dirty or has a coat thicker than a carpet, grooming is an essential part of dog ownership. Thankfully, grooming a Chihuahua is simple, easy and, if done properly a bonding experience for you an your puppy.
Do Chihuahuas Need to be Groomed? Yes. Chihuahuas may come in a variety of coats and colors; all Chihuahuas need to be groomed on a regular basis.
How Often Do You Groom a Chihuahua?
Your new Chihuahua puppy needs a bath about once per month. Don't over-bathe your Chihuahua. Over-bathing will remove the natural oils in your Chihuahua's coat that protect its skin and keep its fur strong, shiny and looking its best. We recommend that you brush your chihuahua puppy once a day.
Exercise
Chihuahuas might not think it, but they are indoor dogs. But even indoor dogs require regular physical activity and mental stimulation to stay fit, happy and healthy. Chihuahuas are vigorous, outgoing, lively dogs who need frequent exercise to ward off boredom-induced bad behavior. Though, admittedly, a Chihuahuas exercise requirement are not all that demanding.
Fetch, tug-of-war and daily walks are enough to keep your Chihuahua exercised, happy and healthy. Daily exercise also improves circulation and provides opportunities for your puppy to socialize and explore its environment, which is critical to proper socialization. Remember to keep your Chihuahua on a leash whenever they are outside.
Training
Chihuahuas are tiny, quirky and boiling over with personality, which can sometimes translate into a difficult training process. As a toy breed, Chihuahuas grow quite attached to their owners and tend to follow them wherever they go.
However, this attachment can lead to dominant behavior if your Chihuahua is not properly trained and socialized with other dogs and people. Like all dogs, the sooner you begin training your Chihuahua the more successful you'll be.
Housebreaking
It's a common misconception that Chihuahuas are difficult to housebreak. Though that may be true of some Toy dogs, the Chihuahuas exceptional intelligence makes housebreaking a simple task.
The biggest challenge to housebreaking a Chihuahua is its small size, which makes it difficult to see if/when they are squatting inside, which means you need to keep an eye on your pup while they are indoors.
Consistency is the key to housebreaking a Chihuahua. Watch your puppy for indications that they need to do their business. If you see that they are about to go inside clap your hands loudly or call out their name to give them pause.
Then hustle your puppy outside to your designated area and let them do their business. When your puppy is about to go say something like "go potty", then praise them once they go potty in the right area. Repeat this process until your puppy associates "go potty" with going outside to do its business. Avoid punishing your puppy for accidents inside the house. Simply ignore it, then clean it up.
How to Crate Train a Chihuahua Puppy?
Crate training a Chihuahua is not difficult, but it is important. Start with a crate that is big enough for an adult Chihuahua to stand, turn around and sit or lie down in without any hindrance. We recommend placing your puppy's crate in your bedroom for the first few weeks, so they associate the crate with the comfort of your presence.
Introduce your Chihuahua to the crate by placing a few treats inside and around the crate. Feed your puppy once they move inside the crate, so they begin to associate food with the crate. Place your Chihuahua puppy in their crate and give them a treat when it's time for bed. Then lock the crate and leave the room.
Your Chihuahua puppy will likely bark once you leave the room. This is ok. Simply wait to enter the room again until they have stopped barking. It may be difficult but try to avoid petting or praising your Chihuahua when they bark inside their crate.
The praise may encourage the behavior and increase their desire to be let out of the crate. Start the process over again after 30-45 minutes. Don't forget, puppies need a toy, and easy access to fresh clean water at all times when inside their crate.
Socialization
Chihuahuas may be tiny dogs, but they have a strong character and are not afraid to dominate other dogs. Chihuahuas that are not socialized are less likely to gain the experience they need to feel safe in a given environment which can lead to aggressive behavior when presented with new situations, people, or pets.
Therefore, it's very important that new Chihuahua owners frequently socialize their puppy so it can learn how to behave in new environments, though it's best to introduce children and other dogs slowly and with caution.
Though your Chihuahua will love being outside, a dog park is likely not the best place to socialize a Chihuahua. A game of fetch in a fenced in yard is a great way to exercise your Chihuahua away from large, curious dogs who are likely to upset the smaller pooch.
Obedience Training
Chihuahuas are incredibly affectionate with their owners, but they can also be stubborn, willful and standoffish with strangers - obedience training can address these behaviors before they become an issue.
Obedience training a Chihuahua can be challenging but it can also be a fun bonding experience for you and your Chihuahua puppy.
What's the Best Way to Obedience Train a Chihuahua? The best way to obedience train a Chihuahua is to spend time with it. Spending quality time with your puppy will strengthen your relationship, and provide opportunities to learn, train and bond together.
As with all thing's puppy, we recommend that obedience training began as early as possible in the puppy's life. Start with basic reward-based training principles like:
sit
down
stay
come
heel
roll over
Use the same words and phrases to indicate when, where and how you want your puppy to execute a command. Issue your command. Pause. Then reward them with a snack when they get it right.
Do not punish your Chihuahua when they fail a command. Simply regain their focus and try again until they get it right. Remember, the goal of obedience training any dog is to establish limitations on your dog's behavior and assert yourself as the leader of the pack.
Are Chihuahuas good pets? Yes. Chihuahuas make terrific pets - they're sweet, affectionate, adaptable and profoundly loyal to their family. They love to cuddle and have plenty of energy for playtime. If you're willing to invest your time and energy into caring for your Chihuahua puppy, then you'll have a loyal and loving companion for many years.
Why are Chihuahuas so aggressive? Chihuahuas tend to be more aggressive than other toy dog breeds because of the contrast between their tiny bodies and their larger than life personalities. Chihuahuas are aware of their small size - they simply don't see it as a hindrance to being the top dog in the pack.
It should be noted - aggression should be discouraged in every dog and is not inherent to one breed or another. If you provide regular training, frequent socialization, consistent instruction and lots of love and affection there is absolutely no reason for a Chihuahua to exhibit aggressive behavior.
What food is not good for Chihuahua? Steer away from dog foods that contain artificial ingredients, preservatives and fillers like grain, wheat and brewers rice. Also avoid feeding your Chihuahua from the table, or anything that can be considered human food.
What is considered the rarest color of Chihuahua? A pure white Chihuahua (exhibiting no trace of cream or fawn on their coat) is considered fairly rare. The only colored parts of a pure white Chihuahua are the nose and toenails which are black while the eyes and nose are either pink or beige.
How long will a Chihuahua live? Chihuahuas are known to be particularly long-lived with many living to be 12 to 20 years old.
Why do Chihuahuas burrow under blankets? Chihuahuas are not just tiny - their coats are not particularly thick, which means they tend to get cold. Blankets are not only warm; they provide security which can make an anxious dog feel safer.
Do Chihuahuas pick one person? Yes. Though Chihuahuas are terrific family dogs, it's not at all uncommon for a Chihuahua to grow very attached to one person in the family, often following them around from room to room.
Do Chihuahuas like to cuddle? Yes. Chihuahuas are toy dogs, which means they were bred to cuddle, snuggle and be the perfect lap warmer.
Can you train a Chihuahua not to bark? Yes, but even when trained, there is no guarantee that your Chihuahua won't bark. Chihuahuas bark as a warning, in self-defense, when they are excited, and for attention. The best way to keep your Chihuahua from barking is to ensure it feels safe, does not get too excited, and by showering it with love and attention.
Are Chihuahuas lazy? Despite their diminutive size, Chihuahuas are courageous to the point of rashness known to fearlessly approach dogs several times their size. They can also quickly become complacent in a life of canine luxury, which is why it is important to ensure they receive at least one hour of exercise per day.
Can Chihuahuas be left alone all day? We recommend the maximum length of time you leave any dog alone is 4 hours. Chihuahuas should not be left in a small crate for long periods and must always have access to fresh drinking water.
Puppies need lots of socialization before being left on their own, otherwise owners increase the risk of separation anxiety which can result in destructive behavior excessive barking. Puppies also need to relieve themselves more often than an adult dog, at least once an hour when housebreaking.
Why does my Chihuahua lick me so much? Your Chihuahua licks you so much because it loves you. Licking is a sign of affection in canines. Either that, or it thinks you taste good.
Are Chihuahuas hyper? Chihuahuas are very social, and have lots of energy, which is sometimes described as being "hyper." Plenty of exercise and lots of love and attention can help to expel some of your Chihuahua's excess energy.
The history of the Chihuahua can be traced to an ancient breed known as the Techichi, which was domesticated by the Toltec People who populated Pre-Colombian Mexico from approximately 900 to 1150 AD. Though, ancient burial shafts unearthed by archeologists in Colima, Mexico indicate that the domestication of the Chihuahua started well before the Toltec people moved into the area.
Whatever the case, Chihuahuas were well documented by the Conquestado, Hernan Cortez when he arrived in Central American in 1519. His conquest would eventually wipe out the majority of Mexico's native inhabitants, including their beloved dog, the Techichi - ancestor to the smaller Chihuahua.
Americans took an interest in the breed in the late 1800's and found many specimens in the State of Chihuahua, which is where we get the modern name for the breed. The first AKC-registered Chihuahua was a little guy named Beppie, who was recorded in 1908.
Need help finding your perfect puppy?
A member of the PuppySpot pack can help!
Contact Us
Contact Us
Need help? Visit our Help Center where we answer all questions related to finding and preparing for your puppy's arrival.
You can also reach our team by email or phone for additional support: [email protected] | (888) 671-0518
Please direct all press inquiries to [email protected]
Similar Breeds
Chipin

Chipoo

Chiweenie

Chorkie

Chug

Malchi

Shichi

Xoloitzcuintli

Pomchi
Reviews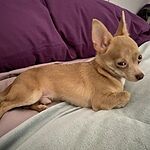 Desi R.
11/01/2022
Chihuahua
I have laughed out loud more since my Chihuahua arrived than I have in a long time. He loves to play with the cat and hang by the pool with the grandchildren. He loves going anywhere I take him and he is a very sweet little guy socially.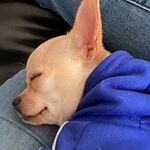 Barbie J.
09/30/2022
Chihuahua
Aside from being deathly afraid of people, Walter (formerly known as Macho) is WONDERFUL! He's an extremely fun addition to our lives!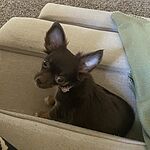 Lynne H.
08/18/2022
Chihuahua
My experience with PuppySpot was just amazing. Everyone was so kind and knowledgeable. All questions were answered and I was given up to date information about my puppy. My puppy was driven to my town by two very nice men. She was healthy and happy. Her care was exceptional. I would recommend PuppySpot to anyone looking for a happy, healthy puppy.
All Reviews