Overview

The Victorian Bulldog is a modern breed developed by crossbreeding the Bulldog and the Olde English Bulldogge. They were bred to be a healthier and lower-maintenance version of the Bulldog. The Victorian Bulldog is medium in size and thick-boned with a muscular body, wide chest, and a large head that is proportionate in size. Their wide nostrils, broad muzzle, rose or button ears, and loose-hanging skin gives them the typical appearance of the Bulldog. Although they might look tough, they tend to have a gentle and friendly personality. With proper socialization, they often do well in a home with children and other pets. Even though the Victorian is a hybrid and has yet to be recognized by AKC, they're often treated as a purebred and are recognized with ACA, ICA, and DRA registries.

Breed Characteristics

Click to see other breeds with similar traits:
---
Need help finding your perfect puppy?
A member of the PuppySpot pack can help!
Contact Us
Similar Breeds
Alapaha Blue Blood Bulldog

Staffordshire Bull Terrier
Reviews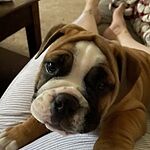 Marianne N.
06/12/2021
Victorian Bulldog
I purchased my beautiful victorian Bulldog from Puppy Spot and received her delivered right to my door two weeks ago today. I had nothing but a great experience and my Dahlia is just the most beautiful baby and we all love her so much.
All Reviews