Overview

The American Corgi is a cross between the Cardigan Welsh Corgi and the Pembroke Welsh Corgi. Sometimes referred to as the Pembroke Cardigan Corgi or a Welch Cardigan Corgi, this hybrid will have a temperament which reflects the similarity of the two parent breeds. Since both breeds have a close resemblance to each other, they will likely have a body which is longer than it is tall and with short legs. They can be stocky and carry a long tail like the Cardigan, or be smaller with a shorter tail like the Pembroke. This hybrid gets along well with kids, cats, and other animals when properly socialized. They require an adequate amount exercise on a daily basis and mental stimulation to prevent boredom.

Breed Characteristics

Click to see other breeds with similar traits:
---
Need help finding your perfect puppy?
A member of the PuppySpot pack can help!
Contact Us
Similar Breeds
Pembroke Welsh Corgi

Trainability

Accommodating
Reviews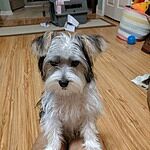 Claudia C.
06/04/2019
American Corgi
Dargo, aka Loell, is the second puppy from PuppySpot and I couldn't be happier. From working with the concierge Jaimy, and the unexpected call from the breeder, I know that everyone is concerned about the well fair if the puppy. Loell has adjusted well to the pack and is having a ball with Gallifrey, aka Rugger, my Pembroke Welsh Corgi. I would highly recommend Puppy spot to anyone wanting to purchase a puppy. There is one negative remark though, with so many adorable puppies it's hard to pic...
All Reviews