Overview

The large and lovable cross of a Bernese Mountain Dog and a Poodle, the Bernedoodle is what many would call the perfect canine companion. As a hybrid dog, Bernedoodle can be large or small and show a range of different colors and markings.

Though no Bernedoodle puppies are exactly alike, you can count on them to combine the best characteristics of their parent breeds in beautiful and unique ways. Like the Poodle, these hybrid pups are intelligent, athletic and incredibly loyal.

Like the Bernese Mountain Dog, Bernedoodles form remarkably strong bonds with their family and absolutely adore children. In addition to a hypoallergenic coat, the Bernedoodle is also easy to train and remarkably low-maintenance. Find Bernedoodle puppies for sale!

Breed Characteristics

Click to see other breeds with similar traits:
Bernedoodle puppies are adorable, curious and behave surprisingly similar to a toddler - they need near constant attention and crave your love and affection nearly as much as they crave food.
This is a smart breed that is always sociable, friendly and well-behaved. Like all puppies, however, they need to first learn what is acceptable behavior and what isn't. Bernedoodles are are exceedingly curious and eager to explore their new surroundings.
That's why it is very important that new Bernedoodle puppy owners take steps to ensure their puppy doesn't get into trouble. You do that by housebreaking early and puppy-proofing your home.
How to Puppy-Proof Your Home?
Like all puppies, Bernedoodle puppies are very curious and explore their new environments with their mouths. They are very likely to sniff out food and anything they think is food and chew on it to see if they can eat it.
That's why it's incredibly important that new Bernedoodle puppy owners take the necessary steps to puppy-proof their home: install cabinet locks and puppy gates; keep all entrances to home closed; keep toilet lids closed; remove any choking hazards; move all poisonous houseplants out of reach and fence in yard, if possible.
It's also very important that new Bernedoodle owners visit the pet store for supplies Before they pick up their new puppy. Below is a list of supplies you'll need to purchase before your scheduled puppy pick-up appointment:
Collar
Leash
Harness
Toothbrush
Nail Clippers
Brush
Shampoo
Crate (large enough for puppy to comfortably sit, stand and lie down)
Chew Toys (puppy-safe)
Food Dish (Non-Plastic)
Water Dish (Non-Plastic)
Puppy Pads
Bed
Blanket
Puppy Food
Puppy Treats
AKC registered breeds are categorized into one of seven breed groups based on their characteristics and the role the breed was originally developed to fulfill, such as herding, hunting and guarding. Bernedoodle are a hybrid crossbreed of the Standard Poodle and the Bernese Mountain Dog, therefore they are not recognized by the AKC or categorized into an official breed group.
A breed standard is a set of guidelines used to ensure dogs produced by breeders always conform to the specifics of the standardized breed. Crossbreeds, like the Bernedoodle are not officially recognized by the AKC and therefore not subject to an official breed standard.
However, PuppySpot has a zero-tolerance policy for puppy mills or substandard breeding of any kind - so you can be sure that your puppy will be happy and healthy whether they have a breed standard or not.
Due to their parentage, Bernedoodles are almost always black, black and white or a combination of black, white and brown. In general, the Bernedoodles appearance combines characteristics of both the Bernese Mountain Dog and the Poodle - they are both lean and sturdy and flaunt a shaggy, hypoallergenic coat.
As crossbreeds, Bernedoodles come in a range of sizes (50-90 pounds), though females are generally smaller than males. Regardless of size, Bernedoodles are always well-mannered, affectionate and very seldom aggressive. They love children and make fantastic family companions.
Head
The Bernedoodles skull is flat on top and broad, with a slight furrow and a well-defined, but not exaggerated. The muzzle is strong and straight. The nose is always black. Its head is of moderate width and well-developed but without exaggeration and in proportionate in size to the rest of the dog. Face should be shorter than the skull, clean-cut and free from fleshy cheeks.
Ears are set low on the head and should not stick up or out. Eyes are large, wide-set, expressive and animated. Nose is large and square in appearance but never small, narrow or pinched.
Body
As a hybrid dog, the size and substance of the Bernedoodle's body can vary from dog to dog according to its pedigree. However, as a general rule, Bernedoodles blend characteristics of the Bernese Mountain Dog and the Poodle - medium to large, sturdy but not bulky and never over-lean. The neck is strong, muscular and of medium length. The chest is deep and capacious with well-sprung, but not barrel shaped.
Legs and Feet
The Bernedoodle's legs are straight and strong and the elbows are well under the shoulder when the dog is standing. The pasterns slope very slightly but are never weak. Feet are compact and turn neither in nor out.
Tail and Hindquarters
The Bernedoodle's tail should follow the topline and carried happily but should never curl completely over the back. The tail tip should not touch the back nor curl upon itself. Hindquarters are well-muscled for power in movement.
Coat and Colors
As hybrid dogs, the Bernedoodle's color and markings can vary from dog to dog, though the variation is slight. The Majority of Bernedoodle coats are wavy and almost always black, black and white or a combination of black, white and brown.
Height and Weight
As crossbreeds, Bernedoodles come in a range of sizes (50-90 pounds), though females are generally smaller than males. The Bernese Mountain Dog is a substantial dog, so Bernedoodles that "lean Bernese" are likely to be larger than those who "lean poodle", generally 23 to 29 inches.
The Bernedoodles temperament and personality is affectionate, friendly, comical and joyful. They are always energetic and eager-to-please and eagerly greet people in a happy, friendly manner. They are exceptionally loyal and known to possess an intuition about the emotional state of family members. As a general rule, Bernedoodles love children and get along well with other pets.
Bernedoodles are a healthy breed. As hybrid dogs, Bernedoodles benefit from Heterosis, which means they possess traits that are enhanced as a result of the mixed genetic contributions of its parents.
Though Bernedoodles are widely considered to be healthy dogs, they can develop genetic health problems common to both Bernese Mountain Dogs and Poodles. The best way to ensure the health of your puppy is to buy from a responsible breeder who can ensure your new family member is healthy from the moment he or she arrives at your home!
Puppies purchased from a reputable breeder will have been vaccinated, dewormed and undergone a 30-point checklist to confirm and reconfirm that your new puppy meets the best health standards in the industry.
Life Expectancy
Bernedoodles are known to live between 12 and 15 years old. The best way to ensure your Bernedoodles lives a long, happy and healthy life is to provide it with a nutritious diet, lots of exercise and plenty of love and attention.
Like all dogs, Bernedoodles require specific care to keep them fit, happy and healthy. They need plenty of exercise, a nutritious diet and lots of love and attention from their owners. As with most breeds, the earlier you begin housebreaking your Bernedoodle, the more successful you'll be.
You may have to make an effort to keep your dog motivated and care for your Bernedoodle physical, mental and social well-being. Training a Bernedoodle also calls for a broad range of activities to avoid boredom and optimize the learning process.
It helps to create a schedule that is both convenient for you and helps you provide meals on a predictable schedule; establish a bedtime; take your puppy outside to "go potty" at regular intervals and exercise/play with your puppy frequently and at regular intervals.
Nutrition
It's very important that new Bernedoodle owners feed their puppy a nutritious diet and discourage others from feeding it human food. It's best to start your Bernedoodle puppy on moistened dry puppy food 3 to 5 times per day for no longer than 10 minutes per feeding.
Remove their food after 10 minutes even if they haven't finished to help them learn that food will not be provided unless you provide it. Stay away from dog food brands that use artificial ingredients, preservatives and fillers like grain, wheat and brewers rice.
Don't forget to monitor your puppy's health and wellness in the early stages. If they appear skinny and eagerly finish every meal, then you may need to increase the amount of food in their diet and vice versa.
There are some foods you should never feed any dog, like caffeine, grapes ,dairy, nuts, pitted fruit, chocolate, alcohol, onions and garlic. Dogs who ingest these foods should be taken to the vet immediately.
Grooming
Like all dogs, Bernedoodles require regular grooming and brushing to keep their fur clean and free of tangles. They will also require regular bathing. We recommend giving your Bernedoodle a bath once per month, unless their activity level calls for more.
Be careful not to over-bathe your Bernedoodle. Over-bathing will remove the natural oils in your puppy's coat that protect its skin and keep its fur strong, shiny and looking its best. You should also brush your puppy once a day.
Grooming is also a great opportunity to check your Bernedoodle for potential health concerns like cuts and abrasions to their legs and paws, ear and eye infections and especially fleas and ticks. Nail trimming should be done every few weeks with a special clipper you can buy at any pet shop.
How to Groom a Bernedoodle?
Wash your Bernedoodle with dog shampoo being careful not to get any shampoo in your Collie's eyes, ears or mouth. It is very important that you work the shampoo into your Bernedoodle's top coat and undercoat to remove dirt and debris.
Rinse your puppy with warm water. Be sure to remove all shampoo to prevent irritation and dryness. Apply dog conditioner if your puppy has dry skin. Brush their coat with a pin brush, which is gentle enough to prevent hair breakage but also removes knots and untangles their dense undercoat.
Brush your puppy's thicker areas of fur. Use a slicker brush to groom harder-to-reach areas, such as behind the ears and elbows. Trim your Bernedoodle with thinning shears. Bernedoodle should have a long, but neatly trimmed coat. Trim the feet, feathers on the legs and excess fur on the hocks if desired.
Exercise
The Bernese Mountain Dog and the Poodle are both substantial breeds with hefty exercise requirements. Like its parents, the Bernedoodle needs plenty of exercise to stay fit and occupy its active brain.
Any physical activity you can safely manage with your Bernedoodle is a great idea and good for its physical and mental well-being. Take your Bernedoodle running, hiking, rollerblading - anything that gets you and your Bernedoodle up and moving.
Daily exercise also improves circulation, and provides opportunities for your puppy to socialize and explore its environment, which is critical to proper socialization. Remember to keep your Bernedoodle on a leash whenever they are outside.
Training
Bernedoodles are obedient, friendly and eager-to-please. All they need to unlock their amazing potential is consistent training from a dedicated owner. Like all dogs, Bernedoodles learn best with positive, reward based training methods.
Remember, you're working to establish yourself as your puppy's pack-leader with positive reinforcement, not fear of punishment. The key to achieving amazing training results is to be confident, consistent and positive throughout each training session. Don't forget that food is always a great motivator.
Housebreaking
Housebreaking begins the moment you bring your new Bernedoodle puppy home and introduce it to its new environment. Your puppy will be very excited to explore its surroundings and learn about its new home.
Remember, puppies learn by putting things in their mouths. So, it's very important that new Bernedoodle owners keep a close eye on their puppy for the first few months until it learns what it should and shouldn't do.
Start by confining your puppy to one room of the house for the first couple of days with their bed, water, food and toys. Once they have become used to that room, you can begin to introduce your puppy to the rest of the family.
How to Potty Train a Bernedoodle Puppy?
Potty training a Bernedoodle is a fairly straightforward process. Remember to use the same words and phrases to indicate when, where and how you want your puppy to do its business.
Watch for signs that your Bernedoodle needs to go potty like pacing, sniffing, and squatting. When you notice these behaviors calmly and quickly hustle your puppy outside and to the spot you've chosen.
Then say a phrase similar to "go potty" and praise them when they get it right. With practice your Bernedoodle will learn where to "go potty." It can take up to 6 months to fully housebreak a Bernedoodle puppy.
How to Crate Train a Bernedoodle Puppy?
Crate training provides your puppy with a place to sleep and to feel safe and comfortable when you're not at home. Bernedoodles are not small puppies. So, it's important to purchase a crate that is big enough for a Bernedoodle to stand, turn around and sit or lie down in without issue.
It's best to place your puppy's crate in your bedroom for the first few weeks so they associate the crate with the comfort of your presence. Introduce your puppy to their crate with a few treats inside.
Then feed your puppy once they move inside the crate so they begin to associate food with the crate. Remember to place your Bernedoodle puppy in their crate and give them a treat when it's time for bed. Repeat this process every day until your puppy sleeps in its crate without instruction.
Socialization
Bernedoodles are remarkably kind and friendly but they still need frequent socialization to learn how to behave in public. As with housebreaking, the early you begin socializing your Bernedoodle puppy, the easier it will be for it to adapt to new situations and environments.
Tug-of-war and supervised trips to the dog park are also great ways for a Bernedoodle puppy to explore their environment, meet other people and play with other dogs while feeling secure in your presence.
A great way to socialize your Bernedoodle is to sign up for a puppy training class with other puppies the same age, or set a play date with a well behaved adult dog that you know is friendly, so your pup can learn how to behave from an experienced pooch.
Obedience Training
Like the Poodle and the Bernese Mountain Dog, the Bernedoodle is born with high intelligence and innate ability to grasp training and respond to commands. Though training a Bernedoodle is not particularly challenging, there are things you can do to make the process easier for you and the dog.
The best thing you can do to ensure the success of obedience training is to begin early and practice positive reinforcement techniques with consistency and patience. Like all dogs, Bernedoodle thrive on positive-reinforcement training.
Rather than punish your puppy for unwanted behavior, motivate them to complete the desired behavior by praising them when they get it right. Offer them treats and food when they correctly execute the command. Then reinforce the behavior by practicing the command until they get it right every time.
How big do Bernedoodles get? As crossbreeds, Bernedoodles come in a range of sizes (50-90 pounds), though females are generally smaller than males. The Bernese Mountain Dog is a substantial dog, so Bernedoodles that "lean Bernese" are likely to be larger than those who "lean poodle", generally 23 to 29 inches.
Do Bernedoodles make good apartment pets? Yes, however, Bernedoodles are not typically recommended for apartment living because of their tendency to bark. They are usually more suited for the suburbs or a rural life where they won't get into quite as much trouble if they bark and have more room to run and play.
Are Bernedoodles good dogs? Yes. Bernedoodles are always well-mannered, affectionate and very seldom aggressive. They love children and make fantastic family companions.
Are Bernedoodles aggressive? No, Bernedoodles are not generally aggressive. However, their great intelligence means that they may get "offended" by nosy dogs. The more you socialize your Bernedoodles, the less likely they are to be aggressive.
What problems do Bernedoodles have? Like all dogs, Bernedoodles are susceptible to a number of health issues of which owners should be aware, such as Luxating Patella, Hip Dysplasia, Hereditary Myopathy and a number of heart and eye conditions.
Are Bernedoodles clingy? Bernedoodles are very people-oriented, so they may follow you around the house for attention. If your Bernedoodle seems to be "clingy" then they're probably bored. Tire your puppy out with lots of playtime, exercise and attention and they'll be too happily exhausted to follow you around. Just be careful not to overwork them or allow them to overheat.
Are Bernedoodles easy to train? Yes. Training a Dane puppy isn't complicated, but it does take commitment and no small degree of patience. The key to training a Bernedoodle to obey your commands is to be gentle, consistent and patient. Like all dogs, Bernedoodles respond best to positive reinforcement techniques.
Are Bernedoodles easy to potty train? Potty training a Bernedoodle is a fairly straightforward process. Remember, consistency is key to housebreaking a puppy. Remember to use the same words and phrases to indicate when, where and how you want your puppy to do its business.
Are Bernedoodles good for first time dog owners? Yes. Bernedoodles are friendly, gentle and affectionate dogs who are a good choice for first time dog owners. Though, we recommend that all prospective dog owners do their research before accepting the responsibility of dog ownership.
Are Bernedoodles stubborn? Bernedoodles are highly intelligent. Inherent with a high level of intelligence, which is often misinterpreted as stubbornness. The key to alleviating the "stubborness" is to demonstrate to your Bernedoodles that you are its leader through consistent, positive reward-based training.
Are Bernedoodles hyper? Bernedoodles have high energy but will likely "mellow" out as they grow older, but they will always possess a fun-loving enthusiasm for life.
Are Bernedoodles high maintenance? No. Compared to many breeds Bernedoodles are not high maintenance and rather laid-back. This is a very mellow breed.
Will a Bernedoodle destroy my house? Like all large breeds, Bernedoodles need regular exercise, socialization and mental stimulation to ward off destructive behavior caused by boredom.
Are Bernedoodles cuddly? Yes. Bernedoodles are incredibly affectionate and people-oriented. They will certainly enjoy cuddling with you but you may need to move the furniture around.
Are Bernedoodles Hypoallergenic? Yes. However, there is no such thing as a truly hypoallergenic dog. Whether or not your Bernedoodle will affect your allergies depends on the severity of your dog allergy.
Are Bernedoodles good first dogs? The Bernedoodle's highly sociable temperament and affectionate personality make them a great decision for first-time dog owners, and dog owners with children.
Can Bernedoodles be left alone? Yes. However, Bernedoodle puppies are prone to separation anxiety and may bark excessively if left alone for an extended period of time. They are very social and should not be away from their family for too long. If you must leave your puppy home alone it should not be more than a couple of hours.
Do Bernedoodles bark? Yes. Like most dogs, Bernedoodles are likely to bark at things that encroach on their territory or anything they perceive as a threat to their family, be it an intruder or a squirrel.
Are Bernedoodles protective of their owners? Bernedoodles are loyal, courageous and intelligent. They are protective of their owners but should never be overly protective or aggressive.
As a hybrid dog, the Bernedoodle's history begins with the Bernese Mountain Dog and the Standard Poodle, both of which originated in Europe and were widely popular. Like the Labradoodle and the Goldendoodle, the Bernedoodle is a newcomer to the wide world of dogs, first developed in the early 2000s.
Variations on the Bernedoodle have since emerged including the F1B, F2 and F2B Bernedoodle, who are born in a wide variety of shapes, sizes, and colors. However, these same variations also exclude the Bernedoodle breed from official "breed" recognition by breed associations like the AKC, the UKC, and the CKC.
Regardless of breed status, Bernedoodle are regularly trained as therapy and guide dogs to assist the disabled and visually impaired. The Bernedoodle may have a short history, but they have filled those years with loyal companionship and millions of hours of service that has bettered the lives of human beings.
Need help finding your perfect puppy?
A member of the PuppySpot pack can help!
Contact Us
Contact Us
Need help? Visit our Help Center where we answer all questions related to finding and preparing for your puppy's arrival.
You can also reach our team by email or phone for additional support: [email protected] | (888) 671-0518
Please direct all press inquiries to [email protected]
Similar Breeds
Bernaswiss Mountain Dog

Entlebucher Mountain Dog

Greater Swissdoodle

Greater Swiss Mountain Dog

Labernese

Poodle

Fast Facts

Trainability

Accommodating

Pyredoodle

Saint Berdoodle

Bernese Mountain Dog

Golden Mountain Doodle

Golden Mountain Dog
Reviews
Brinisha M.
07/09/2022
Bernedoodle
Puppy Spot was amazing I am so grateful for my sweet boy beaux. They kept me informed throughout the entire process and my baby boy was delivered to me stress free with care. I will definitely be purchasing again soon ❤️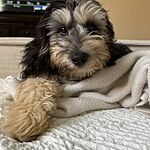 Conner B.
07/06/2022
Bernedoodle
Couldn't be more happy about our puppy. Forever grateful for this process. We love our Maple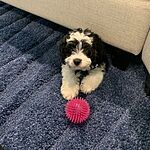 Kevin W.
06/25/2022
Bernedoodle
Our Bernedoodle is just as pictured. Healthy, happy, and ready to play. The arrangements were as planned, and we had no problems or issues. We would recommend PuppySpot. Denise and Kevin Wilson
All Reviews