Fast Facts
Trainability

Accommodating
Overview

What do you get when you combine the tiny, fun-loving Maltipoo with the smart and charming Miniature Poodle? The one-of-a-kind, eager-to-please and adorable Maltipoo of course. Maltipoos combine the best features of two remarkable breeds, both of which are known for their intelligence, loyalty and friendly temperament.

Apartment and family living are no problem for these little charmers who are surprisingly adaptable. They are eager-to-please little lap dogs who adore their families. Maltipoos have an abundant store of energy and need lots of attention - They're never happier than when they are snuggled up next to their favorite person.

The Maltipoo's happy, outgoing personality makes it a wonderful pet for most households, though they might not be the right dog for families with young children. If you appreciate cuddly companionship, and have time, love, and affection to give, then the Maltipoo is the perfect dog for you family.

Breed Characteristics

Click to see other breeds with similar traits:
Maltipoo puppies are affectionate, adorable, all-round companion dogs. They do well in most living situations and have fewer health problems than most toy dog breeds. Maltipoo puppies are surprisingly energetic and need a good deal of human attention to keep from destructive behavior. The best thing any owner can do for their Maltipoo is to spend time with it.
Your new puppy will also need a safe, cozy place to sleep, with easy access to fresh water. Owners should also take steps to puppy-proof their home to prevent curious puppies from sticking their noses where they shouldn't.
How to Puppy-Proof Your Home
Like all puppies, Maltipoo puppies are very curious and explore their new environments with their mouths. They are very likely to sniff out food and anything they think is food and chew on it to see if they can eat it.
That's why it's incredibly important that new Maltipoo puppy owners to the necessary steps to puppy-proof their home.
Install cabinet locks
Install puppy gates
Keep all entrances to the home closed
Keep toilet lids closed
Remove any choking hazards
Move all the poisonous houseplants out of reach
Fence in yard, if possible
New Maltipoo are very curious, and full of energy. They have a tendency to zoom around the house at full throttle barking as loud as they can. These periods of madness can be reduced with regular exercise, training and lots of play time.
New Maltipoo Puppy Supplies
One of the biggest mistakes new puppy parents make is picking up their new puppy before making a trip to the pet store. Below is a list of supplies you'll need to purchase before your scheduled puppy pick-up appointment:
Collar
Leash
Harness
Toothbrush
Nail Clippers
Brush
Shampoo
Crate (large enough for a puppy to comfortably sit, stand and lie down)
Chew Toys (puppy-safe)
Food Dish (Non-Plastic)
Water Dish (Non-Plastic)
Puppy Pads
Bed
Blanket
Puppy Food
Puppy Treats
AKC registered breeds are categorized into one of seven breed groups based on their characteristics and the role the breed were originally developed to fulfill, such as herding, hunting and guarding.
Maltipoos are a hybrid crossbreed of the Miniature Poodle and the Maltese, therefore they are not recognized by the AKC or categorized into an official breed group. However, Maltipoos are commonly bred as companions, designer dogs and therapy dogs.
A breed standard is a set of guidelines used to ensure dogs produced by breeders always conform to the specifics of the standardized breed. Crossbreeds, like the Maltipoo are not officially recognized by the AKC and therefore not subject to an official breed standard.
PuppySpot has a zero-tolerance policy for puppy mills or substandard breeding of any kind - so you can be sure that your puppy will be happy and healthy whether they have a breed standard or not.
A Maltipoo is a cross between a toy or miniature Poodle and a Maltese. Therefore, the appearance of the Maltipoo can vary greatly from dog to dog, but there are some characteristics that are shared by all Maltipoos.
Maltipoos are generally small, compact dogs entirely covered in a coat of long, silky hair. They are gentle-mannered, friendly and always eager to please. Despite their size, the Maltipoo is quite fearless and possess a vigor of a much larger breed.
Head
The Maltipoo's head is in proportion to the size of the dog. It should not look too small or too large compared to the rest of their body. The muzzle is short with a dark noses and dark colored, tight lips. They have dark, round eyes and ears that are set high and wide apart on a dog's head. They should fall forward when alert or excited but hang to the side when relaxed.
Body
The body of the Maltipoo is compact with sloping shoulder blades, and elbows help in close to the body. Chest is deep. Topline is level with ribs well sprung. Neck is in proportion to the body.
Legs and Feet
The Maltipoo's legs are fine-boned and feathered. Forelegs are straight. Hind legs are strong and moderately angulated at hocks. Feet are small and round, with toe pads black. In stride, forelegs reach straight and free from the shoulders, with elbows held in close. Hind legs move in a straight line.
Tail and Hindquarters
The Maltipoo flaunts a long-haired plume for a tail, carried gracefully over its back. Loins are slightly tucked up underneath.
Coat and Colors
Maltipoo coats are straight with, or without curls, kinks, and waves. Maltipoos can be a shade of white or black, with some exceptions for slight lemon markings. Maltipoos do not shed.
Height and Weight
Maltipoos are small, commonly weighing between 5 and 15 pounds and standing 8 to 14 inches high at the shoulder.
As designer dogs, Maltipoos are bred to be lively, playful, and adore human contact. Maltipoo are very active and friendly, though they have been known to be snippy with young children.
Maltipoo are also very adaptable, and prefer enclosed spaces to large open yards, making them a great choice for urban dwellers. Contrary to its diminutive size, the Maltipoo is nearly fearless. They are trusting, affectionate and among the gentlest canine personalities you are likely to encounter.
Maltipoos are generally a healthy breed and capable of living long happy lives. However, as a small breed, they are more susceptible to physical injury than larger breeds. Owners can avoid injury by keeping their Maltipoo off of furniture and from climbing stairs wherever possible.
How to Handle Your Maltipoo Puppy?
Maltipoo puppies are fragile and need to be handled with care. Support your Maltipoos rear end with one hand and place the other hand under their tummy to support their spine. Never carry your Maltipoo with one hand or by its paws or head.
Remember to support your puppy's spine when carrying them and lifting them on to/off of furniture. Consider installing a baby gate or small ramps to allow your Maltipoo access to places where stairs can't be avoided.
Maltipoos may not be well suited for a home with small children. We recommend utilizing caution when introducing a Maltipoo to small children. To avoid accidents, ensure that children are instructed on how to safely approach, pet and interact with a canine.
Life Expectancy
Maltipoo are relatively long-lived when compared to many large breeds. Most live to be 13 to 15 years old.
A Maltipoo is the type of dog who does best with a routine. Whether it's grooming, feeding, or play time, all the care you provide your Maltipoo should be done on a schedule. The stronger your routine, and the more care you put into your puppy's schedule, the longer, healthier and happier its life will be.
Maltipoo are intelligent - treat your puppy like you would a toddler. Puppy proof your home and supervise them whenever they have freedom to roam. Maltipoo puppies also go through a rough teething phase, so chew toys are a must for new owners.
Like most small breeds, Maltipoo puppies have a tendency to bark when left alone for extended periods, and at anything that enters their territory. Regular socialization and frequent exercise can help to curb stress, boredom, and a puppy's urge to bark.
Daily brushing and regular grooming are essential parts of Maltipoo care. The thick coat of the Maltipoo makes it especially sensitive to heat stroke, which is often fatal to dogs. Always keep an eye on your puppy's heat level. Find a cool, air-conditioned room right away if you notice lethargy, drooling and excessive panting.
Nutrition
Regardless of size, breed or pedigree, your puppy's health, happiness and quality of life are dependent on its diet. The more nutritious diet, the better your Maltipoo's life will be. So, the diet you choose for your Maltipoo should include the right balance of nutrients, vitamins and minerals.
What Should I Feed My Puppy Maltipoo Puppy?
Stay away from dog food brands that use artificial ingredients, preservatives and fillers like grain, wheat and brewers rice. When given the choice, your Maltipoo will most certainly choose wet food over dry food.
However, due to the high occurrence of dental disease in the breed, we recommend feeding your Maltipoo a blend of wet and dry kibble, which is better for the teeth.
How Much Should a Maltipoo Puppy Eat?
Start your Maltipoo puppy on moistened dry puppy food, 3 to 5 times per day for no longer than 10 minutes per feeding. After 10 minutes remove their food even if they haven't finished, though 10 minutes should provide enough time for your puppy to consume the entire meal.
Monitor your new puppy's health and wellness; if they appear skinny and eagerly finish every meal, then you may need to increase the amount of food in their diet. There are some foods you should never feed any dog, like:
Chocolate
Alcohol
Onions
Garlic
Caffeine
Grapes
Dairy
Nuts
Pitted Fruit
All of the above are considered poisonous to dogs and should be kept well out of their reach. Dogs who ingest these foods should be taken to the vet immediately.
Grooming
The Maltipoo's coat is moderately long and hypoallergenic, which means it doesn't shed and is fairly easy to maintain. That being said, it is very important that Maltipoo owners stay on top of grooming, as it takes little time for a Maltipoo's coat to grow long and unruly.
How Often Do Maltipoos Need to be Groomed?
Your Maltipoo puppy needs a bath about once per month. Don't over-bathe your Maltipoo. Over-bathing will remove the natural oils in your puppy's coat that protect its skin and keep its fur strong, shiny and looking its best.
Bath time is also a great time to check your Maltipoo for potential health concerns like cuts and abrasions to their legs and paws, poor dental hygiene, ear & eye infections and especially fleas and ticks. We recommend that you brush your Maltipoo puppy once a day. Nail trimming should be done every few weeks with a special clipper you can buy at any pet shop.
Exercise
Maltipoos maybe indoor dogs but they still need regular physical activity and mental stimulation. Maltipoos are vigorous, outgoing and lively, so they need frequent exercise to ward off destructive behavior. Though, admittedly, a Maltipoo's exercise requirements are not all that demanding.
Fetch, tug-of-war and daily walks are enough to keep your Maltipoo exercised, happy and healthy. Daily exercise also improves circulation and provides opportunities for your puppy to socialize and explore its environment, which is critical to proper socialization. Remember to keep your Maltipoo on a leash whenever they are outside.
Training
As one of the more intelligent breeds, Maltipoos are capable of truly astounding feats of athleticism, and obedience. Maltipoo puppies are energetic and enthusiastic but can be a challenge to train.
Owners are encouraged to do their research before adopting to determine whether they are up to the task of training a Maltipoo. However, this should not deter you from adopting a Maltipoo puppy, they make great students.
Remember the trick to successfully training any puppy is diligence, consistency and lots of patience. Maltipoos respond best to positive, reward-based training methods - you're trying to establish yourself as the puppy's leader through positive reinforcement, not fear of punishment.
Housebreaking
Housebreaking a new puppy can be a challenge but it is far from impossible. As with all breeds, we recommend that you begin housebreaking your Maltipoo as early as possible, preferably within the first few days of bringing the puppy home.
How to Potty Train a Maltipoo?
Start by creating an area for your Maltipoo puppy inside the house away from stairs, doors that lead outside, and anything that they could possibly ingest. The next step is to establish a routine, which includes a feeding schedule, with frequent trips to the same potty spot. Your puppy will probably have to go potty:
After they wake up from a nap or bedtime
20 minutes before bedtime
20 minutes after any meal
Before and after each walk
In addition to establishing a routine, you will also need to monitor your puppy for signs that they need to go potty. Clap your hands loudly or call out their name when you notice a puppy accident in the making.
Hustle your Maltipoo outside to your designated area and let them do their business. Then say something similar to "go potty" and praise them once they go in the right area. Repeat this process until your puppy associates "go potty" with going outside to do its business.
Do not punish your puppy for accidents inside the house. Maltipoo puppies do not possess full control over their bladder and bowels until they are at least two months old, so accidents are bound to occur. Simply ignore it, then clean it up.
How to Crate Train a Maltipoo Puppy?
We recommend that Maltipoo owners also crate train their puppy as soon as possible after bringing them home. Start with a crate that is big enough for an adult Maltipoo to stand, turn around, and sit or lie down without touching the sides.
Place the crate in your bedroom for the first few weeks so your puppy can associate the crate with the comfort of your presence. Introduce your puppy to the crate by placing a few treats inside and around the crate, this will help them to associate food with the crate.
Shut and lock the crate once your puppy is comfortably inside. Leave the room. Your puppy will likely bark once you leave the room. Ignore the barking until they have stopped entirely, or they will bark every time they desire to leave the crate. Don't forget, puppies need a toy, and easy access to fresh clean water when inside their crate.
Socialization
Maltipoos are incredibly affectionate and sociable, but like many small dogs, they can grow anxious around larger canines and children. Therefore, we recommend that owners socialize their Maltipoo puppy with children and other dogs from an early age, and only under strict adult supervision.
Assemble the family on the floor and let the puppy greet everyone in its own time. It's especially important to familiarize your Maltipoo puppy with the outdoors, so long as you keep them on a short leash. Avoid crowded dog parks if you can.
Obedience Training
Maltipoos are highly intelligent, energetic, and often mirror the energy of their owners - the key to obedience training a Maltipoo is calm and focus. The more focused you are on the training, the more focused the Maltipoo will be. The best way to keep a puppy's focus during training is to remove distractions from the area.
Be sure to take the time to ensure your puppy understands your commands. Patience is key to obedience training a Maltipoo puppy. Consistency and repetition are also critical to establishing the desired pattern of behavior.
Designate a specific sound and gesture for the desired command and use that combination every time you issue the command to your Maltipoo. Issue your command. Pause. Then reward with a treat when they get it right. Every time your Maltipoo correctly executes a command reward them with a treat to reinforce the behavior.
Are Maltipoos easy to train? Maltipoo puppies are energetic and enthusiastic but can be a challenge to train. Owners are encouraged to do their research before adopting to determine whether they are up to the task of training a Maltipoo. However, this should not deter you from adopting a Maltipoo puppy, they make great students.
Are Maltipoos barkers? Yes. Like most toy dog breeds, Maltipoos are prone to bark as a warning, in self-defense, when they are excited, and when they seek attention. The best way to keep your Maltipoo from barking is to ensure it feels safe; does not get too excited, and by showering it with love and attention.
Do Maltipoos have health problems? Like all dogs, Maltipoos are susceptible to a number of health issues that new owners need to know about, like Hip Dysplasia or Luxating Patella. For this reason, it is essential that prospective Maltipoos owners buy from a responsible breeder - one can promise they will do their best to ensure your new family member is healthy from the moment they arrive home!
Can Maltipoo be left alone? We recommend the maximum length of time you leave any dog alone is 4 hours. Maltipoos should not be left in a small crate for long periods and must have access to fresh drinking water at all times.
Puppies need lots of socialization before being left on their own, otherwise owners increase the risk of separation anxiety which can result in destructive behavior excessive barking. Puppies also need to relieve themselves more often than an adult dog, at least once an hour when housebreaking.
Why does my Maltipoo lick me so much? Your Maltipoos licks you so much because it loves you. Licking is a sign of affection in canines. Either that, or it thinks you taste good.
Are Maltipoos hyper? Maltipoos are very social, and have lots of energy, which is sometimes described as being "hyper." Plenty of exercise and lots of love and attention can help to expel some of your Maltipoo's excess energy.
Are Maltipoo loyal? Yes. Maltipoo are incredibly loyal and grow quite fond of their families.
How do I get rid of tear stains on my Maltipoo? Start by missing one-part hydrogen peroxide with 10 parts clean water in a small cup. Using a cotton swab, apply the solution underneath your Maltese eyes once a day to remove existing stains.
Are Maltipoos stubborn? Maltipoos are highly intelligent. Inherent with a high level of intelligence is a sense of canine pride, which is often misinterpreted as stubbornness. A Maltipoo is unlikely to obey you if it does not believe you to be its leader. The key to alleviating the "stubbornness" is to demonstrate to the Maltipoo that you are its leader through consistent, positive reward-based training.
Though not an official breed, the Maltipoo was developed in the United States beginning in the 1990s.Like other Poodle hybrids, the Maltipoo was developed for its low-shedding, hypoallergenic, coat.
There is a lot of speculation regarding the origin of designer dogs, but like most designer dogs, we know that the Maltipoo dog was created to be a small, wonderful pet that would fit into any family's lifestyle.
The result of breeding two beautiful and capable canines like the Maltese and the Poodle is the wonderfully affectionate and wildly popular Maltipoo. F1 Maltipoos are the direct offspring of a Miniature Poodle and a Maltese and are the most common of the breed. In the years since the late 1990's variations on the Maltipoo have emerged including:
F1B - Offspring of a Miniature Poodle and an F1 Maltipoo
F2 - Offspring of an F1 and another F1 Maltipoo
F2B - Offspring of an F1 and an F1B Maltipoo
Variations in breeding result in a wide variety of Maltipoo shapes, sizes, and colors. However, the same variations also exclude the Maltipoo breed from official "breed" recognition by breed associations like the AKC, the UKC, and the CKC.
Need help finding your perfect puppy?
A member of the PuppySpot pack can help!
Contact Us
Contact Us
Need help? Visit our Help Center where we answer all questions related to finding and preparing for your puppy's arrival.
You can also reach our team by email or phone for additional support: [email protected] | (888) 671-0518
Please direct all press inquiries to [email protected]
Similar Breeds
Poodle

Trainability

Accommodating

Maltese

Bichonpoo

Poo-Ton
Reviews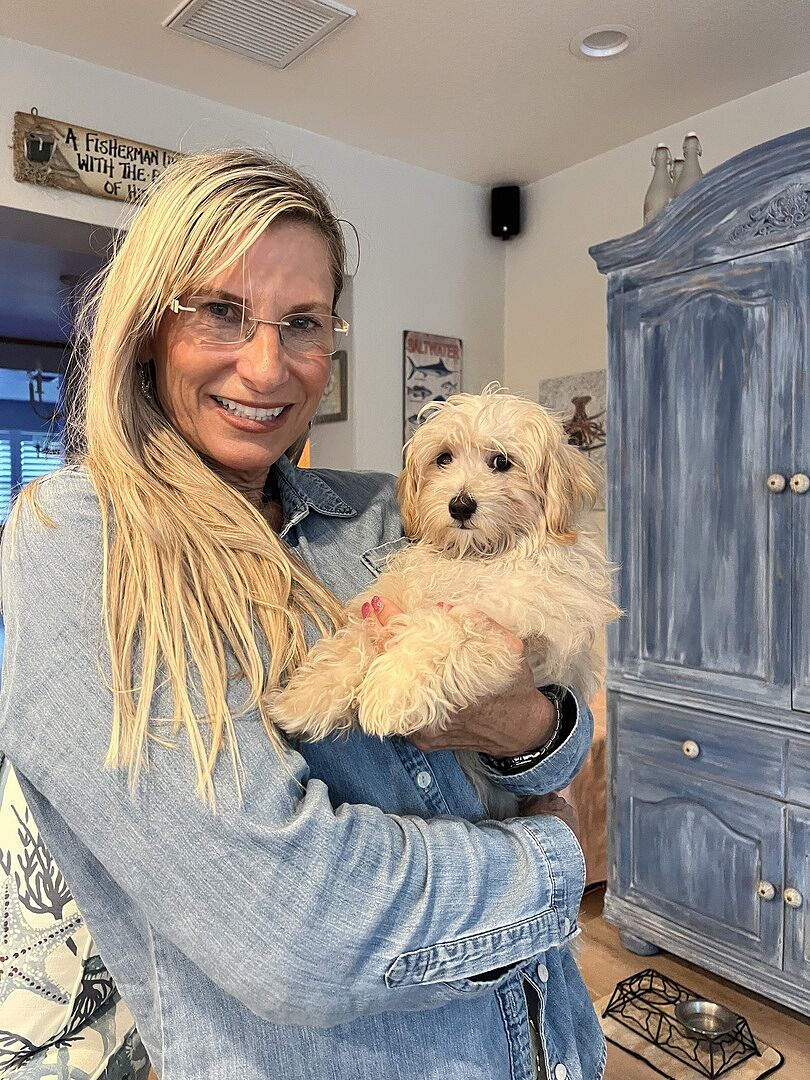 Carol S.
11/04/2023
Maltipoo
Everything from start to finish with Puppy Spot has been wonderful! The arrangements went as promised and described. Our puppy is beautiful and so well behaved. It's clear she's well bred and that the breeder worked with her as she's already house broken. The transporter Premier Pet Transport is top notch. She arrived in comfort in an MB Sprinter from IL to FL and was bathed and given a cute bow before they handed Henley, now Liberty, over to us. The transporter took great care of her along t...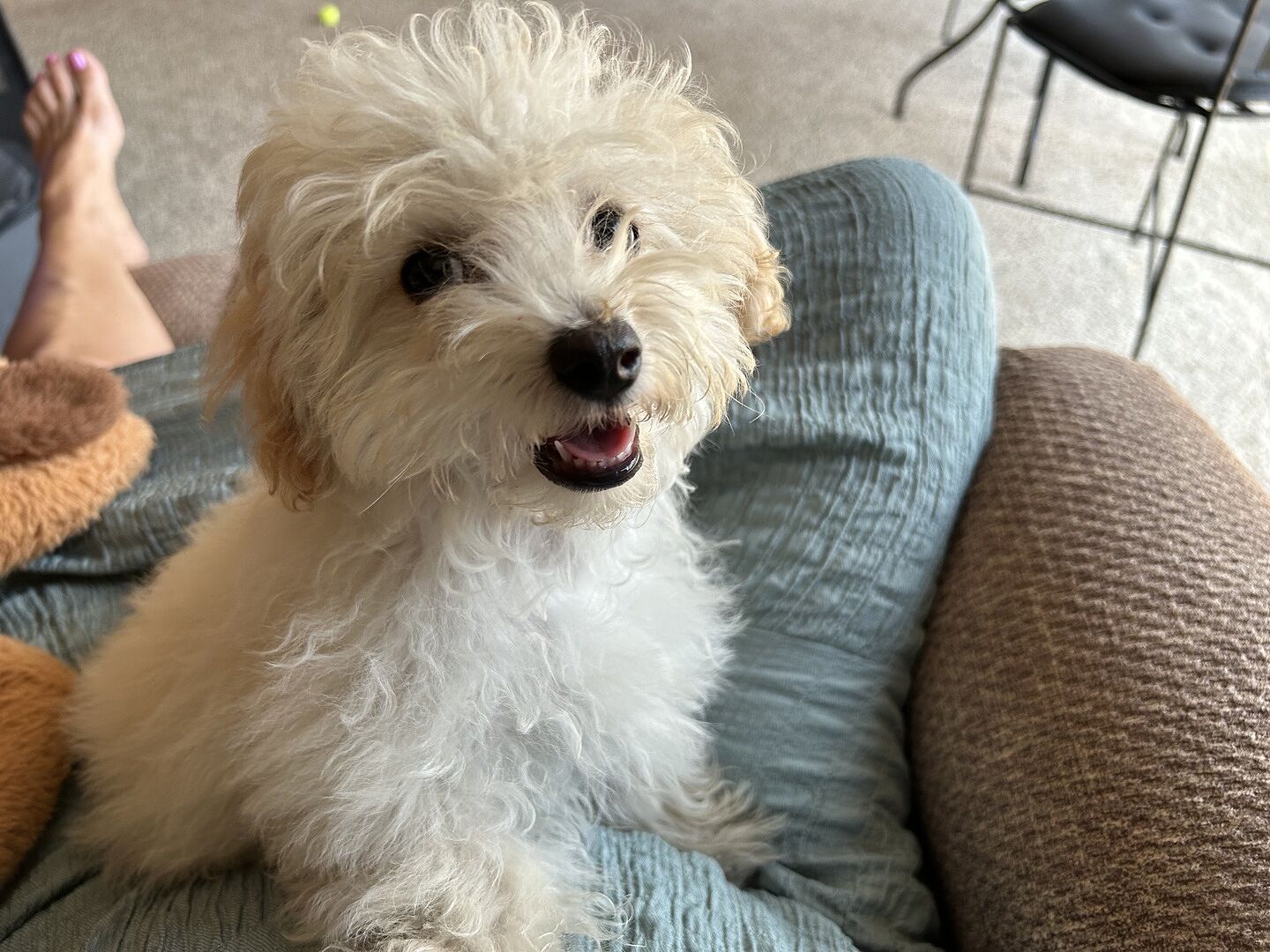 Leona M.
06/23/2023
Maltipoo
My little LuvBug has been home for a little over 24 hours and he is settling in perfectly. The breeder must have truly begun working with him as he is confident, alert, and already sleeps the night quietly in his new crate. Puppy Spot did an excellent job of always answering my questions and helping me to understand the process. Thank you for all the videos, links, and articles you included as they helped refresh my puppy mom memory after nearly sixteen years with my first maltipoo. Great exp...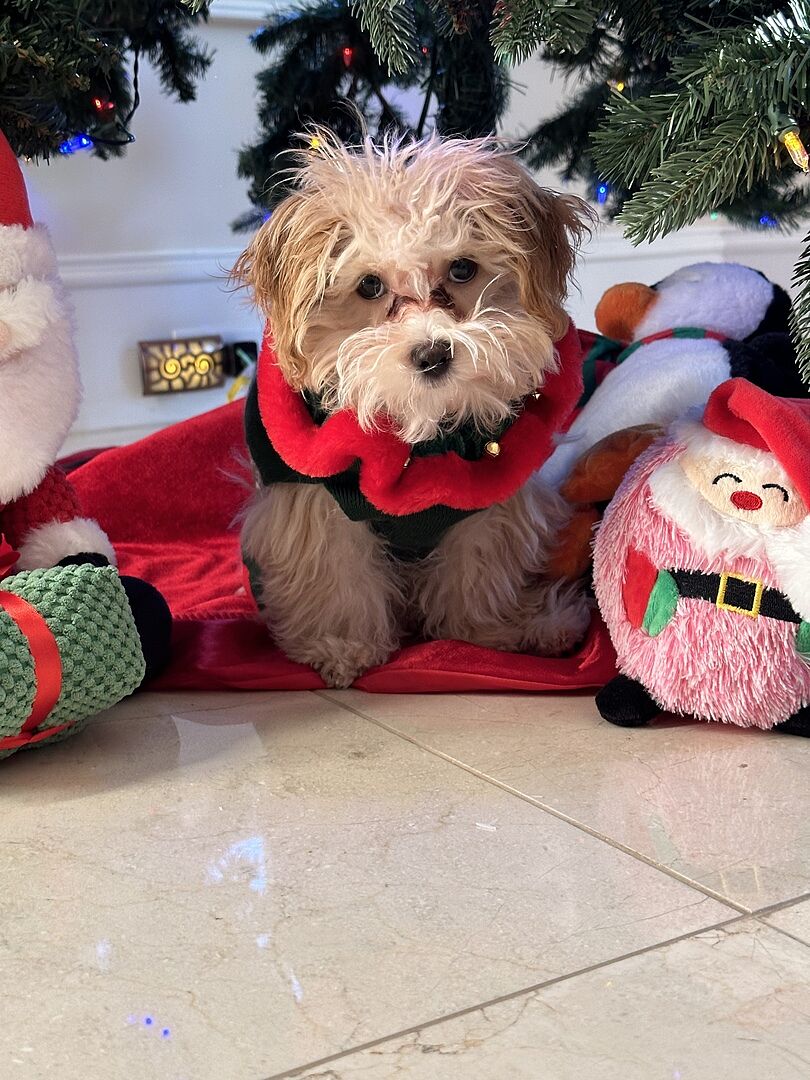 Srilakshmi G.
12/28/2022
Maltipoo
Excellent service from puppy spot ! We are enjoying with our new puppy
All Reviews