Overview

The feisty offspring of a Pomeranian and a Miniature Poodle, the Pomapoo is diminutive pup with a larger than life personality. Adorable, adaptable and affectionate, the Pomapoo is an affable canine that is too sweet not to love.

Like the Pomeranian, Pomapoo love everyone, but are likely to choose a single person to latch on too. Pomapoos are always adorable, intelligent, and eager to please. Like the Poodle and the Pomeranian, Pomapoos are unwavering in their loyalty to their family, and tend to shadow their owners around the house.

Pomapoos do not need much exercise, and are easy enough to keep groomed, though housebreaking is often a challenge. Pomapoos are smart, easily trainable, and make terrific watch dogs, but they also tend to bark.

As a crossbreed, Pomapoos come in many varieties, but all share a great affinity for their owners and an eagerness to love and be loved. Versatile, compact and delightfully intelligent, Pomapoos are the perfect city-dwelling companion, and well-suited to apartment living. If you're in the market for a fearless, mischievous and adorable little lapdog, you won't find a better companion than a Pomapoos.

Breed Characteristics

Click to see other breeds with similar traits:
---
Need help finding your perfect puppy?
A member of the PuppySpot pack can help!
Contact Us
Similar Breeds
Poodle

Trainability

Accommodating
Reviews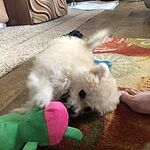 Karen M.
06/19/2021
Pomapoo
Also known as Lucy with puppy spot. Is an absolute joy. She never once cried at night. Smart, playful and just a cuddle bug. She came puppy pad broke and now is almost completely potty trained to outside. She is my love!!! Puppy spot was there through the whole process. Transporting her directly to my door. Clean, microchipped and full of energy. Puppy spot is the best experience when choosing and getting a new fur baby!! Thank you puppy spot!!
All Reviews