Cavalier King Charles Spaniel
Overview

As the name suggests, the Cavalier King Charles Spaniel is a piece of British history. "Cavs" are descended from the Toy Spaniels that were popular in Britain in the late 17th century. Cavalier King Charles Spaniels were originally bred as lap dogs for the upper crust of British society, a feature that has changed little since the late 17th century.

Too small to be a reliable hunting companion, Cavalier King Charles Spaniels were bred as lap dogs and become quite popular with royals. The breed is named for King Charles II who was rarely seen without his Toy Spaniels.

Like many characters from British history, Cavalier Spaniels exhibits many noble characteristics, namely a friendly and affectionate personality, and a silky-smooth coat. Today, Cavalier King Charles Spaniels remain incredibly popular in Britain, and are considered the 19th most popular purebred in the United States.

The Cavalier King Charles Spaniel is so popular around the globe because the silky canine incorporates the best of two worlds; toy-size pooch, and affectionate canine companion.

Renowned for their friendly disposition and affectionate demeanor, Cavalier Spaniels make terrific family pets, they even get along with well with other dogs and children. Cavaliers are hardly considered the best watchdogs due to their abundance of affection and incredibly friendly temperament.

Breed Characteristics

Click to see other breeds with similar traits:
Available Cavalier King Charles Spaniel Puppies
All Puppies
Need help finding your perfect puppy?
A member of the PuppySpot pack can help!
Contact Us
Similar Breeds
Cavapoo

Trainability

Accommodating
Reviews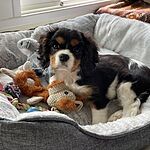 Melissa A.
11/03/2022
Cavalier King Charles Spaniel
I'm so grateful for Puppy Spot. A dream has come true with my sweet KC Cavalier
All Reviews