Fast Facts
Trainability

Accommodating
Overview

Sturdy, charming and sweeter than a Cuban Mojito, the Havanese is the beloved family friend and companion you never knew you wanted. Affectionately known as "velcro-dogs", these adorable pups seldom leave your side and crave human attention like they crave air to breathe.

When Havanese aren't shadowing their family around the house or snuggled in your lap, they can be found performing tricks or working as therapy dogs. Though the Havanese was originally bred to accompany the Cuban aristocracy, these princely pups don't mind clowning around - they love pulling toilet paper off the roll and sprinting around the house and full speed.

Havanese are easy to train and remarkably intelligent breed. They are seldom aggressive and need little exercise, but they do require regular grooming sessions to look their best. A wonderfully happy breed, the Havanese is a terrific addition to any family looking for a sweet, well-mannered companion.

Breed Characteristics

Click to see other breeds with similar traits:
Much like children, Havanese puppies are at their best when on routine. In fact, the earlier you start your Havanese puppy on a routine, the easier it will be for it to adapt to its new surroundings and learn how to behave.
Havanese puppies don't shed much, but they do require regular and frequent grooming to keep their coat free debris, tangles and matting. Like many small companion breeds, Havanese puppies are a little harder to house train than other breeds.
Havanese puppies are vivacious and sociable companions - they need lots of attention and loving care, but no roughhousing. Havanese are small -10 to 15 pounds when fully grown - they can be injured by rough play and careless behavior.
As moderately active little dogs, Havanese puppies need daily exercise but don't need much. With the proper outlets to burn energy, they are more than content to cuddle on your lap or play indoors.
How to Handle Your Havanese Puppy?
Havanese puppies are not fragile but they do need to be handled with care. Support your puppy's rear end with one hand and place the other hand under their tummy to support their spine. Never carry your Havanese with one hand or by its paws or head.
Remember to support your puppy's spine when carrying them and lifting them on to/off of furniture. Consider installing a baby gate or small ramps to allow your Havanese access to places where stairs can't be avoided.
We recommend utilizing caution when introducing a Havanese puppy to small children. Many small dogs have been accidentally injured by children picking them up, falling on them, or tripping over them. Children under 5 years old should never be left alone with a small dog.
How to Puppy-Proof Your Home?
Havanese puppies are very curious and, like all puppies, tend to explore their new environments with their mouths - they are very likely to sniff out food and anything they think is food and chew on it to see if they can eat it.
That's why it's incredibly important that new puppy owners take the necessary steps to puppy-proof their home.
Install cabinet locks
Install puppy gates
Keep all entrances to home closed
Keep toilet lids closed
Remove any choking hazards
Move all poisonous houseplants out of reach
Fence in the yard, if possible
New Havanese Puppy Supplies
One of the biggest mistakes a new puppy parent can make is to pick up your new puppy before making a trip to the pet store. Below is a list of supplies you'll need to purchase BEFORE, not after your scheduled puppy pick-up appointment:
Collar
Leash
Harness
Toothbrush
Nail Clippers
Brush
Shampoo
Crate (large enough for a puppy to comfortably sit, stand and lie down)
Chew Toys (puppy-safe)
Food Dish (Non-Plastic)
Water Dish (Non-Plastic)
Puppy Pads
Bed
Blanket
Puppy Food
Puppy Treats
AKC registered breeds are categorized into one of seven breed groups based on their characteristics and the role the breed was originally developed to fulfill, such as herding, hunting and guarding.
Havanese belong to the Toy Group, which means they are affectionate, sociable and adaptable to a wide range of lifestyles. Toy Dogs, like the Havanese, are popular with city dwellers and families with smaller living spaces.
They make great lap-warmers and terrific companions but don't be fooled by their diminutive size - most toy dogs have no idea that they're small. In fact, Toy breeds like the Havanese and the Yorkshire Terrier are at least as intelligent and tenacious as dogs many times their size. Some other breeds that belong to the Toy Dog breed group are the:
A breed standard is a set of guidelines used to ensure dogs produced by breeders always conform to the specifics of the standardized breed. The Havanese was officially recognized as an official breed by the AKC in 1996 and is therefore subject to a strict breed standard.
PuppySpot has a zero-tolerance policy for puppy mills or substandard breeding of any kind - so you can be sure that your puppy will be happy and healthy whether they have a breed standard or not.
Havanese are a small, sturdy breed with immense charm and personality. The only breed native to Cuba, the Havanese is a friendly, intelligent and playful companion, well suited for urban and family environments.
Slightly longer than they are tall, Havanese sport a unique appearance that is hard to mistake for any other breed - they have a long, silky double coat, short arms, a plumed tail and a springy gait that is all their own.
Head
Havanese possess an expression that is soft, intelligent and slightly mischievous. They have large eyes, a broad nose and wide ears that sport a distinct fold. The muzzle is slightly shorter than the length of the skull but also full and rectangular with a broad nose.
Body
The Havanese possess a body that is slightly longer than their height at the withers when measured from the point of the shoulder to the end of its rear. The neck is of moderate length, blends smoothly into the shoulders, slightly arched and in balance with the dog's height and length.
Legs and Feet
The Havanese's arms are short with elbows that are tight to the body and forelegs that are straight when viewed from any angle. Feet have arched toes that point straight ahead. The hind legs are muscular with moderate angulation.
Tail and Hindquarters
The Havanese tail is high-set and arches forward over its back. It's also plumed with long, silky hair, which falls straight forward or to either side of the body. The hindquarters are slightly higher than the withers.
Coat and Colors
Havanese sport a double coat that is silky to the touch, soft and light in texture, though the outer coat carries slightly more weight than the inner coat. The coat can be any color, though it is always long, ample and fairly wavy. It should also stand off of the body and flow when the dog moves.
Height and Weight
Havanese should weigh no more than 13 pounds. Height can range from 8 1/2 to 11 1/2 inches at the shoulder. Havanese typically mature at one year of age, though they tend to reach their full height around 6 to 8 months.
The Havanese temperament is that of a friendly, playful, alert and intelligent canine - they have a sweet personality, are seldom quarrelsome and generally wish to please and spend time with their family as much as possible.
Havanese are generally considered to be a healthy breed, though, like all dogs, Havanese are susceptible to a number of health issues. It's essential that prospective Havanese owners buy from a responsible breeder - one that can prove your puppy has been vaccinated, dewormed and undergone a 30-point checklist to confirm and reconfirm that your new puppy meets the best health standards in the industry.
With Havanese puppies, you should expect to see a veterinary health report (VHR) which requires an examination of a puppy's ears, eyes, mouth, teeth, gums, respiratory system, cardiovascular system, musculoskeletal system, skin and coat, gastrointestinal system, and external genitalia.
New Havanese owners should also bring their new puppy to their veterinarian within two days after arrival to re-verify the puppy's health and to learn more about the medical conditions that may affect Havanese puppies, such as Hip Dysplasia, Cataracts, Hypothyroidism and Luxating Patella.
Life Expectancy
The life expectancy of the Havanese is between 13 and 15 years. The best way to ensure a long, healthy and happy life for your Havanese is to feed it a nutritious diet and provide it with lots of exercise, activity and mental stimulation.
It is remarkably easy to care for a Havanese puppy. This is a dog that was developed as a companion to the Cuban aristocracy - they don't eat much, they adore attention and their exercise requirements are minimal.
However, Havanese ownership does come with a few challenges, namely house training, grooming, barking and separation anxiety. The best thing you can do to minimize these challenges is to 1.) start training early and 2.) spend as much time as you can with your Havanese.
Nutrition
Havanese puppies don't grow much but they do grow quickly - they need high protein, high-quality food to fuel their healthy development. The more nutritious the diet, the better your Havanese puppy's life will be.
What Should I Feed My Puppy Havanese Puppy?
We recommend that you stay away from dog food brands that use artificial ingredients, preservatives and fillers like grain, wheat and brewers rice. When given the choice, your Havanese will most certainly choose wet food over dry food.
However, due to the high occurrence of dental disease in the breed, we recommend feeding your puppy a blend of wet and dry kibble, which is better for their teeth. Avoid giving your puppy people food.
Be aware that Havanese are known to be little tricksters when it comes to food - they can train you to feed them some of your food if you aren't vigilant. Be consistent and ensure everyone in your family knows to keep human food away from the puppy.
How Much Should a Havanese Puppy Eat?
Start your Havanese puppy on moistened dry puppy food, 3 to 5 times per day for no longer than 10 minutes per feeding. Remove their food after 10 minutes, even if they haven't finished. Though, 10 minutes should provide enough time for your puppy to consume the entire meal.
Monitor your new puppy's health and wellness; if they appear skinny and eagerly finish every meal, then you may need to increase the amount of food in their diet. Some foods are considered poisonous to dogs and should be kept well out of their reach. Dogs who ingest these foods should be taken to the vet immediately:
Chocolate
Alcohol
Onions
Garlic
Caffeine
Grapes
Dairy
Nuts
Pitted Fruit
Grooming
The Havanese needs to be groomed daily to be kept free of mats and tangles. Simply run a comb or soft brush over the dog while they are on your lap. We recommend that owners clip their dog's coat to a short cut to reduce grooming time. Don't forget the corners of its eyes - they need to be gently cleaned to prevent tear-stains.
How Often Do You Groom a Havanese?
Your new puppy needs a bath about once per month. Don't over-bathe your puppy, as it can remove the natural oils that protect its skin and keep its coat strong, shiny and looking its best. We recommend that you brush your Havanese puppy once a day.
Grooming is also a great time to check your Havanese puppy for potential health concerns like cuts and abrasions to their legs and paws, poor dental hygiene, ear & eye infections and especially fleas and ticks.
Exercise
As a Toy dog breed, the Havanese doesn't need much exercise, but it does need daily activity to improve circulation and provide opportunities to socialize and explore its environment. Daily walks are enough to keep your Havanese puppy healthy. Just remember to keep your Havanese on a leash whenever they're outside.
Training
Havanese are intelligent and capable of truly remarkable feats of canine athleticism and obedience. All they need to unlock their true potential is an owner with a little patience and time to dedicate to training.
Remember the trick to successfully train any puppy is diligence, consistency and lots of love. Havanese respond best to positive, reward-based training methods - you're trying to establish yourself as the puppies leader through positive reinforcement, not fear of punishment.
Housebreaking
Housebreaking a new puppy can be a challenge but it is far from impossible. As with all breeds, we recommend that you begin housebreaking your Havanese puppy as early as possible, preferably within the first few days of bringing the puppy home.
How to Crate Train a Havanese Puppy?
Crate training a Havanese is not difficult but it is important. Start with a crate that is big enough for an adult Havanese to stand, turn around and sit or lie down in without any hindrance. We recommend placing your puppy's crate in your bedroom for the first few weeks so they associate the crate with the comfort of your presence.
Introduce your Havanese to the crate by placing a few treats inside and around the crate. Feed your puppy once they move inside the crate so they begin to associate food with the crate. Place your Havanese puppy in their crate and give them a treat when it's time for bed. Then lock the crate and leave the room.
Your Havanese puppy will likely bark once you leave the room. This is ok. Simply wait to enter the room again until they have stopped barking. It may be difficult but try to avoid petting or praising your Havanese when they bark inside their crate.
The praise may encourage the behavior and increase their desire to be let out of the crate. Start the process over again after 30-45 minutes. Don't forget, puppies need a toy and easy access to fresh clean water at all times when inside their crate.
Socialization
Like all puppies, it's best to socialize your Havanese puppy from an early age. Socialization is important for a young puppy, as it exposes them to new dogs, people and situations while remaining safe in your presence.
Let them approach new people and dogs at their own pace. New family and friends should speak quietly around the puppy and feed them treats when the puppy approaches. A great way to socialize your Havanese to sign up for a puppy training class with other puppies the same age, or set a play date with a well-behaved adult dog that you know is friendly, so your pup can learn how to behave from an experienced pooch.
Obedience Training
Havanese are highly intelligent, energetic, and often mirror the energy of their owners - the key to obedience training a Havanese is calm and focus. The more focused you are on the training, the more focused the Havanese will be.
The best way to keep a puppies focus during training is to remove distractions from the area. Be sure to take the time to ensure your puppy understands your commands. Patience is key to obedience training a Havanese puppy. Consistency and repetition are critical to establishing the desired pattern of behavior.
What's the Best Way to Obedience Train a Havanese?
The best way to obedience train a Havanese puppy is to spend time with it. Spending quality time with your puppy will strengthen your relationship, and provide opportunities to learn, train and bond together.
As with all things puppy, we recommend that obedience training began as early as possible in the puppy's life. Start with basic reward-based training principles like:
sit
down
stay
come
heel
roll over
Use the same words and phrases to indicate when, where and how you want your puppy to execute a command. Issue your command. Pause. Then reward them with a snack when they get it right.
Do not punish your Havanese when they fail a command. Simply regain their focus and try again until they get it right. Remember, the goal of obedience training any dog is to establish limitations on your dog's behavior and assert yourself as the leader of the pack.
Are Havanese barkers? Yes. Like most toy dog breeds, Havanese are prone to bark as a warning, in self-defense, when they are excited, and when they seek attention. The best way to keep your Havanese from barking is to ensure it feels safe; does not get too excited, and by showering it with love and attention.
How long can a Havanese be left alone? Havanese puppies are quite social and grow very attached to their owners, which means they tend to develop separation anxiety when left alone for extended periods of time. For these reasons, we recommend that you not leave a Havanese puppy alone for more than a few hours.
How do I get rid of tear stains on my Havanese? Start by missing one part hydrogen peroxide with 10 parts clean water in a small cup. Using a cotton swab, apply the solution underneath your Havanese eyes once a day to remove existing stains.
Are Havanese stubborn? Havanese are highly intelligent. Inherent with a high level of intelligence is a sense of canine pride, which is often misinterpreted as stubbornness. A Havanese is unlikely to obey you if it does not believe you to be its leader. The key to alleviating the "stubborness" is to demonstrate to the Havanese that you are its leader through consistent, positive reward-based training.
Are Havanese high maintenance? No. Havanese are, in fact, low maintenance. They don't eat much; need little exercise and are happy enough just hanging out with you.
Do Havanese have health problems? Like all dogs, Havanese are susceptible to a number of health issues that new owners need to know about, like Hip Dysplasia or Luxating Patella. For this reason it is essential that prospective Havanese owners buy from a responsible breeder - one can promise they will do their best to ensure your new family member is healthy from the moment they arrive home!
Is a Havanese a good family dog? Yes. Havanese are terrific family dogs - they love children, happily play with other dogs and eagerly greet strangers. If you're in the market for a sweet, friendly family dog, then the Havanese is the dog for you.
Do Havanese dogs smell? No. Unlike the Basset Hound and the Bloodhound, Havanese do not smell, that is unless you forget to give them a bath.
Are Havanese hyper? Havanese are very social, and have lots of energy, which is sometimes described as being "hyper." Plenty of exercise and lots of love and attention can help to expel some of your Havanese's excess energy.
Do Havanese like to cuddle? Yes, in fact, you could say that Havanese are bred to cuddle. As a toy dog, the Havanese is bred for the sheer joy of its company, which includes lots and lots of cuddles.
How long can a Havanese hold their bladder? Small dogs like the Havanese tend to have small bladders, which means they will have to go outside once every two to three hours.
Do Havanese like to swim? Yes. Havanese enjoy the water and swim naturally. However, some may need some coaching to get in the water and swim. As a small dog, it's important for owners to keep a close eye on their Havanese when they are in and around water.
Do Havanese sleep a lot? Havanese are known to be pretty sleepy, though they have plenty of energy to play with their family for hours on end.
Can Havanese be aggressive? Any dog can be aggressive. However, Havanese are seldom aggressive and are, in fact, known to be particularly sweet, friendly and affectionate.
The Havanese is an old breed, closely related to the Bichon family of dogs, then known as Tenerife dogs. Tenerife dogs made the crossing to the new world with Spanish in the early 1500s, where they were immensely popular with the Spanish nobility.
A number of factors contributed to the development of the Havanese, primarily limitations on the import of other breeds to Spanish colonies and the tropical climate of the Caribbean. Isolated in the New World, the Tenerife-Bichon dogs developed into the Havanese, the only breed native to Cuba.
Believe it or not, the Havanese is well suited to the hot and humid climate of the Caribbean - it's coat is long, soft and incredibly silky, which keeps it cool and insulates it from the harsh heat of the tropical sun.
By the 18th century, Havana had grown into the cultural capital of the Caribbean. Havanese slowly made their way to Europe where they were an instant hit with the French and British aristocracy. Havanese have remained popular throughout the years - Queen Victoria owned two and Charles Dickens was known to have owned at least one. The Havanese was officially recognized by the AKC in 1996.
Need help finding your perfect puppy?
A member of the PuppySpot pack can help!
Contact Us
Contact Us
Need help? Visit our Help Center where we answer all questions related to finding and preparing for your puppy's arrival.
You can also reach our team by email or phone for additional support: [email protected] | (888) 671-0518
Please direct all press inquiries to [email protected]
Similar Breeds
Cavanese

Havachon

Havamalt

Fast Facts

Trainability

Accommodating

Havapom

Havapoo

Fast Facts

Trainability

Accommodating

Havashu

Maltese

Shih Tzu

Shinese
Reviews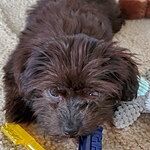 Lisa P.
12/01/2022
Havanese
We are very happy with the whole process. We ❤️ our little Dakota.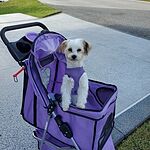 Nancy H.
11/03/2022
Havanese
So grateful for my puppy being delivered in great shape through the ground transportation! She is a healthy, loving, playful and happy puppy also very smart too.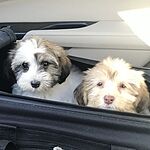 Gracie J.
10/27/2022
Havanese
Our experience with Puppy Spot was exceptional from start to finish. When we met Riley and Finn, they filled our home with life and love. All our questions were answered in a timely manner and pickup was seamless. Thank you.
All Reviews