Trainability

Accommodating
Overview

Though many breeds aspire to win the title of The Most Popular Dog in America, it belongs to the Labrador Retriever - the famously friendly, otter-tailed waterdog. Developed in Canada's cold and wet Labrador and Newfoundland regions, the Labrador Retriever is known far and wide as the best all-around waterfowl dog in the world.

Born with high intelligence and an innate ability to grasp training at a young age, few dogs can match the Labrador Retrievers prowess in the field or match its kindly disposition in the home. Labs have high energy, which they love to run off outside with their owners.

Though Labrador Retrievers love to run and play, they enjoy swimming the most. From their water-resistant coat and otter-tail to their webbed feet, Labrador Retrievers are perfectly adapted for the aquatic environment. If you're looking for a superb family-dog with the energy to work and play all day, then the Labrador Retriever is the perfect dog for you. Find Labrador Retriever puppies for sale.

Breed Characteristics

Click to see other breeds with similar traits:
Need help finding your perfect puppy?
A member of the PuppySpot pack can help!
Contact Us
Similar Breeds
Aussiedor

Trainability

Accommodating

Golden Retriever

Trainability

Accommodating

Nova Scotia Duck Tolling Retriever
Reviews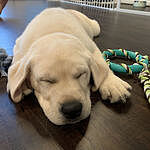 Marin C.
06/08/2022
Labrador Retriever
I was searching for months for a breeder for an English Labrador near where I live. I was having trouble finding one where the timing of the litter would work out, or was within a reasonable price range. It was practically a full time job. Then I discovered puppy spot! I found the exact puppy I was looking for, and the person who I was in contact with provided all the necessary information, including photos of the parents. And we didn't have to get on a waitlist and wait months and months (wh...
All Reviews