Overview

Adding a Labradoodle puppy to your family is like opening a birthday gift - you don't know exactly what you're going to get; but you're pretty sure you're going to love it. Labradoodles are crossbreeds that come in many shapes, colors and sizes. But no matter what they look like they are always kind, affectionate and eager-to-please.

Labradoodles are amazing family dogs and intelligent, faithful companions, which is unsurprising considering their lineage. Bred to be hypoallergenic guide dogs, Labradoodles combine the loving and affectionate personality of the Labrador Retrievers and the hypoallergenic coat of the Standard Poodle.

They're gentle with children and patient with strangers, pets and other dogs. Labradoodles love the water and are exceptional swimmers. They are also athletic, well-mannered and a joy to be around. Like the Labrador Retriever and the Standard Poodle, however, Labradoodles need plenty of exercise and lots of loving attention to stay happy and healthy.

Breed Characteristics

Click to see other breeds with similar traits:
Labradoodles are one of the most popular breeds in the United States and around the world. That's because they are not only hypoallergenic, they are incredibly intelligent, gentle and capable of astounding feats of obedience and athleticism.
Labradoodle puppies are adorable, curious, and behave surprisingly similar to a human baby; they require near constant supervision and crave your love and attention. Labradoodle puppies are born in litters of two to six, and in a range of different colors and markings.
This is a smart breed that is bred to always be sociable, friendly and well-behaved. Like all puppies, however, Labradoodles are exceedingly curious and eager to explore their new surroundings. That's why it is very important that new Labradoodle puppy owners take steps to ensure their puppy doesn't get into trouble.
How to Puppy-Proof Your Home
Like all puppies, Labradoodle puppies are very likely to sniff out food and anything they think is food and chew on it to see if they can eat it. That's why it's incredibly important that new Labradoodle puppy owners to the necessary steps to puppy-proof their home.
Keep toilet lids closed
Remove any choking hazards
Move all the poisonous houseplants out of reach
Fence in yard, if possible
Install cabinet locks
Install puppy gates
Keep all entrances to the home closed
One of the biggest mistakes new puppy parents make is picking up their new puppy before making a trip to the pet store. Below is a list of supplies you'll need to purchase before your scheduled puppy pick-up appointment:
Collar
Leash
Harness
Toothbrush
Nail Clippers
Brush
Shampoo
Crate (large enough for a puppy to comfortably sit, stand and lie down)
Chew Toys (puppy-safe)
Food Dish (Non-Plastic)
Water Dish (Non-Plastic)
Puppy Pads
Bed
Blanket
Puppy Food
Puppy Treats
AKC registered breeds are categorized into one of seven breed groups based on their characteristics and the role the breed was originally developed to fulfill, such as herding, hunting and guarding.
Labradoodles are a hybrid crossbreed of the Standard Poodle and the Labrador Retriever, therefore they are not recognized by the AKC or categorized into an official breed group. However, Labradoodles are commonly bred by guide and assistance dog organizations for their remarkable ability to assist their owners in a wide range of tasks.
A breed standard is a set of guidelines used to ensure dogs produced by breeders always conform to the specifics of the standardized breed. Crossbreeds, like the Labradoodle are not officially recognized by the AKC and therefore not subject to an official breed standard.
However, PuppySpot has a zero-tolerance policy for puppy mills or substandard breeding of any kind - so you can be sure that your puppy will be happy and healthy whether they have a breed standard or not.
Labradoodles are athletic and graceful with a compact, medium-boned body that is neither heavyset nor overly fine. Its coat is non-shedding, easy to manage and comes in a wide variety of colors. Labradoodles also intuitively seek human eye-contact which is easily discernible from a glance.
Head
The Labradoodle's head is moderately broad with a moderate stop, eyes set well-apart and well-defined eyebrows. Its head is of moderate width and well-developed but without exaggeration and in proportionate in size to the rest of the dog. Face should be shorter than the skull, clean-cut and free from fleshy cheeks.
Ears are set low on the head and should not stick up or out. Eyes are large, wide-set expressive and seeking human eye-contact. Nose is large and square in appearance but never small, narrow or pinched.
Body
The Labradoodle's body should appear square and compact, with a deep chest and well-sprung ribs. There should be a good tuck up, and the loins should be strong and muscular. Neck is well-proportioned, of good strength, moderately long and slightly arched as it flows into shoulders, which are laid well back.
Legs and Feet
The Labradoodle's feet are round and of medium size, with well-arched toes and thick, elastic pads. Its feed should not turn in or out. Elbows are be set close to the body. There should also be a definitive ankle between foot and leg.
Tail and Hindquarters
The Labradoodle's tail should follow the topline and carried happily but should never curl completely over the back. The tail tip should not touch the back nor curl upon itself. Hindquarters are well-muscled for power in movement.
Coat and Colors
The Labradoodle's coat is non-shedding and easy to maintain. Since the Labradoodle is a hybrid crossbreed, its coat may come in any length; can appear wavy, straight or form spirals and come in a variety of colors. Though, it should never be too thick or dense, nor should it be fluffy or fuzzy.
Height and Weight
Labradoodles are a hybrid crossbreed, so they come in a variety of sizes but never more than 25 inches tall at the withers or more than 65 pounds.
The Labradoodles temperament and personality is clever, sociable, comical and joyful. They are always energetic and eager-to-please. They approach people in a happy, friendly manner and possess an intuition about the emotional state of family members. They are also keenly intelligent and easy to train.
Labradoodles are widely considered to be a healthy dog. Like all hybrid dogs however, they have the potential to develop genetic health problems and may develop health conditions common to both Labrador Retrievers and Poodles, which may include hip and elbow dysplasia.
Life Expectancy
Labradoodles are known to live between 13 and 15 years old. The best way to ensure your Labradoodle lives a long, happy and healthy life is to provide it with a nutritious diet, lots of exercise and plenty of love and attention.
As a new puppy, your Labradoodle will require specific care to keep them healthy, happy and feeling great. Though not particularly challenging, caring for a Labradoodle does require some level of precaution and patience. Labradoodle puppies need frequent exercise and lots of mental stimulation to stay fit and ward of boredom induced destructive behavior.
Nutrition
On its first night in your home your Labradoodle puppy will just be glad to be with you. They will likely beg to eat but feed them very little as their tummy will be easily upset. It takes time for a Labradoodle's system to adjust to new water and its new surroundings.
What Should I Feed My Puppy Samoyed Puppy?
When given the choice, your Labradoodle puppy will almost certainly choose wet food over dry food. However, due to the high occurrence of dental disease in the Labradoodle breed, we recommend feeding your puppy a blend of wet and dry kibble, which is better for the teeth.
Steer clear of dog food brands that use artificial ingredients, preservatives and fillers like grain, wheat and brewers rice. Like all dogs, there are some foods you should never feed your Labradoodle, such as:
Grapes
Dairy
Chocolate
Alcohol
Nuts
Pitted Fruit
Onions
Garlic
Caffeine
All of the above are considered poisonous to dogs and should be kept well out of their reach. Labradoodles who ingest these foods should be taken to the vet immediately.
How Much Should a Labradoodle Puppy Eat?
We recommend that owners start their Labradoodle puppy on moistened dry puppy food, 3 to 5 times per day for no longer than 10 minutes per feeding. After 10 minutes remove their food even if they haven't finished, though 10 minutes should provide enough time for your puppy to consume the entire meal. Monitor your new puppy's health and wellness; if they appear skinny and eagerly finish every meal, then you may need to increase the amount of food in their diet.
Grooming
The Labradoodle's coat is moderately long and hypoallergenic, which means it doesn't shed and is fairly easy to maintain. That being said, it is very important that Labradoodle owners stay on top of grooming, as it takes little time for a Labradoodle's coat to grow long and unruly.
How Often Do Labradoodles Need to be Groomed?
Your Labradoodle puppy needs a bath about once per month. Don't over-bathe your Labradoodle. Over-bathing will remove the natural oils in your puppy's coat that protect its skin and keep its fur strong, shiny and looking its best.
Bath time is also a great time to check your Labradoodle for potential health concerns like cuts and abrasions to their legs and paws, poor dental hygiene, ear & eye infections and especially fleas and ticks. We recommend that you brush your Labradoodle puppy once a day. Nail trimming should be done every few weeks with a special clipper you can buy at any pet shop.
Exercise
Labradoodles are an active and intelligent breed that requires regular physical and mental exercise to stay happy and healthy.
How Much Exercise Does A Labradoodle Puppy Need?
Labradoodle puppies require approximately 5 minutes of exercise for each month in age - twice per day. At 3 months, your Labradoodle puppy needs about 15 minutes 2x per day. At 6 months your Labradoodle puppy will need 30 minutes of exercise 2x per day.
Take your Labradoodle sledding, hiking, running, rollerblading - anything that gets you and your Labradoodle outside and moving. Daily exercise also improves circulation and provides opportunities for your puppy to socialize and explore its environment, which is critical to proper socialization. Remember to keep your Labradoodle on a leash whenever they are outside.
Training
Training a Labradoodle, like training any dog, is all about positive reinforcement. In other words, it's about rewarding good behavior and correcting bad habits. Labradoodles are very intelligent, which means they are capable of remarkable feats of obedience.
The key to achieving amazing training results is to be confident, consistent and positive throughout each training session. Like all dogs, the sooner you begin training your Labradoodle the more successful you'll be. Remember, you're working to establish yourself as your puppy's pack-leader with positive reinforcement, not fear of punishment.
Housebreaking
The earlier you begin housebreaking your Labradoodle puppy the easier it will be. It's best to introduce your Labradoodle puppy to its new home slowly - We recommend confining them to a room of the house for the first couple of days with their bed, water, food and toys.
Once they have become used to that room you can begin to introduce your Labradoodle puppy to the rest of the family. We find It's best to create a schedule that is convenient for you and that you follow these basic housebreaking guidelines.
Keep all meals on a predictable schedule
Establish a bedtime and try to stick to these times as closely as possible
Take your Labradoodle outside to "go potty" at regular intervals
Exercise and play with your Labradoodle regularly and at regular intervals
How to Potty Train a Labradoodle Puppy?
Potty training a Labradoodle is fairly straightforward process. Remember, consistency is key to housebreaking a puppy. Remember to use the same words and phrases to indicate when, where and how you want your puppy to do its business.
Watch for signs that your Labradoodle needs to go potty like pacing, sniffing, and squatting. When you notice these behaviors calmly and quickly hustle your puppy outside and to the spot you've chosen. Then say a phrase similar to "go potty" and praise them when they get it right. With practice your Labradoodle will learn where to "go potty."
It can take up to 6 months to fully housebreak a Labradoodle puppy. The size of your doodle can affect the ease of housebreaking. Smaller doodles such as the miniature Labradoodle have smaller bladders and may not have the ability to "hold it" as long as the bigger doodles.
How to Crate Train a Labradoodle Puppy?
Crate training a Labradoodle puppy is important, as it provides your puppy with a place where it can feel safe and comfortable when you're not at home. Make sure you purchase a crate that is big enough for an adult Labradoodle to stand, turn around and sit or lie down in without issue.
It's best to place your puppy's crate in your bedroom for the first few weeks so they associate the crate with the comfort of your presence. Introduce your puppy to their crate with a few treats inside.
Then feed your puppy once they move inside the crate so they begin to associate food with the crate. Remember to place your Labradoodle puppy in their crate and give them a treat when it's time for bed.
Socialization
Labradoodles that are frequently kept at home are less likely to gain the experience needed to feel safe in a given environment and therefore, prone to act out when presented with new situations, people, or pets.
Fetch is a great way to exercise your dog's physical body and provide it with an opportunity to play according to its natural instincts. Daily walks are also a great way for a Labradoodle puppy to explore their surroundings, including other dogs and people while feeling secure in your presence.
Labradoodles are extremely affectionate, social and friendly, and puppies respond to calm confidence. So, stay calm and firm in your commands with your Labradoodle and they will be socializing in no time.
Obedience Training
Labradoodles who are not properly trained may destroy precious and expensive belongings, wander away from its owners, or beg at the dinner table. Labradoodles are also prone to jumping. That's why obedience training should be considered an essential part of owning a Labradoodle.
What's the Best Way to Obedience Train a Labradoodle?
The best way to obedience train a Labradoodle is to spend time with it. Spending quality time with your puppy will strengthen your relationship, and provide opportunities to learn, train and bond together.
Labradoodles puppies respond to calm confidence. So, stay calm and firm in your instructions with your Labradoodle and they will be following your commands in no time. We recommend that obedience training began as early as possible in the puppy's life. Start with basic reward-based training principles like:
sit
down
stay
come
heel
roll over
Use the same words and phrases to indicate when, where and how you want your puppy to execute a command. Issue your command. Pause. Then reward them with a snack when they get it right. Do not punish your Labradoodle when they fail a command. Simply regain their focus and try again until they get it right.
Are Labradoodles good pets? Yes. Labradoodles make terrific pets - they're sweet, affectionate, adaptable and profoundly loyal to their family. They love to cuddle and have plenty of energy for playtime. If you're willing to invest your time and energy into caring for your Labradoodle puppy, then you'll have a loyal and loving companion for many years.
Do Labradoodles shed a lot? No. Labradoodles are hypoallergenic and therefore do not shed.
Do Labradoodles bite? Any dog can bite. However, Labradoodles are exceptionally gently and rarely show aggression. Though, like all dogs regular training and socialization are essential to ensuring your Labradoodle learns appropriate behavior.
Why do Labradoodles put their paw on you? Labradoodles are attention hogs who love to interact with their owners constantly. When a Labradoodle paws at your leg they are simply fawning for your attention.
How often should I walk my Labradoodle? Labradoodles will benefit the most from a 20 to 30-minute walk, twice per day.
Are Labradoodle puppies easy to train? There are difficulties inherent in training a puppy, regardless of breed. However, Labradoodles have a reputation for being easier to train when compared to other medium-large dog breeds.
Are Labradoodles affectionate? Labradoodles are extremely affectionate, friendly and social.
Are Labradoodles good first dogs? The Labradoodle's highly sociable temperament and affectionate personality make them a great decision for first-time dog owners, and dog owners with children.
Why are Labradoodles so popular? The Labradoodles is not recognized as an official breed by any major kennel club, so its popularity compared to other official breeds is hard to officially determine.
However, considering the frequency of adoption, it is no exaggeration to say the Labradoodle is one of the most popular dog breeds in the world. Labradoodles are popular because of their hallmark coat and overly affectionate temperament.
Why do Labradoodles love water? Labradoodles are a crossbreed of the Labrador Retriever, a gun dog bred to retrieve downed game like ducks and other semi-aquatic birds.
Do Labradoodles make good service dogs? Yes. Labradoodles are bred as service dogs and have proven themselves to be cable workers.
Can Labradoodles be left alone all day? We recommend the maximum length of time you leave any dog alone is 4 hours. Labradoodles should not be left in a small crate for long periods and must have access to fresh drinking water at all times.
Puppies need lots of socialization before being left on their own, otherwise owners increase the risk of separation anxiety which can result in destructive behavior excessive barking. Puppies also need to relieve themselves more often than an adult dog, at least once an hour when housebreaking.
Developed in 1988, Labradoodles are a relatively recent addition to the world of canines. They were first bred in Victoria, Australia for a blind woman who was in desperate need of a guide dog that wouldn't aggravate her husband's allergies.
The Royal Guide Dogs of Victoria, Australia crossed their Labrador Retrievers with a Standard Poodle to create the Labradoodle. The first litter of Labradoodles only consisted of three puppies, only one of which didn't bother her husband's allergies.
The result of breeding to beautiful and capable canines is the wonderfully affectionate and wildly popular Labradoodle. F1 Labradoodles are the direct offspring of a Standard Poodle and a Labradoodle and are the most common of the breed. In the years since the late 1990's variations on the Labradoodle have emerged including:
F1B - Offspring of a Standard Poodle and an F1 Labradoodle
F2 - Offspring of an F1 and another F1 Labradoodle
F2B - offspring of an F1 and an F1B Labradoodle
Variations in breeding result in a wide variety of Labradoodle shapes, sizes, and colors. However, the same variations also exclude the Labradoodle breed from official "breed" recognition by breed associations like the AKC, the UKC, and the CKC.
Regardless of breed status, Labradoodles are regularly trained as therapy and guide dogs to assist the disabled and visually impaired. The Labradoodle may have a short history, but they have filled those years with loyal companionship and millions of hours of service that has bettered the lives of human beings.
Need help finding your perfect puppy?
A member of the PuppySpot pack can help!
Contact Us
Contact Us
Need help? Visit our Help Center where we answer all questions related to finding and preparing for your puppy's arrival.
You can also reach our team by email or phone for additional support: [email protected] | (888) 671-0518
Please direct all press inquiries to [email protected]
Similar Breeds
Labrador Retriever

Fast Facts

Trainability

Accommodating

Lagotto Romagnolo

Fast Facts

Trainability

Accommodating

Poodle

Fast Facts

Trainability

Accommodating

Soft Coated Wheaten Terrier

Labernese

Goldendoodle
Reviews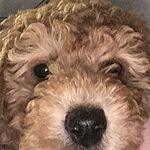 Joan N.
12/08/2022
Labradoodle
Very smart and loving.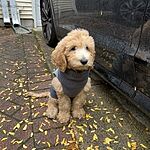 Julia H.
11/03/2022
Labradoodle
Everything went smoothly. Found my best friend!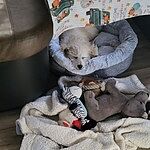 Roger S.
10/21/2022
Labradoodle
Everything went smoothly even the transfer went smooth. Hogan is adjusting well. He's very intelligent and loving. He's going to bring me happiness for years to come.
All Reviews