Soft Coated Wheaten Terrier
Overview

Known for its happy, spunky disposition, the Soft Coated Wheaten Terrier is a wonderful dog to be around. One of several terriers with Irish ancestry, the Wheaten is unique in its group because of its soft, silky coat and extra-long facial hair. Wheatens are deeply devoted to their families, get along well with children and other pets, and love to be active. Wheaten Terriers make excellent, affectionate housemates and are eager to learn and please.

Breed Characteristics

Click to see other breeds with similar traits:
---
Available Soft Coated Wheaten Terrier Puppies
All Puppies
Need help finding your perfect puppy?
A member of the PuppySpot pack can help!
Contact Us
Similar Breeds
Poodle

Trainability

Accommodating
Reviews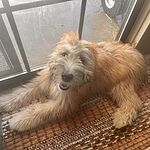 Sandi G.
09/14/2022
Soft Coated Wheaten Terrier
Such a great experience with really helpful employees and our new puppy is the cutest thing ever haha! :)
All Reviews