Overview

An adorable crossbreed of a Pomsky and a Siberian Husky, the Pomsky is a pint-sized ball of love with the energy to keep up with even the most active families. Sweet, silly, and well-suited to apartment-living, the Pomsky is a tiny dog with a personality that is larger than life.

Pomskys need to be the center of attention but their adorable looks and playful antics, typically ensure they get all of the love and attention they crave. As the offspring of a Siberian Husky, Pomskys are high-spirited and possess seemingly endless stores of energy.

Pomskys love everyone but are likely to choose a single person to latch on too. They generally get along well with other dogs but the high prey drive of the Siberian Husky means it may chase after small animals, so it's important to keep them on a leash when outside.

Breed Characteristics

Click to see other breeds with similar traits:
Pomsky puppies are adorable, affectionate and too fluffy not to love. As a crossbreed of a Siberian Husky and a Pomsky, Pomskys are high-energy pups that need lots of attention and have loads of energy to burn.
They need regular exercise and socialization to ward off destructive behavior and stifle its urge to bark. Pomskys puppies not only crave your attention, they absolutely need someone to watch over them at all times to ensure their high-spirited, playful personality doesn't get them into trouble.
New Pomskys also have a tendency to zoom around the house at full throttle barking as loud as they can. Thankfully, these periods of madness can be reduced with regular exercise, training and lots of playtime.
Small dog puppies, like the Pomsky are also prone to separation anxiety and may chew furniture, or bark excessively if left alone and not adequately exercised. They may also dart off in pursuit of any interesting scent or leaf that peaks their interest. Fenced in yards, leashes and a watchful eye are always recommended.
How to Puppy-Proof Your Home
Like all puppies, Pomsky puppies are very curious and likely to sniff out food or anything they think is food and chew on it to see if they can eat it - this is how puppies learn and explore their new environments - it's also why it's incredibly important that new Pomsky puppy owners take the necessary steps to puppy-proof their home.
Install cabinet locks and puppy gates.
Keep all entrances to home closed at all times.
Keep toilet lids closed.
Remove any choking hazards and all poisonous houseplants.
Fence in the yard.
New Pomsky Puppy Supplies
One of the biggest mistakes new puppy parents can make is to pick up their new puppy before making a trip to the pet store. Below is a list of supplies you'll need to purchase BEFORE your scheduled puppy pick-up appointment:
Collar
Leash
Harness
Toothbrush
Nail Clippers
Brush
Shampoo
Crate (large enough for the puppy to comfortably sit, stand and lie down)
Chew Toys (puppy-safe)
Food Dish (Non-Plastic)
Water Dish (Non-Plastic)
Puppy Pads
Bed
Blanket
Puppy Food
Puppy Treats
AKC registered breeds are categorized into one of seven breed groups based on their characteristics and the role the breed was originally developed to fulfill, such as herding, hunting and guarding.
Pomskys are a hybrid crossbreed of the Pomsky and the Siberian Husky, therefore they are not recognized by the AKC or categorized into an official breed group. However, Pomskys are commonly bred as companions, designer dogs and therapy dogs.
A breed standard is a set of guidelines used to ensure dogs produced by breeders always conform to the specifics of the standardized breed. Crossbreeds, like the Pomsky are not officially recognized by the AKC and therefore not subject to an official breed standard.
PuppySpot has a zero-tolerance policy for puppy mills or substandard breeding of any kind - so you can be sure that your puppy will be happy and healthy whether they have a breed standard or not.
A Pomsky is a cross between a toy or miniature Siberian Husky and a Pomsky. Its appearance, therefore, resembles that of a Siberian Husky in miniature. Pomskys are surprisingly heavy for their size (18- 25 pounds) and entirely covered in a soft double coat, with distinctive husky markings and colors.
As a hybrid dog, there is some variation in Pomsky markings, size and weight but, overall, Pomskys show a remarkable amount of uniformity for a crossbreed - this is especially true regarding the Pomskys personality, which is always high-spirited, friendly and eager to please.
Head
The Pomsky's expression is sweet, friendly, keen and just a little mischievous. They have almond-shaped eyes that are shown in every color. The muzzle is of moderate length and medium width. Ears are triangular, wide-set and similar in every way to the Spitz, group of canines.
Body
The Pomsky's body is small and short, though longer than it is tall. The neck should be medium length, arched and carried erect when the dog is standing. When moving at a trot, the neck is extended so that the head is carried slightly forward. The chest is deep and strong with the deepest point being just behind and level with the elbows.
Legs and Feet
The Pomsky's legs are moderately spaced, straight and parallel when viewed from the front.
Shoulders and legs are moderately muscled. Feet are round, tight, and cat-like - well-arched, compact, and standing well up on the toes.
Tail and Hindquarters
The Pomsky's tail is set high; curled over the back (but may lay uncurled) and profusely covered in long, harsh, and straight hair. Hindquarters are angulated in balance with the forequarters. Buttocks are well behind the set of the tail, which should reach to the hock. The tail should never be kinky, weak or docked.
Coat and Colors
Like most Pomsky and the Siberian Husky, the Pomsky has a double-coat - its body is well covered with a short, dense undercoat and long harsh-textured guard hair that grows through to form the longer, more abundant outer coat. Pomskys come in many colors from black to pure white and are born with a variety of markings on the head including many patterns not found in other any breed.
Height and Weight
Pomskys are small when compared to most breeds; standing 15 to 18 inches tall and generally weighing between 18 and 25 pounds.
In general, Pomskys are friendly, gentle, outgoing and high-spirited. They do not typically display possessive qualities like guard dogs, nor are they overly suspicious of strangers or aggressive with other dogs. - they are extroverted and enjoy being the center of your attention, which may turn into a barking habit if not properly trained and socialized.
Pomskys are generally considered to be a healthy breed, more susceptible to physical injury than a medical condition. Like all dogs, however, there are a number of health issues that affect Pomskys that owners should look out for, namely Obesity, Luxating Patella and Hip Dysplasia.
Life Expectancy
Pomskys are relatively long-lived when compared to many large breeds, with most living to be 13 to 15 years old.
Pomskys are spunky, friendly and love to be the center of your attention. Though we wouldn't describe caring for a Pomsky puppy as "low-maintenance" it is an incredibly joyful and rewarding experience. As with most small breeds, there are a few breed-specific characteristics that owners should be aware of before adopting a Pomsky puppy.
Avoid Injury - Small dog breeds, like the Pomsky are susceptible to back, hip and joint issues which can cause pain, bladder and bowel control problems, and even partial paralysis. To avoid future spinal issues, it's best to prevent your Pomsky puppy from leaping off furniture or stairs.
Barking - Pomskys have a tendency to bark when left alone for extended periods, and when strange dogs, people or leaves enter their territory. Regular socialization and exercise can reduce stress and a Pomsky's urge to bark.
Eye Care - It is common for Pomskys to develop a small discharge which can cause mild discomfort when not removed. Wet a washcloth with warm water and soften the mucus before gently wiping it away.
Dental Care - Your Pomsky's teeth generate a substantial amount of tartar which can accumulate and cause a litany of dental issues. That's why it's important for owners to regularly brush their Pomsky's teeth.
Stay Cool - Pomskys are sensitive to heat, especially heat stroke, which can be fatal for dogs. It's important to keep an eye on your puppy's heat level and to find a cool, air-conditioned room when you notice lethargy, drooling and excessive panting. Also be sure your Pom has access to plenty of cool water at all times.
Children & Pets - Pomskys are intelligent, affectionate and friendly. They are generally great with children, but owners should still be cautious when allowing their Pom to play with children. Its diminutive size makes it more susceptible to injury from roughhousing.
Nutrition
No matter the size, breed or pedigree, your puppies health, happiness and quality of life are dependent on what it eats. Therefore, the diet you choose for your Pomsky should include the right balance of nutrients, vitamins and minerals - the more nutritious the diet, the better your Pomsky life will be.
What Should I Feed My Puppy Pomsky Puppy?
We recommend that you feed your Pomsky puppy a nutritious brand of dog food twice per day. Keep away from dog food brands that use artificial ingredients, preservatives and fillers like grain, wheat and brewers rice.
You can prevent your Pomsky puppy from becoming obese by implementing a feeding schedule. At 8 weeks your puppy should learn that food won't be provided constantly throughout the day.
Be sure to monitor your new puppy's health and wellness. If they appear skinny and eagerly finish every meal, then you may need to increase the amount of food in their diet. Conversely, if you notice that your puppy is gaining too much weight for their age, you may need to limit the amount of food in their diet. Some foods are considered poisonous to dogs and should be kept well out of their reach. Dogs who ingest these foods should be taken to the vet immediately:
Chocolate
Alcohol
Onions
Garlic
Caffeine
Grapes
Dairy
Nuts
Pitted Fruit
Grooming
The Pomsky's coat requires a fair amount of maintenance but that doesn't mean grooming has to be difficult. The Pomsky's playful personality can make the grooming process a fun bonding experience for you and your puppy.
Frequent grooming will prevent your Pomsky's beautiful coat from growing out of control, becoming matted, brittle and dry. Start by brushing your puppy's coat at least two times per week so it can become accustomed to the feel of the brush.
Adults should be brushed at least 3 times per week but every day is the ideal. It's important to address any tangles or mats as soon as possible. Brushing on a regular basis will help stop tangles from forming.
Your new puppy needs a bath about once per month. Don't over-bathe your puppy, as it can remove the natural oils that protect its skin and keep its coat strong, shiny and looking its best. We recommend that you brush your Pomsky puppy once a day.
Grooming is also a great time to check your Pomsky puppy for potential health concerns like cuts and abrasions to their legs and paws, poor dental hygiene, ear & eye infections and especially fleas and ticks.
Exercise
As small dogs, Pomskys do not require an abundance of physical exercise. A walk or two per day should keep your Pomsky fit and healthy. What your Pomsky really needs, more than physical exercise, is mental stimulation.
These are high-energy, extra high-spirited pups who need lots of playtime and attention to keep them satisfied. A bored Pomsky is a sad puppy who is likely to find trouble just to entertain itself. If you like your shoes to remain intact, it's a good idea to shower your Pomsky with attention.
Training
A Pomsky puppy is just about as cute as a puppy can be ,and like every puppy, they require proper training to grow into a well-behaved adult dogs. As your Pomsky grows, it will enter several developmental stages, in which it will exhibit certain behaviors. Though puppies typically grow out of these behaviors, other behaviors may be present for the dog's entire life.
With time and dedication, your Pomsky will grow to be an obedient, eager-to-please member of your family and society. As with any dog, the key to training a Pomsky puppy is consistency, reward and lots of patience.
Housebreaking
Generally speaking, smaller dogs have a harder time with housebreaking than larger dogs and Pomskys are no exception. Fortunately, Pomskys are quick learners. So, the earlier you start housebreaking, the better.
Watch your Pomsky for indications that they need to do their business. If you see that they are about to go inside the house, loudly clap your hands or call out their name to give them pause. Then hustle your puppy outside to your designated area and let them do their business.
Say something similar to "go potty", then praise them once they go in the right area. Repeat this process until your puppy associates "go potty" with going outside to go. Avoid punishing your puppy for accidents inside the house. Simply ignore it, then clean it up.
How to Crate Train a Pomsky Puppy?
Crate training a Pomsky is easy and quick to achieve. Start with a crate that is big enough for an adult Pomsky to stand, turn around and sit or lie down without any hindrance. We recommend placing its crate in your bedroom for the first few weeks so they associate the crate with the comfort of your presence.
Introduce your Pomsky to the crate by placing a few treats inside and around the crate. Place your Pomsky puppy in their crate and give them a treat. Then shut and lock the crate. Then leave the room. Your puppy will likely bark once you leave the room. Wait to enter the room again until they have stopped barking.
Avoid petting or praising them when they bark inside their crate or their desire to be let out of the crate will become stronger. Start the process over again after 30-45 minutes. Don't forget, puppies need a toy, and easy access to fresh clean water when inside their crate.
Socialization
Pomskys are social, affectionate and very friendly but, if not socialized from an early age, they may develop a number of undesired behaviors. That's why it's important to socialize your Pomsky as soon and as often as you can so it can experience positive social interactions with other pets, new family members and strangers.
One way to start the socialization process is to assemble the family on the floor and let the puppy greet them. It's best to introduce other pets, quietly and slowly - treats tend to ensure a positive experience for any puppy.
Obedience Training
Pomskys are incredibly talented and obedient when properly trained. They are typically non-aggressive, happy little pups but they do tend to bark excessively. Fortunately, obedience training can help to stifle some of your Pomsky's urge to bark and teach it to obey you on command.
As with all things puppy, we recommend that obedience training began as early as possible in the puppy's life. Start with basic reward-based training principles like "sit" and "stay. Use the same words and phrases to indicate when, where and how you want your puppy to execute a command.
Issue your command. Pause. Then reward your Pomsky with a snack when they get it right. Do not punish your Pomsky when they fail a command. Simply regain their focus and try again until they get it right.
How big is a full-grown Pomsky? Pomskys are small when compared to most breeds; standing 15 to 18 inches tall and generally weighing between 18 and 25 pounds.
Are Pomsky good pets? Yes! Pomskys are friendly, affectionate and small enough to live just about anywhere, except outside. They are especially great with kids and other pets when properly socialized. All in all, you couldn't ask for a better pet.
Do Pomskys bark a lot? Yes. Like most small dog breeds, Pomskys are prone to barking as a warning, in self-defense, when they are excited and when they want attention. The best way to keep your Pomsky from barking is to ensure it feels safe; does not get too excited and by showering it with love and attention.
Can Pomskys breed? Generally, No. Most Pomskys are the offspring of a female Siberian Husky and a Male Pomeranian and conceived via artificial insemination. Though, it is possible for two Pomskys to breed naturally, it's very rare and potentially dangerous for the female.
Are Pomskys aggressive? No. Pomskys are seldom aggressive and almost always described as kind, affectionate and incredibly sweet.
Are Pomskys high maintenance? Pomskys are not high maintenance but they are high-spirited and high-energy. They require a lot of attention and mental stimulation, but taking care of one is not particularly challenging. That's why Pomskys are a great choice for first time dog owners.
Are Pomskys hard to potty train? Smaller dogs, like the Pomsky, typically have a harder time with housebreaking than larger dogs. Fortunately, Pomskys are quick learners. So, the earlier you start housebreaking, the better.
At what age is a Pomsky full grown? A Pomsky's frame typically grows until it's around 18 to 24 months of age, though they may reach 24 to 36 months old before they reach their full adult body weight.
What can Pomskys eat? We recommend that you feed your Pomsky puppy a nutritious brand of dog food twice per day. Keep away from dog food brands that use artificial ingredients, preservatives and fillers like grain, wheat and brewers rice.
Are Pomskys hyper? Pomskys are very social, and have lots of energy, which is sometimes described as being "hyper." Plenty of exercise and lots of love and attention can help to expel some of your Pomsky's excess energy.
Are Pomsky good family dogs? Yes. Pomskys are terrific family dogs - they love children, happily play with other dogs and eagerly greet strangers. If you're in the market for a sweet, friendly family dog, then the Pomsky is the dog for you.
Do Pomsky like to cuddle? Yes, in fact, you could say that Pomsky are bred to cuddle. As a toy dog, the Pomsky is bred for the sheer joy of its company, which includes lots and lots of cuddles.
How long can a Pomsky hold their bladder? Small dogs like the Pomsky tend to have small bladders, which means they will have to go outside once every two to three hours.
Do Pomsky like to swim? Yes. Pomsky enjoy the water and swim naturally. However, some may need some coaching to get in the water and swim. As a small dog, it's important for owners to keep a close eye on their Pomsky when they are in and around water.
Is a Pomsky Hypoallergenic? No. Pomskys are the offspring of a Pomeranian and a Siberian Husky, both of which are confirmed to shed profusely. Your Pomsky will shed and it may affect owners with dog allergies. The best way to keep shedding under control is to stay up to date on your Pomskys grooming schedule.
Though the exact origins of the Pomsky breed are unclear, the first litter of Pomskys were born in the United States in 2012, when breeders crossed a Siberian Husky and a Pomeranian using a method known as artificial insemination.
The newcomer breed gained near instant viral internet fame and skyrocketed to the top of the popularity charts in the United States and all across Europe. The influx of popularity overwhelmed the small number of Pomsky breeders operating at the time.
There were simply not enough breeders to keep up with demand, which is bad news for any breed. In the years to come, many Pomsky "breeders" popped up across the country practicing inhuman breeding standards. Though many of these puppy mills have been shut down, some manage to fall through the cracks.
That is why it is essential that prospective Pomsky owners buy from a trusted puppy service like PuppySpot, who spends millions of dollars on a rigorous, proprietary screening and compliance program which screens breeders for standards that go above and beyond federal and state regulations.
Need help finding your perfect puppy?
A member of the PuppySpot pack can help!
Contact Us
Contact Us
Need help? Visit our Help Center where we answer all questions related to finding and preparing for your puppy's arrival.
You can also reach our team by email or phone for additional support: [email protected] | (888) 671-0518
Please direct all press inquiries to [email protected]
Similar Breeds
Alaskan Malamute

Pomeranian

Siberian Husky
Reviews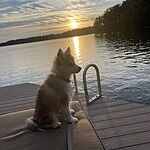 Colleen D.
07/05/2022
Pomsky
PuppySpot was a great help with finding our new furry family member! They were helpful and patient with all the questions I kept bombarding them with. The information on the app and online was also helpful and very user friendly. Our puppy was looked after during his travels here and came right to our door. I definitely recommend PuppySpot!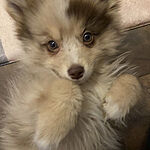 Michele P.
03/20/2022
Pomsky
My experience from beginning to delivery was great. Communication was there anytime I needed information & coordination in getting my new dog.The breeder did a fine job with my Pomsky he was in great health when he arrived and he has adjusted very well, with a wonderful disposition. I have a very happy puppy who is eating Nutri Source puppy can food.I'm also very impressed with the Puppy Spot App it's been very helpful.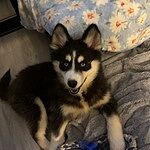 Taylor M.
01/29/2022
Pomsky
I had a wonderful experience getting my puppy from PuppySpot. The cost was a little expensive but compared to other companies for the type of dog I wanted (Pomsky) the price was unbeatable! She arrived on the exact day that was planned with constant contact on almost a daily basis before she was brought to me. The puppy manager was very kind he called me on separate occasions to let me know the time he would be there with my puppy and gave me instructions on how to handle her after flying and...
All Reviews