Overview

The French Bulldog's expression seems glum, but the tiny canine is sweet, affectionate and downright hilarious. Standing calf-high and touting a pair of bat-like ears, Frenchies sport a look that is unmistakable and irresistible.

Frenchies are friendly, intelligent and surprisingly adaptable, having found their way into the hearts of urban-dwellers the world over. The Frenchie's versatile nature makes it the perfect family dog; they get along well with children and pets, and rarely bark.

Frenchies are such good pets that owners can hardly resist describing them in excruciatingly affectionate details. Five minutes with this pooch and you'll understand why Frenchies are one of the most popular dogs in the world.

French Bulldogs need to be taken on long walks daily. Running around freely in a big fenced lawn is insufficient to please their instinct to stroll. Owners should also be aware that this breed is not good with high levels of heat due to the low level of their muzzle. They can experience breathing difficulty during extreme high-temperature levels.

Breed Characteristics

Click to see other breeds with similar traits:
Need help finding your perfect puppy?
A member of the PuppySpot pack can help!
Contact Us
Similar Breeds
Alapaha Blue Blood Bulldog
Reviews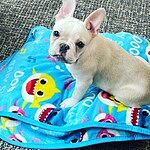 Erika M.
01/02/2023
French Bulldog
Easy process to find my new baby! Got my first Frenchie from a pet store-huge mistake! Highly recommend going through Puppy Spot-reputable breeders ensure you get a great pup! I don't have the challenges (potty training, bad habit breaking) I had with my first Frenchie because my new pup came from a breeder who loved and cared for him adequately. Puppy Spot reps were all very friendly, helpful, professional, and true animal lovers! My new pup is a wonderful addition to our home and my 3 year...
All Reviews