Overview

The Frenchton is a mix between a French Bulldog and a Boston Terrier. This breed originated in recent years in the United States. As with any mixed breed, it is not uncommon for the appearance and personality of one puppy to vary greatly from that of its littermate but, in general, Frenchtons are very friendly, loving and intelligent. They are also very laid back and have low exercise requirements, making them ideal apartment pets that can also excel in homes.

Breed Characteristics

Click to see other breeds with similar traits:
---
Need help finding your perfect puppy?
A member of the PuppySpot pack can help!
Contact Us
Similar Breeds
Reviews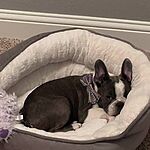 Natalie A.
03/12/2022
Frenchton
We got excellent education on receiving a new puppy. The only hard thing was not being allowed to communicate with the breeder.
All Reviews