Puppies for Sale
At PuppySpot, we know that our exclusive network of breeders produces the best dogs. That's why every puppy for sale is given a complete nose-to-tail checkup before being delivered right to your door. We then back that up with a full 10-year health commitment. We call it our PuppySpot Promise.
At PuppySpot, we have the widest selection of puppies for sale on the internet. Whether you're looking for a purebred Australian Shepherd, a hypoallergenic Mini Poodle, a dashing designer breed like the Goldendoodle or the Cavapoo, or the ever-popular Golden Retriever, we've got what you're looking for. Our exclusive network of breeders is second to none, which is why every puppy provided through us is backed by our industry-leading 10-year health commitment.
We have spent over twenty years sourcing the highest quality breeders from all around the country. From the Miniature Poodle to the Great Dane, each puppy comes with a special AKC registration package provided through PuppySpot. We want you to feel secure in your purchase, knowing your breeder only utilizes the most responsible, sustainable breeding practices.
We're excited to be there with you on your journey, whether you're a new pet parent welcoming your first Goldendoodle into the family, or you're a seasoned pro adding your fourth Siberian Husky to the pack. We all treat our dogs like family around here, which is why we will always go the extra mile to help you find the puppy you will love from the moment they're delivered to your door.
Safe
Our breeders are vetted and screened in partnership with USDA.
Healthy
All our puppies recieve our industry-leading 10-year puppy health commitment.
Comfy
Our private travel network ensures your new pup arrives home healthy and safe.
Reviews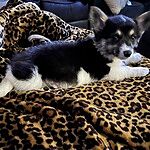 Jessica P.
06/28/2022
Pembroke Welsh Corgi
We have our Corgi and are a so very happy. However the journey to get him home was bumpy. The first dog we picked had a parasite issue which pushed his delivery date back. When the new date neared they told us that he still wasn't well enough to travel. Knowing medications should have cleared him by then unless the issue was severe which made us question the breeding practices and environment in which the puppy was being raised, we opted to pass on that breeder. We decided to go with a champion bloodline being that we had a better chance of the breeder properly caring for their puppies. We had a much smoother experience after choosing a new puppy. However when our puppy arrived he did not seem well. The driver rang our door bell and as soon as I stepped down to see our puppy in the crate, the crate was pretty hot to the touch. I didn't understand how the crate could be at this temperature when he was in the car just moments before. Upon further inspection of the zip lock bag of puppy kibble that was duck taped to the crape we notice that the tape had melted to the bag. All signs pointed to our puppy being left in very hot temperatures at some point. He was very lethargic. And while we were well familiar with hypoglycemia in small breed dogs and travel we gave him something for it and didn't make much difference. So we then gave him water which he drank as if his life depended on it. We had to slow down on it as he was just sucking it down. After a few hours he came to life. I immediately contacted PuppySpot and later the breeder who was very upset. PuppySpot themselves were great but I seriously think they need to pay more attention on who they have delivering their puppies. Also, a better explanation of just what you are getting from the AKC. Another thing that I was unhappy with was that the first free vet visit is only with select places in PetSmart. It was only a drop off appointment and would not let me be with my puppy so I opted to take him to our vet instead. With how expensive these puppies are Puppyspot at the very least could cover your first vet visit with Any vet of your choosing.
All Reviews