Boxer
Puppies
Boxer dogs were originally bred to be medium-size guard dogs. While they may be considered "Working Dogs" by the AKC, they often find homes as loving companions and family pets. However, Boxers are notorious for their high energy levels and will require plenty of exercise and playtime to prevent acting out and escape attempts.
Your message has been sent!
While we search for your perfect match, check out these adorable puppies!
---
Boxers are athletic, energetic, happy dogs. Their short muzzles and large underbites, along with their proportionately long tongues, give them a distinctive appearance. Originally bred in Germany, these dogs are now hugely popular family dogs, as they adore children and other animals and love to be with their owners. Boxers are clever and quick to learn. They have a lot of energy and do best when they are given something to occupy them, whether it be obedience, agility, or any other kind of mental challenge. Boxers are medium-large dogs, typically weighing in at around 55-65 lbs.
Reviews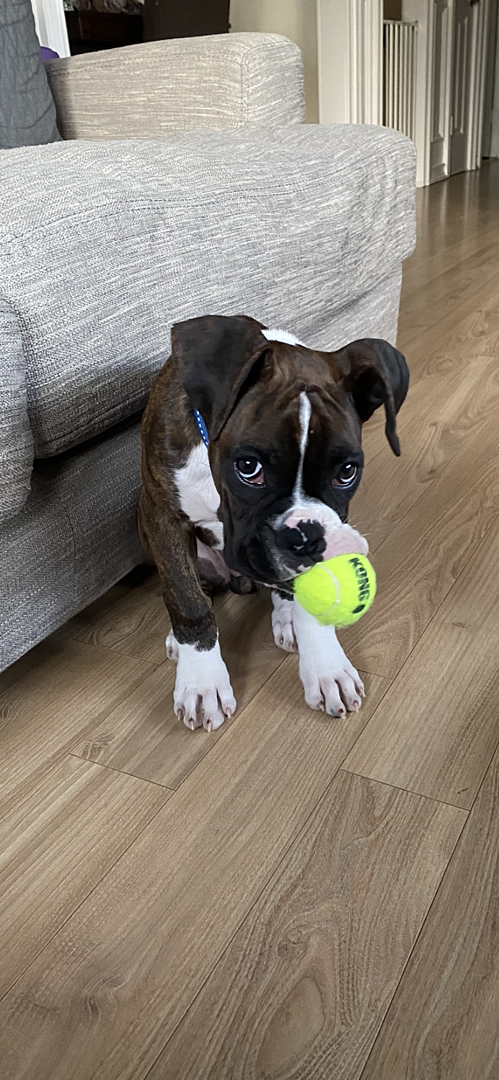 Dawn L.
05/03/2022
Boxer
So happy with our boxer puppy. He was in great shape when we picked him up after his flight. He has already become a loving member of our family. First time using puppyspot, we had a good experience. Updates with emails and pictures helped as we were excited and waiting for arrival day! Thank you!
All Reviews