Making an environmental difference for the planet may seem like an overwhelming undertaking, but even the smallest of conservationist efforts is worthwhile in helping the greater cause. And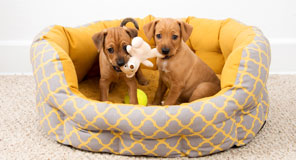 some of those changes can be made at the pet store aisle alone! By simply being aware of what products you are buying for your pup and choosing items with environmentally-friendly ingredients or materials, you'll not only be doing your part, but you'll feel better about spoiling your puppy. In celebration of Earth Day, here's our curated guide to some favorite planet-friendly pooch goodies.
Beds
Molly Mutt is a fashionable dog bed brand that has redesigned traditional dog beds to be sustainable as well as high-quality. Their duvet covers are meant to be stuffed with old textiles provided by you, which eliminates 100% of the energy and gas emissions associated with other doggie bedding. Bonus - Molly Mutt is affordable too, with most of their products priced at under $50. Check out their adorable beds, crate covers and accessories!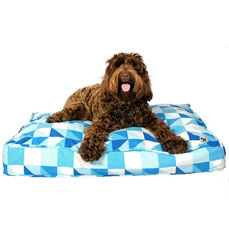 Collars & Leashes
Cycle Dog is another company dedicated to producing "earth-friendly" pet products. Made with post-consumer recycled materials, Cycle Dog products include collars, leashes, toys, beds, treats, and travel bowls. Take a look at their large assortment of "eco-weave" webbed collars and leashes. They come in many fun colors and patterns, and are all priced at $25 and less! Find more collars and leashes.
Poop Bags
While picking up your dog's poop is a less glamorous side of pet ownership, it's essential, so why not do it guilt free? Amazon has an excellent earth-friendly waste bag selection, including these Flush Puppies Doodie Bags ($8.22 for a pack of 60 bags, which are flushable and certified compostable!) Prefer a more traditional waste bag? Try these Earth Rated Poop Bags ($11.99 for 270 bags) - they're made from recycled plastic, are completely leak-proof, and even smell like lavender!
Training Pads
Another not-so-attractive part of the job - but this is another dog product essential where you can really make an environmental impact. When you first bring a puppy home, a lot of time is spent on potty training. Training pads can make the process easier (and less messy!). The Green Pet Shop sells eco-friendly pads made of bamboo ($24.99 for 50), and Amazon carries these Eco-Care Training Pads ($12.48 for 50), so you can reduce waste, while picking up waste!
Toys
These toys by West Paw Design are adorable, soft, and made from organic hemp and recycled polyester ($15-$20). Looking for something more durable? Cycle Dog (mentioned above) makes durable rubber toys out of post-consumer recycled materials (all $10-$15). The Becoball by Beco Pet ($11.13) is another strong eco-friendly toy made from rice husk rubber with a hollow design perfect for hiding treats, not to mention it's vanilla scented!

Remember, these products are just a small sampling of green pup products available, so this Earth Day, do some digging to find the best goodies for you and your furry friend. Then give yourself (and Fido) a "round of a paws" for making a valuable contribution to preserving planet Earth!