If you've picked out your puppy, purchased your pet supplies and puppy-proofed your home, then the only thing left to do is name your furry friend. You could go with something classic, like Max or Daisy, or you could try something funny, like Chewbarka or Bark Twain. Truthfully, it doesn't matter what you name your puppy so long as the name means something to you. Scroll down to find the most popular puppy names of 2020.
Part One: How to Choose a Puppy Name
What Are The Most Popular Puppy Names?
PuppySpot is the nation's largest and most trusted service for connecting dog lovers with responsible breeders. At the end of each year we dig into our databases to see which puppy names were the most popular, and we're always surprised by what we find. Here are 20 of the most popular puppy names of 2020.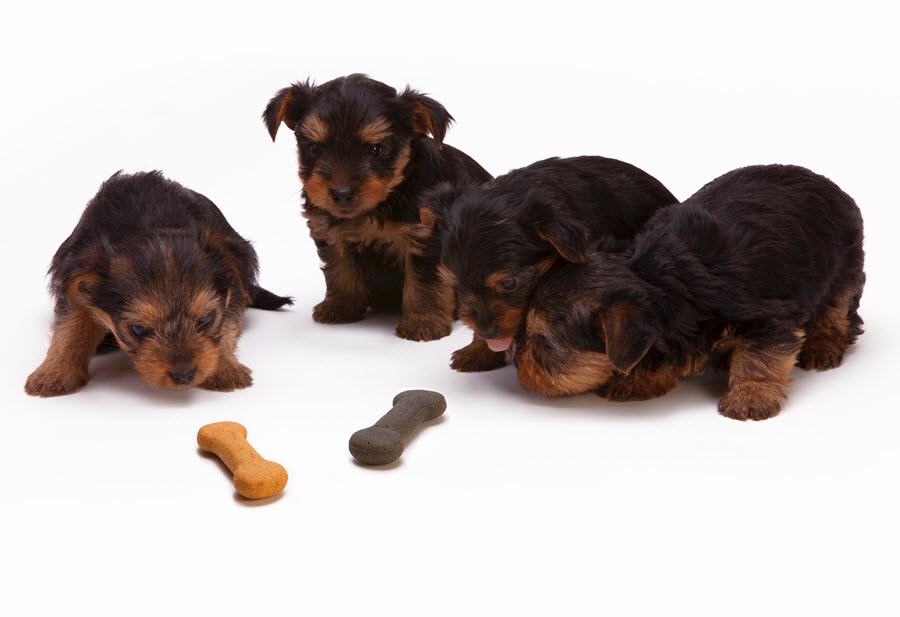 Luna
Bella
Charlie
Cooper
Lucy
Daisy
Max
Rosie
Teddy
Molly
Winnie
Bandit
Bentley
Koda
Sadie
Bella
Daisy
Copper
Loki
Rufus
How Do I Choose A Name For My Puppy?
Choosing a name for your puppy is a special occasion, you never know when inspiration will strike with the perfect name. On the other hand, it may take some time to come up with a name that captures your puppy's unique personality in a single word. If you're having trouble finding the perfect name for your new puppy, we suggest following these tips for choosing the best name for your puppy.
Stick With Words That End in Vowels
Have you ever wondered why most dog names end in a vowel? It's because dogs can distinguish frequency ranges at a much higher level than humans and are, therefore, more likely to respond to a name like Bailey over Bart
Choose Names With One or Two Syllable
Long, complicated names with more than two syllables are harder to say and more difficult for your puppy to distinguish from other words. One and two syllable names are also easier to repeat, which is especially useful during training.
Stay Away from Names that are Negative or Offensive
When naming your puppy, it's always a good idea to avoid names with negative or offensive connotations. Think about it. Do you really want to be the person at the dog park calling out a name that is clearly offensive? No, you don't. When it comes to puppy names, it's best to keep them PG.
Avoid Names That Sound Like Commands
Names like Kit, Jay and Pop can easily be confused for commands like Sit, Stay and Stop. Therefore, it's best to avoid names that sound too similar to commands or words that you repeat over and over.
Choose Names That Don't Sound Like Your Other Pets
In homes with more than one pet, it's best to choose a name that doesn't sound like the name of your other pets. You don't want to confuse your pets by choosing names that are too similar to one another, like Max and Rex.
Use the "Nickname Test"
We've seen it all before. Regardless of the name you choose for your puppy, it will inevitably be shortened to a nickname. Save yourself the trouble of renaming your puppy and perform the nickname test before you decide on a name. The nickname test is easy. Simply think of all the different ways you can/will say your dog's name. If they are easy to say over and over; don't sound like your other pets names and don't offend anyone's sensibilities, then you may have found the perfect name.
Consider Your Puppy's Personality
The most important tip for naming your new puppy is to consider its personality. What names come to mind when you look at your new puppy? We say trust your gut and go with the name that suits their unique self-best.
Choose a Name and Stick With It
From learning its name to potty training, consistency is the best way to teach your puppy everything. Whichever name you choose, the best thing to do is stick with it. If you must change your dog's name, try to change it to something that doesn't sound too dissimilar from it's previous name. A dog that was named Sven is more likely to answer to a name like Ben than it is Cooper.
Do Dogs Respond Better to Certain Names?
Yes. Dogs learn and respond to certain sounds better than others. Longer words with more than one syllable can be confusing for some dogs. Dogs are also surprisingly sensitive and intuitive, which is why you want to avoid names that sound like a joke. Your dog can tell when you're making fun of him/her.
Part Two: Where to Find Puppy Names?
Many new puppy owners find inspiration from their new puppy's anime in their favorite books, films, and TV series. Others scan the pages of history and mythology for powerful, classic names that never go out of style. Wherever you find inspiration, just be sure that you choose a name that you would feel comfortable shouting aloud at the dog park. Stick with names that you would be comfortable saying in front of your grandmother.
Puppy Names Inspired by Myth
Apollo (Greek)
Ares (Greek)
Zeus (Greek)
Juno (Rome)
Pluto (Rome)
Fionn (Irish)
Balor (Irish)
Bres (Irish)
Erin (Irish)
Ogma (Irish)
Lugh (Irish)
Crom (Irish)
Macha (Irish)
Fand (Iriish)
Boann (Irish)
Brigid (Irish)
Agni (Hindu)
Soma (Hindu)
Asura (Hindu)
Amun (Egyptian)
Puppy Names Inspired by History
Louie (Louis XIII)
Marilyn (Marilyn Monroe)
Nelson (Nelson Mandela)
Elizabeth (Queen Elizabeth II)
Ali (Muhammad Ali)
Darwin (Charles Darwin)
Presley (Elvis Prelsy)
Victoria (Queen Victoria)
Einstein (Albert Einstein)
Francis (Pope Francis)
Da Vinci (Leonardo Da Vinci)
Van Gogh (Vincent Van Gogh)
Roosevelt (Theodore and/or Franklin Roosevelt)
Elinor (Elinor Roosevelt)
Rosa (Rosa Parks)
Lyndon (Lyndon B Johnson)
Ludwig (Ludwig Beethoven)
Oprah (Oprah Winfrey)
Orwell (George Orwell)
Eva (Eva Peron)
Puppy Names Inspired by Literature
Arwen - Lord of the Rings
Atticus - To Kill a Mockingbird
Beatrice - Much Ado About Nothing
Bond - James Bond
Daisy - The Great Gatsby
Dodger - Oliver Twist
Falstaff - Henry IV
Fern - Charlotte's Web
Gandalf - Lord of the Rings
Gatsby - The Great Gatsby
Ginny - Harry Potter
Gretel - Hansel & Gretel
Gulliver - Gulliver's Travels
Laska - Anna Karenina
Nana - Peter Pan
Max - How the Grinch Stole Christmas
Toto - The Wonderful Wizard of Oz
Scout - To Kill a Mockingbird
Matilda - Matilda
Milo - Catch-22
Puppy Names Inspired by Cinema
Gollum - Lord of the Rings
Gandalf - Lord of the Rings
Aragorn - Lord of the Rings
Odie - Garfield
Zero - The Nightmare Before Christmas
Tarzan - Tarzan
Ace - Ace Ventura: Pet Detective
Max - Mad Max
Rocky - Rocky
Dude - The Big Lebowski
Bluto - Animal House
Spicoli - Fast Times and Ridgemont High
Scarlett - Gone With the Wind
Jabba the Mutt - Star Wars
Kane - Citizen Kane
Chance - Homeward Bound
Morpheus - The Matrix
Neo - The Matrix
Marv - Sin City
Stitch - Lilo & Stitch
Puppy Names Inspired by Food
Butterscotch
Apple
Caramel
Basil
Cinnamon
Bagel
Coconut
Bean(s)
Cupcake
Biscuit
Fondue
Butter(s)
Fudge
Dumpling
Huckleberry
Falafel
Jelly
Macaron
Lemon
Marshmallow
Puppy Names Inspired by Space and Astronomy
Luna
Marsha
Nebula
Phoebe
Stella
Selene
Solstice
Sora
Ursa
Scorpio
Draco
Cassiopeia
Cygnus
Lyra
Sirius
Comet
Atlas
Archer
Aries
Blaze
Puppy Names Inspired by Disney
Nala - Lion King
Penny - The Rescuers
Perdita - 101 Dalmatians
Pocahontas - Pocahontas
Rapunzel - Tangled
Snow White - Snow White
Tiana - The Princess and the Frog
Tinker Bell - Peter Pan
Wendy - Peter Pan
Aladdin - Aladdin
Arthur - The Sword and the Stone
Basil - The Great Mouse Detective
Beast - The Beauty and the Beast
Berlioz - The Aristocats
Bert - Mary Poppins
Bolt - Bolt
Buzz - Toy Story
Charming - Cinderella
Hercules - Hercules
Winnie - Winnie the Pooh
Part Three: What are the Most Popular Puppy Names 2020?
Quarantine-Inspired Dog Names for Pandemic Puppies
When the COVID-19 outbreak sent everyone in doors, millions of people discovered they finally have enough time to dedicate to raising a new puppy. The demand for puppies is so large that reputable breeders can hardly keep up.
Quarantine may be tough, but puppies make everything better. Read on for fun and hilarious puppy names inspired by this crazy year.
Rona
Covie
TeePee
Vaxx
Clorox
Fauci
Charmin
Sourdough
Flour
Grubhub
TikTok
Zoom
Facetime
Bingey
Hulu
Tiger King
Quarantina
Corona
Pandemonia
Kobe
What are the Most Popular Girl Dog Names in 2020?
From cute and delicate to prim and proper, there are a lot of great names for female puppies out there this year. Tough and sporty names like Zoe, Piper and Quinn were very popular last year, but this year we're seeing a return to more classic names like Abby, Ruby and Sadie. Here are the 50 most popular female puppy names of 2020.
Emma
Gigi
Ginger
Grace
Gracie
Hannah
Harley
Hazel
Heidi
Holly
Honey
Izzy
Jasmine
Josie
Katie
Kona
Lacey
Lady
Layla
Lexi
What are The Most Popular Boy Dog Names in 2020?
From names like Max and Charlie to names like Alpha and Zero, there is no shortage of male dog names out to choose from, but these are the 50 most popular boy dog names in 2020.
Cash
Champ
Chance
Charlie
Chase
Chester
Chico
Coco
Cody
Cooper
Copper
Dexter
Diesel
Duke
Elvis
Finn
Frankie
George
Gizmo
Bubba
What Are Some Unique Dog Names?
We scoured our databases for some of the most unique dog names and came up with some really clever ones. From the obscure and random to the weird and painfully funny, here are the most unique dog names of 2020.
Alfred von Wigglebottom
Andy War-howl
Artoo Dogtoo
Bob Scratch-It
Betty Twiglet
Boba Fetch
Buzz Pawldrin
Captain Fluffy
Captain Merrylegs
Captain Sniffer
Count Droolsbury
Deputy Dawg
Django Unleashed
Doc McDoggins
Doggy Howlser M.D.
Dumbledog
Fur-dinand
Hairy Pawter
Hashtag
Hotrod Woofington
What Are The Cutest Puppy Names in 2020?
The answer to this question depends on what you consider cute. Here are 50 of the cutest puppy names we've found in 2020.
Muttley Crue
Otto Von Longdog
Ozzy Pawsborne
Prince of Barkness
Princess Pork Chop
Professor Wagglesworth
Pup Tart
Putt Putt
Queen of Barkness
Santa Paws
Sergeant Barkowitz
Sherlock Bones
Sir Barks-a-Lot
Sir Waggington
Sniffy Longdroppings
Spark Pug
Waltzing Muttilda
Woofgang Amadeus
Calamity Jane
Captain Chaos
Celebrity Dog Names
From Adam Sandler to Zoey Deschanel, you'll find all of your favorite celebrity puppy names listed below.
Adam Sandler - Matzoball and Meatball - Bulldogs
Anne Hathaway - Esmerelda - Labrador
Aubrey Hepburn - Mr. Famous - Yorkie
Blake Lively - Penny - Maltese-Toy Poodle
Charlize Theron - Tucker - mixed breed
Christina Ricci - Sheriff - Miniature Pinscher
Debra Messing - Henry - mixed breed
Demi Moore - Vida - Chihuahua
Drew Barrymore - Flossie - Chow Chow-Labrador mix
Dwayne "The Rock" Johnson - Brutus - French Bulldog
Eva Longoria - Jinxy and Oprah - Maltese and Pug
Gwen Stefani - Winston - Pomeranian
Hilary Duff - Lola - Chihuahua
Hugh Jackman - Mocha - French Bulldog
Jake Gyllenhaal - Atticus - German Shepherd
Jennifer Aniston - Norman - Corgi
Jennifer Love Hewitt - Mona - Boxer
Jessica Alba - Sid - Pug
Jessica Biel - Tina - Pit Bull
Jessica Simpson - Daisy - Maltese-Toy Poodle
Jim Carrey - George - Great Dane
Justin Bieber - Sammy - Papillon
Matthew McConaughey - Foxy - Australian Cattle Dog
Orlando Bloom - Sidi - Saluki mix
Ryan Reynolds - Baxter - Labrador mix
Sandra Bullock - Poppy and Ruby - Chihuahuas
Selma Blair - Wink - Jack Russell mix
Tori Spelling - Mimi LaRue - Pug
Will Smith - Indo - Rottweiler
Zoey Deschanel - Dot and Zelda - mixed breeds
Famous Dog Names 2020
From famous hero dogs to the stalwart companions of historical figures, here are the most popular famous dog names from history and the real world in 2020.
Toto, the Cairn Terrier
Rin Tin Tin, the German Shepherd
Lassie, the Rough Collie
Trakr, the German Shepherd
Bobbie the Wonder Dog, Collie-Shepherd Mix
Balto, the Siberian Husky
Nemo, the German Shepherd
Jofi, the Chow Chow
Lex, the German Shepherd
Sinbad, the Lovable Mutt
Funniest Puppy Names of All Time
Out of all of the puppy names we've seen over the years, these are the ones that made us laugh out loud.
Alfred von Wigglebottom
Barkley
Captain Sniffer
Count Droolsbury
Deputy Dawg
Doodle
Lucky Goodsniffer
Miss Furbulous
Mister Fluffers
Professor Wagglesworth
Putt-putt
Scooter
Sergeant Barkowitz
Sir Barks-a-Lot
Sir Waggington
Bark Twain
Chewbarka
Doc McDoggins
Droolius Caesar
Franz Fur-dinand
Most Popular Human Puppy Names
They say you're not supposed to give puppies human names but, honestly, watching a 2 week old puppy named Jerry scamper around your home is pretty darn funny. Here are the most popular human puppy names of 2020.
Hortense
Howard
Vern
Albert
Amos
Arthur
Artie
Irma
Irving
Joan
Loretta
Marvin
Murray
Myrtle
Norma
Norman
Pearl
Rhoda
Seymour
Thelma
How to Help Your Puppy Learn Its Name
We hope this extensive list of the most popular puppy names in 2020 was helpful and made it easy to find the perfect name for your puppy. Now that you've chosen a name, it's time to ensure your puppy learns it.
Thankfully, this step-by-step guide will show you how to teach your puppy his or her name, as well as the best ways to use their name for the best results during training.
Tell Us Your Favorite Puppy Names
Do you have a funny puppy name from this year that we missed? We want to know your favorite puppy names. Contact PuppySpot today and let us know your favorites puppy names from this year.