While the phrase "best family dogs" instantly recalls a couple of popular Retriever breeds, there are fantastic family dogs in all sorts of shapes and sizes. We know that adding a dog to your family is a big decision, and with so many different options out there, deciding on the perfect breed can be a challenge. To make your research a little easier, we've put together this list of some of the best family dogs around!
Each of these breeds has its own distinct personality, but they are all social and adaptable pups that do well with kids. For some families, small dog breeds are the most appealing and appropriate choice. They are portable, take up minimal space, and you don't have to worry about them knocking over your youngsters. They also eat less, which can save on food costs and amounts to less cleanup!
For others, it's comforting to have a sizable companion who makes you feel safe (even if she's ultimately a lover, not a fighter). You may think that owning a large dog means you need to have a large space for them to roam, but you might be surprised. There are big dogs fit for all kinds of different living situations, it's just a matter of getting to know them!
Of course, size isn't the only factor to consider. Ultimately you need to find a pup that fits your family's lifestyle, activity level, and overall tastes. Is your new best friend waiting in the list below?
Labrador Retriever
The Lab just might be the ultimate family dog. Labradors are social, easy to train, and loving companions. They adore kids of all ages and have the energy to play all day. Labs adapt quickly to any situation, which is what makes them such a dependable addition to the family. As long as your Labrador can exercise daily, she'll be a breeze to live with.
Bernedoodle
The Poodle's intuition mixed with the Bernese Mountain Dog's loving nature make the Bernedoodle one of the best dogs for kids of any age. Possibly the ultimate playmate, this goofy pup is up for anything her family wants to do. Though her energy is boundless, she is easy to train and wants to make you happy. The Bernedoodle is social and adaptable, meaning you can take her anywhere and trust her to behave.
Golden Retriever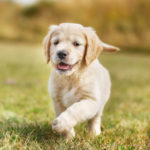 The fact that she is so patient with children is likely why the Golden Retriever is one of America's favorite dogs. Goldens are family oriented and happy to be part of the fray. They are athletic enough for an active family but don't mind lounging around the house either (as long as they get their daily walk). Mostly these social pups just want to be with their loved ones. They have an even temperament and make friends with humans and pets anywhere they go.
French Bulldog
French Bulldogs are energetic and athletic breed with couch potato tendencies. They are sturdy enough for any type of activity, from hiking to playing ball, and get along well with other pets and kids of any age.
Dachshund
The Dachshund makes a devoted snuggle buddy and a potential jogging companion. These pups are cheerful, energetic, and easily adaptable pets. Despite their small size, they make excellent watchdogs. But beware, if you miss your Dachshund's walk she may take it out on you by digging a hole in your yard!
Havanese
The social and eternally goofy Havanese is one of the best family dogs out there. While she does appreciate some outdoor playtime, your Havanese is content just to be by your side. She is highly trainable and loves to be the center of attention. Your Havanese is likely willing to learn all kinds of tricks in hopes of receiving a treat!
Cavalier King Charles Spaniel
Affectionate and friendly, the Cavalier King Charles Spaniel gets along with everyone and doesn't mind going with the flow. Her versatile and accommodating nature makes her one of the best dogs for kids! She is just as happy to lounge around at home as she is to accompany you on a morning run, or a trip to the park!
Yorkshire Terrier
The scrappy Yorkshire Terrier makes a devoted pet and a reliable watchdog. Your Yorkie won't mind if you're always on the go, as these busy Terriers are happy to accompany you anywhere: kids' soccer matches, carpool duties, grocery shopping, she doesn't care! She are fragile and may be impatient with young children but makes a loving companion for families with older kids.
Great Dane
The ever-patient Great Dane can be very sedentary, and thus adapts easily to living in small spaces, and even apartment buildings. As long as she has the opportunity to stretch her legs a few times a day, she will be happy. Danes are renowned for their patience and kindness with pets and kids of all ages; thus they make great family dogs.
German Shepherd
For more active families, perhaps the intelligent and courageous German Shepherd is a more apt choice. This energetic pup will gladly accompany you and the fam for a run, walk, or a hike. Their impressive trainability and patience with children are what makes them one of the best large dog breeds for families!
Bernese Mountain Dog
If you're looking for a large dog breed with more moderate energy, the Bernese Mountain Dogis hard to resist. As long as you have the space to accommodate a 120-pound eternal puppy, life with your Berner will be a breeze. She is eager to please, fun-loving, and incredibly gentle with those smaller than her.
Siberian Husky
Known for her endurance and athleticism, the Siberian Huskywill have no problem keeping up with a family that is always on the go. She's a pack dog, so the bigger the crew, the better, as far as she's concerned. She can be stubborn when it comes to training, but her affection for children makes her one of the best family dogs out there for active households!
Labradoodle
This fun-loving hybrid breed has boundless energy and a sweet and social personality. As long as she has plenty of opportunities to work off her energy, the Labradoodle makes an easy going, docile pet for just about any family. She is easy to train, and bonds quickly with her people. She's happy to go anywhere, or do anything, as long as she can be with you!
Poodle
Poodles are great family dogs because they are intuitive and loving. Your Poodle will know when it's time to run and play and when it's time to settle down. The Poodle is one of the easiest dogs to train due to her exceptional intelligence. This social pup needs lots of exercise to burn off her excess energy, but she's not picky about what form it comes in!